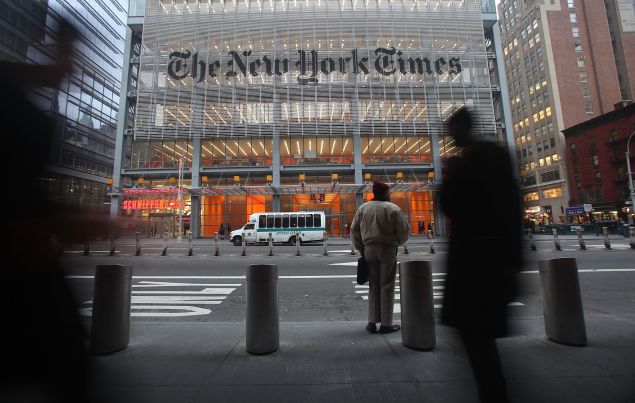 The publisher and executive editor of The New York Times did something remarkable this past weekend: They admitted—sort of—that the newspaper had failed to cover the presidential election fairly. In a letter to subscribers posted on the Times' website, Arthur Sulzberger Jr. and Dean Baquet made a non-apology apology for missing the story.
Stating that they had "reflect[ed] on the momentous result" and intended to "aim to rededicate ourselves to the fundamental mission of Times journalism. That is to report America and the world honestly, without fear or favor, striving always to understand and reflect all political perspectives and life experiences in the stories that we bring to you."
Insisting that the paper had "reported on both candidates fairly," the Times nevertheless managed to miss the Trump phenomenon completely. Right up until the moment the polling places opened on Tuesday morning, the paper was repeating its unshakable belief that Hillary Clinton's chances of winning the election were holding steady at 85 percent.
The mainstream media didn't simply "miss" the story: They didn't want to see it. It doesn't take a rocket scientist to recognize that the Times (and others) have allowed their political preferences to color their news coverage. Opinions that were once confined to the editorial page have not just seeped into the newsroom but have dictated coverage.
It doesn't take a rocket scientist to recognize that the Times (and others) have allowed their political preferences to color their news coverage.
There is a restricted-membership Facebook page of former Times reporters. We are often given a peek, and there is a common lament: The great and grand tradition of reporting "without fear or favor" was no more. (The phrase comes from Sulzberger's great-grandfather's original letter to readers, published in 1896, when Adolph Ochs bought the paper.)
As Politico reported, former Times people have, post-election, been speaking up about the top down style that has emerged at the paper of record. Michael Cieply, a former Times entertainment reporter who now works at Deadline, wrote this:
"[The] New York Times has always—or at least for many decades—been a far more editor-driven, and self-conscious, publication than many of those with which it competes. Historically, the Los Angeles Times, where I worked twice, for instance, was a reporter-driven, bottom-up newspaper. Most editors wanted to know, every day, before the first morning meeting: 'What are you hearing? What have you got?" It was a shock on arriving at The New York Times in 2004, as the paper's movie editor, to realize that its editorial dynamic was essentially the reverse. By and large, talented reporters scrambled to match stories with what internally was often called 'the narrative.' We were occasionally asked to map a narrative for our various beats a year in advance, square the plan with editors, then generate stories that fit the pre-designated line."
" 'Without fear or favor' has been the watchword at the Times since 1896," said Jonathan Davis, our go-to gadfly. "But in this election cycle, they feared Trump and favored Clinton in their reporting, unabashedly, and thereby compromised a century-old principle. For lifelong readers like me, that's a very sad development."
We welcome the letter from Baquet and Sulzberger as a sign that the Times finally seems to have realized that something happened, something changed. Many others, at that newspaper and others, haven't gotten the message, even after the apocalypse. Looking at the barbs directed at the Observer over the past year, even including this week, one is stunned by how stridently some of our peers seem determined not to learn anything from the very failure that Baquet and Sulzberger reference.
People can say whatever they want about Observer—and they do! The Kushner-Trump relationship is what it is—but this site took Trump's campaign seriously from the beginning. We knew it wasn't a joke when others didn't. That's easy to dismiss by people smarter and more strongly entrenched in the in-crowd than the Observer is. But that doesn't make it less true.