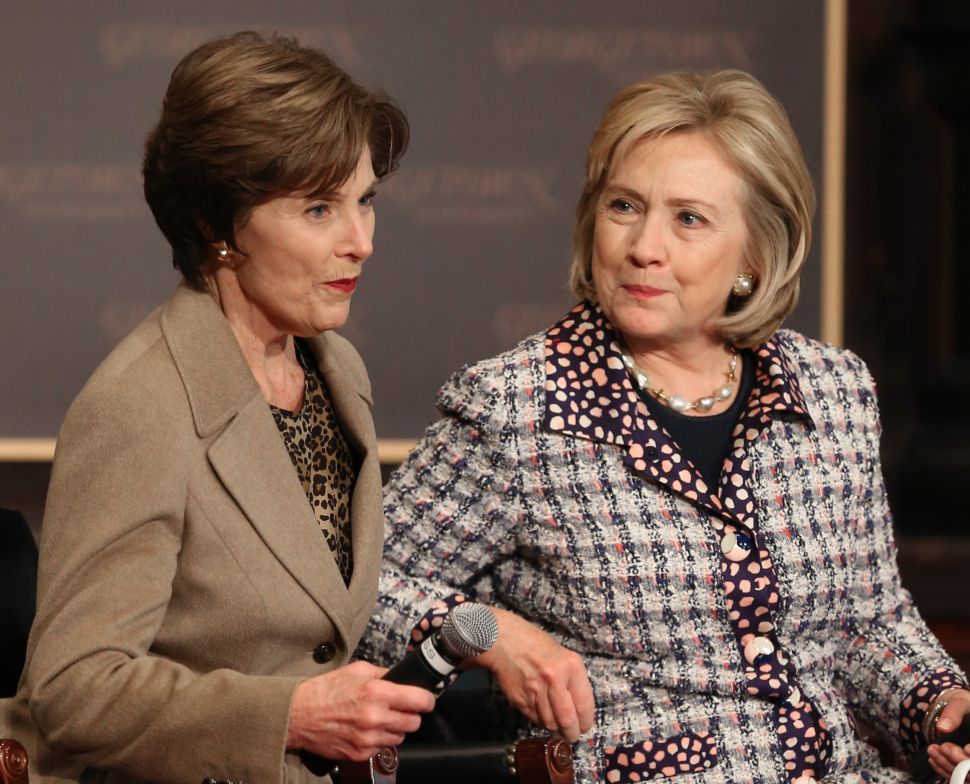 When Donald Trump destroyed and derided Bush Family heir-apparent, Jeb "Low Energy" Bush, in the GOP primaries in 2016, eyes turned toward the dynastic Republican family in Texas. Would the Bushes cross party lines to back Hillary Clinton or stick with the Republican standard-bearer?
In September, Kathleen Kennedy Townsend revealed that George H. W. Bush said he would vote for Clinton, which the former president's spokesperson later confirmed. His son, President George W. Bush, noticeably refused to endorse Trump, but his nephew George P. Bush, the Texas Land Commissioner, last week let it slip that his uncle may vote for Hillary Clinton as well.  And former First Lady Barbara Bush publicly slammed Trump, likening the real estate developer to a "comedian" who would struggle to attract the votes of women.
But one woman's vote remains something of a mystery.
In April, during a speech at the Women in the World Summit, The Telegraph of London reported Laura Bush hinted that she would vote Democratic this time around. "I want our next president–whoever he or she might be–to be somebody who is interested in women in Afghanistan," said the former First Lady, who has worked with her predecessor on the issue.
Laura Bush also sides with liberals on several social issues, such as gay marriage and abortion rights, according to Russell Goldman with ABC News. And she was raised a Democrat, according to CNN.
But if Laura Bush stopped the hinting and publicly declared her support for a fellow member of the First Lady's sorority just before the election, it would likely pack a political wallop that could land Clinton in the White House. The Clinton campaign has aggressively sought the votes of Republican woman with some success, and Laura Bush remains a much admired figure, far more so than her controversial husband. Upon leaving the White House, Gallup found that 76 percent of Americans held a positive view of the former First Lady, nearly twice as popular as the former president. According to Siena College's/CSPAN's survey of scholars, historians and political scientists about First Ladies, Laura Bush leads the category of "could have done more while in office."
But would Laura Bush, like her mother-in-law, be making history if she endorsed Hillary Clinton?
Carl S. Anthony of the National First Ladies' Library and author of America's Most Influential First Ladies notes that most presidential wives stay out of the political fray after leaving the White House, or endorse the candidate from the same party. But there have been some exceptions: In 1932, Teddy Roosevelt's widow Edith shocked many observers by endorsing GOP President Herbert Hoover, who ran against "her late husband's fifth cousin, who also happened to be married to her late husband's niece, Franklin and Eleanor Roosevelt." And Woodrow Wilson's wife, Edith, refused to back FDR, a fellow Democrat.
The widow of former Republican President James Garfield, Lucretia, did not support his successor Chester A. Arthur. "Having never trusted Chester Arthur, the vice president who assumed the presidency upon the death of her husband, she had no further contact with him following the funeral," writes the website of the National First Ladies Library. She later became a Democrat.
Will Laura Bush follow (pants)suit. Hillary Clinton would certainly welcome another November surprise.
John A. Tures is a professor of political science at LaGrange College in LaGrange, Ga. He can be reached at jtures@lagrange.edu.
Disclosure: Donald Trump is the father-in-law of Jared Kushner, the publisher of Observer Media.