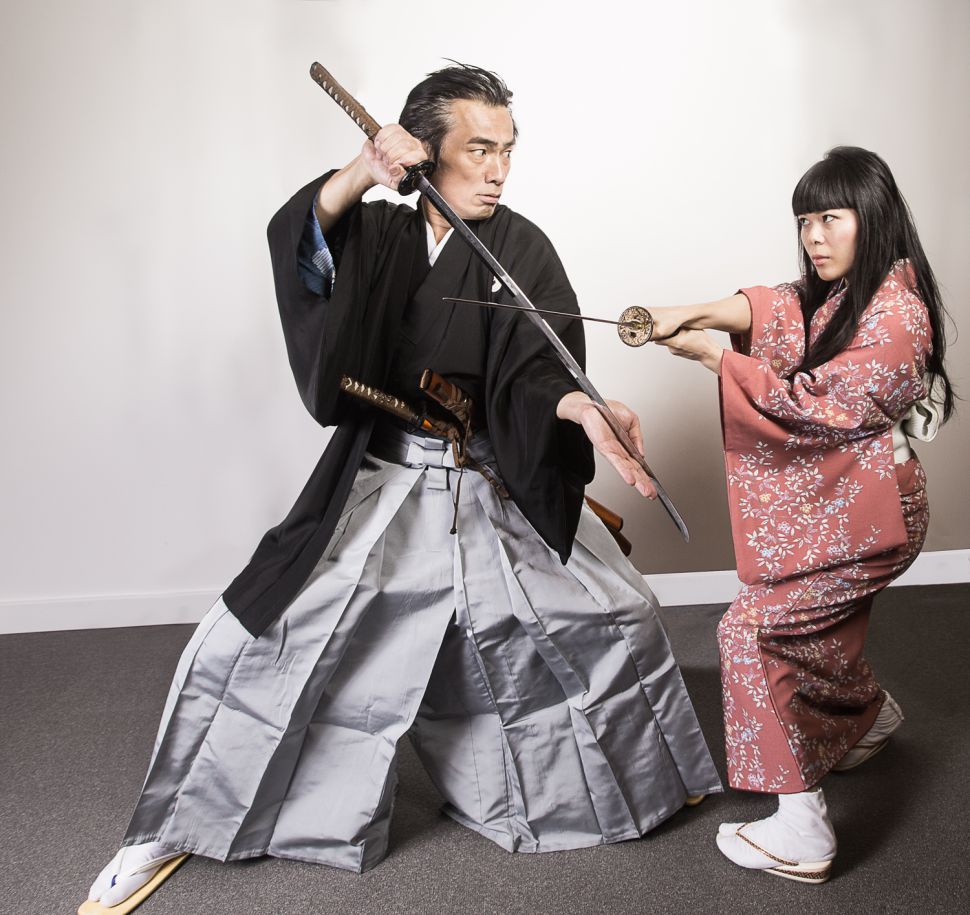 "I have a wife," Yoshi Amao, the instructor of Samurai Sword Fighting, says quietly the other day at Peridance Capezio Center in the East Village. "But the sword is the partner with my hand and soul."
With his acrobatic frame and thick black bangs, the Osaka, Japan native resembles an anime character, especially in his hakama, voluminous black skirt-like pants. "People ask how I look so young because I forget my age always," jokes Amao, who claims he can't remember the year of his birth.
Amao, also an actor, banks on teaching the way of the Samurai as an unorthodox day job. Aside from his class, a 90-minute workout fusing martial arts with kabuki, he offers New Yorkers private lessons and hires himself out to corporations that want to convey the values of the Japanese warriors to employees, through physical instruction and storytelling with his troupe of 10 fighter-dancers.
"A Samurai is strong, strict and humble…I almost think it's the opposite of American"—Yoshi Amao
"Sometimes workers need to experience another world and forget everything what they do, what they feel and who they are," Amao explains. "They may be able to feel parts of themselves through meditation at the beginning and end of the class, swinging swords for many times with a big kiai [yell] and acting in the fighting scenes, eventually."
"A Samurai is strong, strict and humble," he continues, speaking slowly and considering each word. "I almost think it's the opposite of American. Sometimes I think Americans are like this"—he throws open his arms wide and flashes a game-show-host grin. "Japanese more inner."
In his class, beginner and advanced students (many are dancers and quick studies) perform choreographed scenes, what Amao calls "Samurai Showtime." Newer pupils rehearse a kata that approximates movement patterns of ballet. They nimbly dart forward and back, while striking and blocking with wooden swords called bokens, as loud drumming served as the soundtrack. Next, seasoned fighters rehearse a scene with one man defending himself against multiple attackers. As the samurai twirl to face each opponent, his hair and pants flow like that of a matinée idol. Staged deaths follow realistic-looking slashes through the stomach.
"In class, Yoshi is serious," says one of his lieutenants, actor Saori Goda, 31, who trained for five years and fights like she's in Kill Bill. "He really thinks of the way of the samurai: You have to respect your seniors, your teachers. In New York, it's rare to learn this style."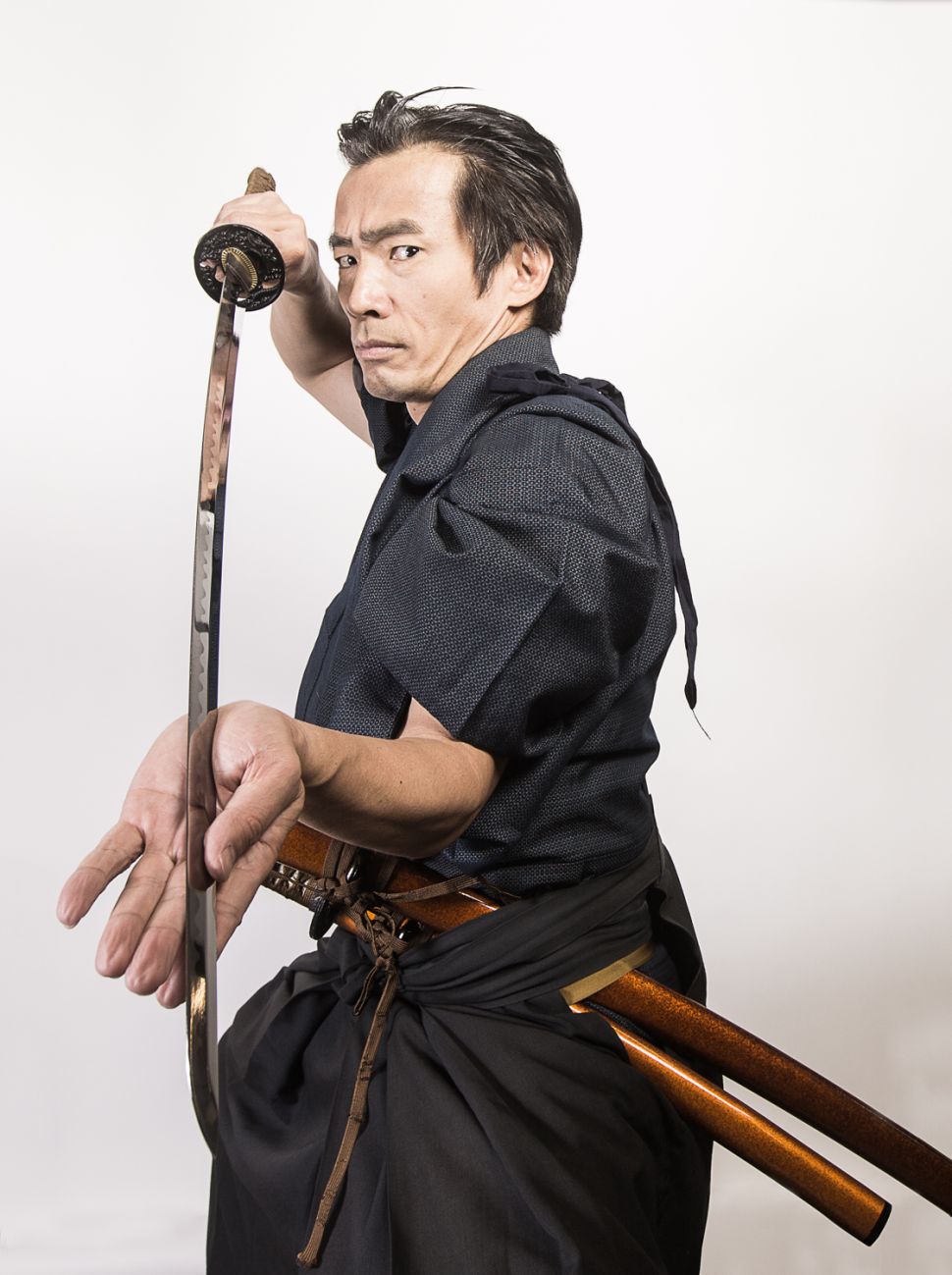 Also from Osaka, Goda stands by Amao in the lobby, her raven hair in a high bun. Having changed into jeans, Amao perches on a stool, his left leg stretched to display a floral-printed sneaker. As fighters and ballerinas mingle in the hallway, he maintains a panther's posture, bokens sticking out of his bag.
Amao moved to New York in 1990 to become a full-time actor. With his deep voice and heavy accent, he gets consistent voice-over work, providing narration to video games (Grand Theft Auto: Liberty City Stories) and commercials. His athleticism frequently lands him TV and film roles like Disney's Japanizi: Going, Going, Gong! and the USA series White Collar. "Mostly, I am the face of the Cherry Blossom Festival," he says, referring to the annual event at the Brooklyn Botanical Garden.
Every spring, Amao choreographs a 45-minute play for the festival. This year's theme was "Dragon Fire," featuring Samurai Sword Soul, his troupe.
Amao adapts excerpts from the production for up to 20 performances throughout the country. While most of his performers are male, females provide nuance. "People get bored of men fighting," notes Amao, deferring to Goda. "In Dragon Fire, Saori's boyfriend is totally weaker than she is. He proposes to her. She refuses.
"Say the line," Amao requests.
"I don't want to marry someone who is not as strong as I am," replies Goda, smiling.
"That always gets laughs," he says. "In the U.S., men say, 'Ladies first.' Macho. I think women are stronger than men."
Then Amao reveals a secret. "She is my wife," he says, pointing to Goda. The couple burst into giggles. Married one year after seven years of dating, Amao and Goda met in New York when they were both emcees at a social event for JaNet, a nonprofit formed after 9/11 with a mission to "cheer up and unite" the Japanese expat community.
Today, the couple lives on the Upper East Side and occasionally collaborates on fight scenes, a difficult task in their small apartment.
Amao envisions taking his samurai show on the road, ideally in Las Vegas and California. "Then I will feel like I have made it in in this country," he says.
He points to his back and makes a small square with his hands. "Here is Japanese flag," Then he forms a big rectangle on his chest. "Here is American flag."