By now, you have probably read enough Top 10 lists to know shows like Atlanta (FX), Westworld (HBO) and Stranger Things (Netflix) were the "best" TV 2016 had to offer. And that is…not wrong! The familiar faces you see ranked everywhere from Vulture to TV Guide to your uncle's Tumblr are, in fact, beautiful, moving, occasionally genius pieces of art. But! 2016 was what you would optimistically call a long year, and there was no shortage of incredible (and incredibly bad) TV that came, went, and was immediately forgotten. Here, we honor not TV's usual suspects, but those gems that got lost along the way: 
Drew: I'll start. LADY DYNAMITE. How did everyone neglect to put Maria Bamford's beautiful, inconsistent, high-concept, emotional roller-coaster of a Netflix show on their end of the year list? Maybe it's because they never got into it in the first place…admittedly, it took me a couple episodes to get past the more jarring elements. Like the fact that every episode takes place in three different timelines (take THAT, Westworld!), the tonal inconsistency of "Arrested Development jokes but about someone with severe bipolar disorder," and Bamford herself, with her cartoony voice and cringeworthy "knife thoughts."
But consumed correctly (aka "binged all at once during a night where you've either run out of or have taken too much prescription medication), Lady Dynamite is a devastatingly hilarious look at mental illness. Which is, ugh, a gross phrase that's already cliched. What am I, reviewing the first season of The United States of Tara?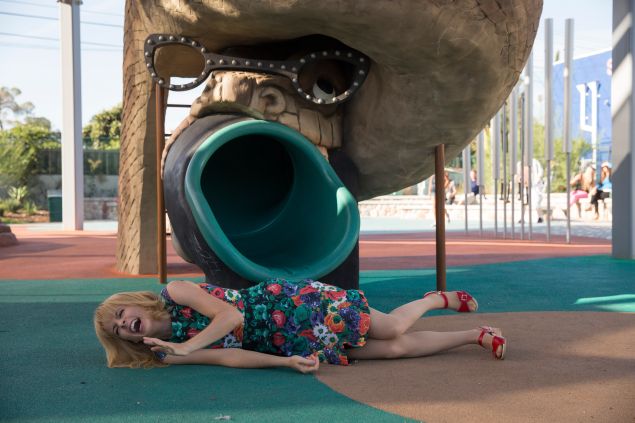 But what makes Lady Dynamite so great is that the more you watch, the better it gets, so that in retrospect, the show's first couple episodes seem better than they did at first viewing. (See also: Bojack Horseman) It's a  "laugh while sobbing hysterically" kind of comedy. Maybe that's not your kind of funny. But there's also an episode where she sings a song with her pug dog, and only a monster would find that not an A+ bit.
Vinnie: I'm really glad you mentioned Bojack Horseman. I think people forgot about Bojack's third season, but only comparatively. What I'm saying is I think about the underwater episode daily, occasionally every other half hour, and weep uncontrollably. But, speaking of wet messes, I do feel like everyone immediately forgot about VINYL.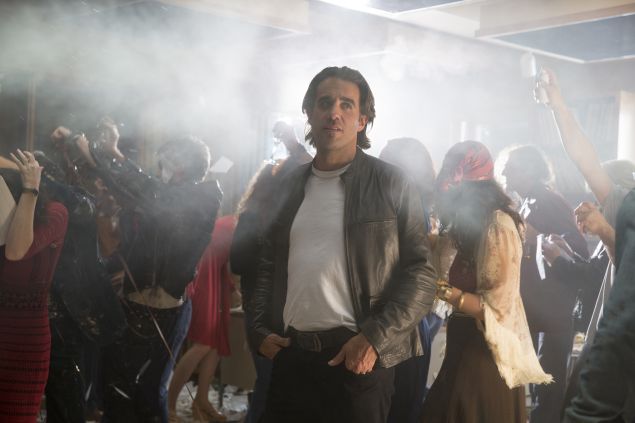 I actually laughed out loud for a full, uninterrupted 15 minutes when I remembered the existence of HBO's Vinyl. Oh my God, HBO paid so much money for this show. HBO President Casey Bloys personally drove a truck filled with 100 dollar bills and dumped it on Martin Scorsese's lawn, so that Academy Award-winning director Martin Scorsese could make a TV show where Ray Romano has a drug-fueled threesome, Mick Jagger's son performed truly the most terrible music I've ever heard, and Bobby Cannavale did so much cocaine he hallucinated the ghost of his dead Danish friend that died in a Nathan's hot-dog-related car accident. Oh my God, Vinyl was so dumb. Vinyl ruled. Vinyl might be my favorite show of all time, and it hurts that it's lost to the one-season-and-done phantom zone forever.
Dana: UNBREAKABLE KIMMY SCHMIDT season 2. Remember silly jokes?
Remember the cameos from Anna Camp and Zoysia Mamet and Jeff Goldblum and Lisa Kudrow? Like Lady Dynamite, it was released all at once on Netflix, easy to binge immediately and then sort of forget about as the hellscape of 2016 continued to swirl around us. Okay, this was the second season of Unbreakable Kimmy Schmidt that came out this year, but I still feel as though it went more-or-less unrecognized when it's held next to more prestigious comedy. But UKS (see? No one uses that acronym!) gave us the iconic Titus Burgess and managed to keep up its momentum with a wholly enjoyable and worthwhile season 2.
Vinnie: Oh man, speaking of silly jokes and hellscapes, remember Hulu's 11.22.63?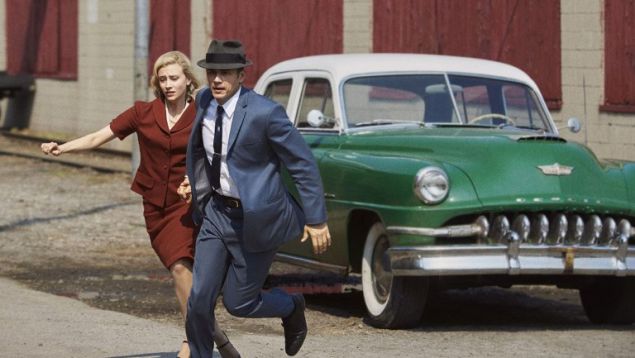 JAMES FRANCO TRAVELLED BACK IN TIME TO SAVE THE PRESIDENT and yet, in this mixed up backwards garbage time we're living in, this amazing, magical piece of art isn't on anyone's Best Of list. The episode where the bleach-salesman with the clothespinned dick slices up Sadie Dunhill's face is, not an exaggeration, some of the scariest horror TV of the year.
Drew: Oh my god, 11.22.63! I've forgotten ALL ABOUT that show and it was literally the most fun I've had writing about anything…possibly ever? See?! This is basically service journalism AND therapy, rolled into one!
Okay, my next pick: THE MAGICIANS on Syfy.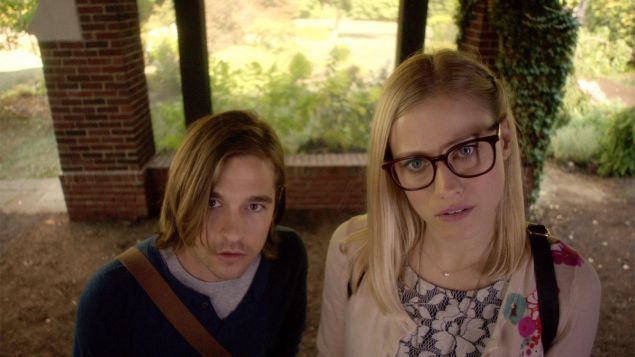 God, did that show manage to pleasantly surprise me! I loved the books so, so much, and the level of character and world building necessary to make an adaptation of Lev Grossman's angsty wizard world just seemed totally disproportionate to what I imagined SyFy's acquisition team was up to handling. (In my mind, that network consisted of a box of donuts and the complete Stargate: Atlantis DVD set on a folding table somewhere.) To be fair, SyFy is one of those networks that's turned its ass AROUND in the last year, and I'm giving Sera Gamble ALL the credit for this. Sure, Quentin and Alice and Penny looked nothing like we expected them to (though whatever sorcery conjured up Hale Appleman's Elliot directly from my imagination deserves it's own Emmy or something), but the decisions made to deviate the show from the books were all deliberate and well-conceived. Come on, combining Julia's storyline with Quentin's in season one? That was brilliant. Having an episode where a character gets stuck in a mental hospital that turns out to be a mind palace which he has to escape using only his casual racism and knowledge of Taylor Swift's catalog? A+! The way they handled the part where the characters turned into geese and then foxes, and NO ONE WAS ALLOWED TO TALK ALL EPISODE? The one where the post-teen warlocks had to battle with time-looping ghosts in a haunted house?
The Magicians was so much fun, you guys. I can't wait for it to come back.
Vinnie: Speaking of fun, a thing we all like to have, more people should have seen Netflix's THE GET DOWN. I feel like I'm the only person on the entire planet who watched Baz Luhrmann's hip hop drama / kung fu movie / biopic on acid, but this show is bonkers, out-of-control fun. It had a lot going against it from the start; it premiered on Netflix right alongside Stranger Things, which nose-bled its way into pop culture legend, plus, you know, The Get Down is a highly-stylized tale about the origins of New York hip-hop, as told by the very white, very Australian director of Moulin Rouge. I admit, the over-stuffed first episode directed by Luhrmann himself is particularly wonky, but man, when The Get Down gets to getting down, it's legitimately one of the most electric pieces of TV out there. Trust me, you'll go into this show a skeptic and leave it looking exactly like this:
Dana: Late pick…Netflix's THE CROWN. I know you think you haven't forgotten about The Crown, but how long is that going to last? It's only a matter of time when fans of gorgeous European prestige dramas are all in a tizzy about The Young Pope. The Crown was incredible and I could write so many more pieces about Claire Foy's perfect accent and Matt Smith's butt and John Lithgow's lack of neck. The Crown now, The Crown forever. Long live the queen.
Vinnie: Speaking of Queen (nailed it), I'm not so much worried that audiences forgot MR. ROBOT season two exists, but I am worried we all forgot how damn good it was. Because Sam Esmail wrote and directed every episode, Mr. Robot season two was such a compact ball of weirdness and tracking shots it does occasionally slip my mind. But on random days when the weather is right and my Wi-Fi is suspiciously slow, I'm back to zooming in on laptop screens and translating Chinese characters for clues all over again. A lot of people jumped off after that midseason twist so ridiculous the main character actually apologized for it, and even more left after the show said fuck it and turned into 2016's techno-Twin Peaks. That's okay! But don't lose USA's brilliant, bug-eyed hacker-thriller when you look back at 2016. There were better shows, sure. There were also more intelligent shows, and there were more coherent shows. But I can say, with absolute certainty, that Mr. Robot is the only show this year to so beautifully utilize Alf: