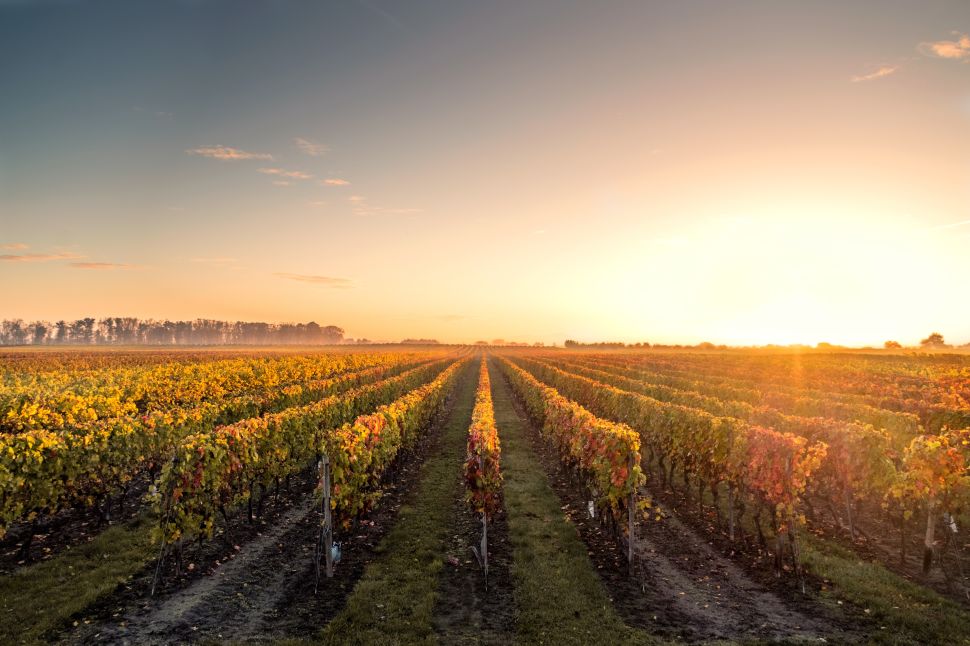 Sardinia is a lovely island off the southwestern coast of Italy. While it is part of Italy, its heritage and influences are as much Spanish and Arabic. Additionally, Romans, Vandals, and the city states of Genoa and Pisa conquered all or part of it. To drive the island takes about five hours north to south, and three east to west, encompassing topographic diversity hard to imagine in one place this size. From sybaritic sandy beaches with crystalline water to hairpin-turn mountain roads that ultimately emerge into lush agricultural valleys, Sardinia is a bounty of contrasts, cultural as well.
A few-hour tour can include hip urbanites in a trendy wine bar and a country lane where cars are stopped while hundreds of herded sheep, bells ringing, pass by. Traditional Italy reflects itself in the small mountain towns where diminutive black-clad widows walk the cobblestone streets on their way to church.
Because we are the publishers of the online magazine Organic Wine Journal, our initial focus was local wines. However, from our first dinner in the capital city of Cagliari, we learned why Sardinia has provided a wide-ranging larder for all those who conquered it. A short list of culinary goods grown and made in Sardinia moves from grapes and wine to olive oil, hard durum wheat, honey, pastries, a plentitude of seafood and meats, and unique Arab-influenced flatbreads. Sardinian cheese, often a pecorino—pecora means sheep—is famed for its texture and earthy flavors. As opposed to the often lone variety available in the U.S., local producers make scores of regional variations.
One of the primary reasons the artisanal food tradition is so robust today is that it never disappeared. Being an island and very underpopulated—there are only 1.6 million Sardinians versus 3 million sheep—mass production agriculture was uneconomical. So, the smallest vineyards of an acre, tended to for centuries, are still farmed. A family plot of wheat is still sown, and a personal grove of fig trees still cultivated.
Being poor and traditional helped. There was an invasion of Eurospin chain groceries in the 1980s and it is easy to buy global food such as products made by Nestle, but the very small panetteria and the neighborhood macelleria never disappeared… every town has at least one. While Brooklyn and the rest of urban America is celebrating the revival of local baking and nose-to-tail butchering, the Sardinians have been eating this way for centuries. If there is a spiritual home of the locavore movement it has to be Sardinia.
As anyone who's visited wineries in the French countryside knows, the idea of cooperative wine-making isn't new.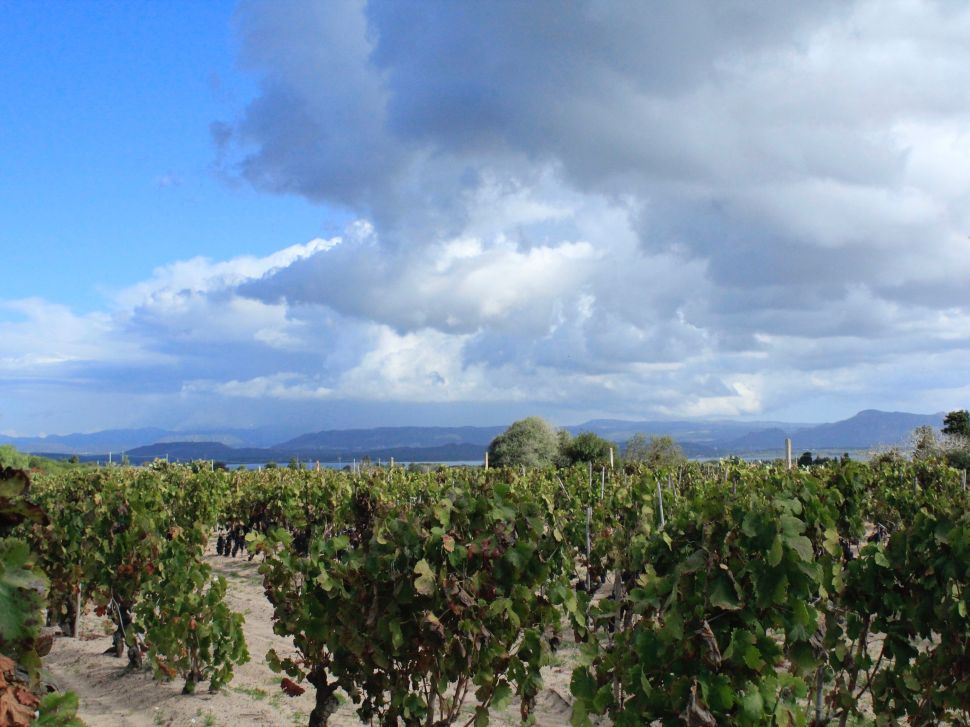 We had lined up several winery tours in advance, but once there, we met friends of friends who made delectable and unique cheeses, olive oils, sausages or sweets, often invitingly packaged. Not surprisingly, there is worldwide interest in Sardinian foods, and entrepreneurs have gone about marketing them in an attractive manner.
We could have stayed a year visiting local food producers.
Without leaving Cagliari many of these treats can be sampled at Inu, an innovative wine bar serving only Sardinian products.
Our wine tour started in Sant' Antioco, an island off the west coast. There we visited Sardus Pater, a cooperative winery. As anyone who's visited wineries in the French countryside knows, the idea of cooperative winemaking isn't new. What makes Sardus Pater different is the number of growers who contribute their product—200—each literally with a tiny plot, not much bigger than a suburban backyard. Viniculture manager, Roberto Matzeu, laughed when we equated his job to that of herding cats. He has to keep the peace between this disparate group as well as dictate to them when the grapes are ready for harvest.
The patch of land owned by Roberto himself has 80-year-old vines, which he reclaimed after his father abandoned them to work at a nearby factory, as did so many of his father's generation.
While not certified organic, both the grapes and wine are nearly intervention free. Sardus Pater is using modern technology to bring out the best in varietals often overlooked. They're delicious.
Part of what makes Olianas unique is the extensive use of animals.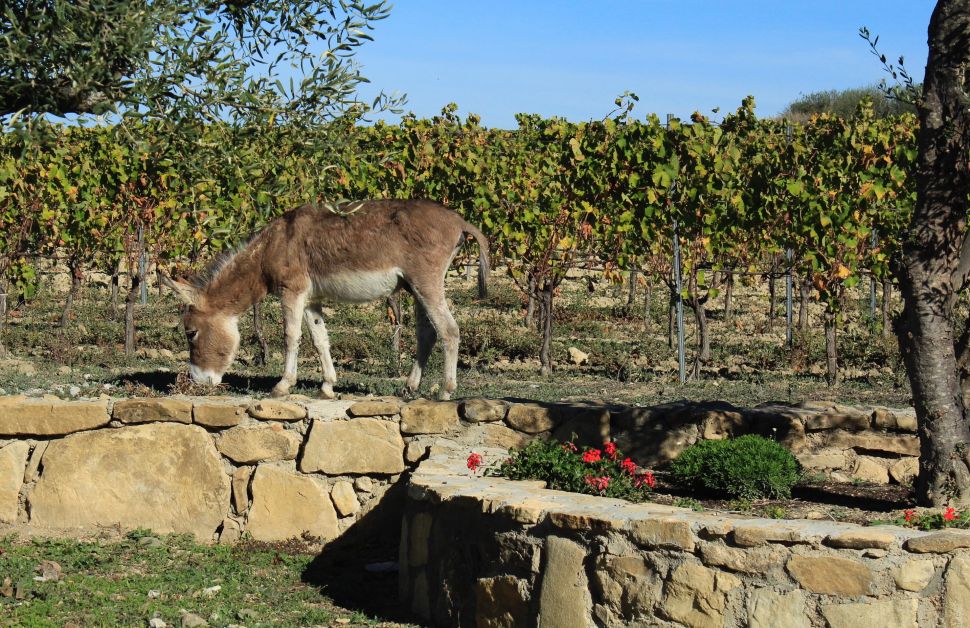 Heading inland to the heart of Sardinia, our next stop was Olianas, an impressive, well-funded venture. The Tuscan owners have brought the sophistication of Northern Italian winemaking to local varieties while using the most artisanal methods, including fermentation in buried, clay amphora. They've gone beyond organic to "bio-integrale," which draws heavily on Steiner's biodynamic principles while adding a few new ones, including employing a well-paid local workforce and state-of-the-art energy saving.
The 20-hectare estate is exquisite. From the vantage point of the winery, the vineyards slope away in several directions. Piero Pagni, the winemaker, explained that the grapes could be grown naturally because the warming sun and cooling winds in this location obviate the need for pesticides or herbicides.
Part of what makes Olianas unique is the extensive use of animals. The fields are plowed by a pair of horses, whom we found doubling as weed eaters. Goats and geese also tend vines by eating the lower leaves, allowing air to circulate around the clusters. Bees play a role by pollinating the flowers and the soil-enriching crops. Not surprisingly, the animals contribute manure that is used as fertilizer.
Our next visit was off the beaten path, both literally and figuratively. Down a series of unsigned dirt roads, used for sheep as often as cars, was Gianfranco Manca's Panevino, an eccentric winery producing only natural wines from the basement of his home. Gianfranco is a passionate, forceful man; his is a theology as much as a profession. This is one of those "just grapes" places where there is no intervention in the vineyard or the crafting. No sulfites are added so the wine must be stored carefully. Like other natural wines, Panevino's reflect the immediacy of current conditions rather than the expected profile of his grape varietals, Monica and Carignan. They're not for everyone. Gianfranco doesn't believe in marketing or websites. Louis Dressner brings them into the U.S.
The vines benefit from the salty wind blown from the nearby Mediterranean.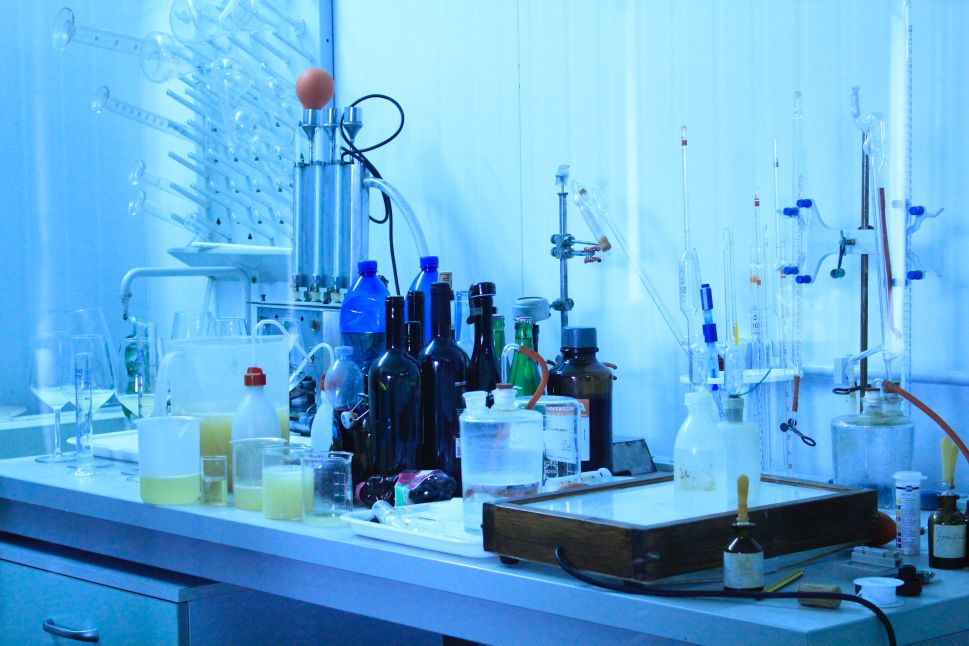 We never would have discovered Panevino if it weren't for our host, Francesco Cadoni, an ex-book publisher from Milan who's returned to his hometown of Escolca to produce olive oil. His multi-award–winning brand, Corte Olias, is organic, pale yellow in color, with a smooth, enticing, fruity taste. Despite the small production, it is in demand worldwide and is shipped as far away as Japan.
Justifiably proud of his local products, Francesco also introduced us to Argei, an eclectic food producer making everything from a sea salt that can only be harvested 60 days of the year, to goat's milk yogurt, olive oil scented with truffles, vinegar and, of course, wine. All are sustainably produced, down to the photovoltaic panels that power the farm and the water drawn from their own well.
Ulzegasirigu Dolci in Gergei, the tiny town next to Escolca, is renowned for its repertoire of traditional sweets, including colorfully wrapped almond paste gueffus; pabassinas (raisin and nut filled frosted holiday cookies); ricotta, saffron and citrus filled pardulas typically consumed during Easter celebrations; and bianchini—a conical meringue. (via Europa 6, Gergei)
Olianas, Panevino, Masoni Becciu, Argei and Ulzegasirigu are all within a few kilometers of each other. The rest of Sardinia yields an equal embarrassment of riches. For example, third-generation baker Angelo Anedda of La Pieta e il Grano (the stone and the grain) is making bread from Sardinian organic hard wheat he grinds himself in a mill made from volcanic stones. We stumbled on his rich, flaky onion loaf at a street fair in mountainous Sorgono.
While searching for after-dinner gelato in the medieval walled city of Alghero, we found ourselves instead at a book signing—naturally accompanied by a wine pour, during which we got to know Paolo Parpinello, who invited us to his vineyard. Everyone in the Parpinello family is in the wine trade. The vines benefit from the salty wind blown from the nearby Mediterranean. While most of Sardinian cultivation is the bush variety, Parpinello opts for six-foot-tall trained vines, with the lowest branches three feet off the ground. Through careful pruning, they concentrate the flavors by reducing the yield to half the norm. The 10,000 cases of wine have minimal intervention and are sold worldwide in areas as diverse as Asia, Europe and the U.S. Their elegant, crisp and clean Vermentino, Ala Blanca, is available worldwide. Next up are plans to introduce their ruby-colored Cannonau, Costantino, with its supple, mature red fruit, to the U.S.
Long-time, well-respected New York restauranteur Gianfranco Sorrentino, owner of Il Gattopardo, The Leopard, and Mozzarella & Vino, as well as president of an Italian food and wine promotion group, has Sardinian roots. He had this to say: "Today's culinary trend is all about ritorno alle origini. Sardinia, being an isolated island, hasn't had its cuisine diluted by new wave cooking. The emphasis is as it was 500 years ago; it's about a small number of quality ingredients."
After a visit to Sardinia, we think you'll agree with him.
Wine Tasting Notes:
Sardus Pater:
Lugore. Vermentino. This full-bodied white shows off artisanal wine-making at its best, displaying character and a unique terroir. Floral aromas and solid minerality. Pair with cioppino and you've got a great meal.
Is Arenas Riserva Carignano. These 70-80 year old vines deliver a silky smooth, rich, red fruit. Nice spice, but not overpowering. Soft tannins make it chewy. Our favorite. A standout accompaniment to our cheese, bread and sausage dinner.
Aruga Superiore Carignano. Also old vines, this is their best wine. A long, rich finish of spicy berries. A bit of leather comes from being in a small cask for a year. If you're looking for a big red, with a dark ruby color, you can't do better.
Olianas:
Olianas Vermentino Some of this fruity, well-balanced white is finished in stainless steel and small barrels. The blended result is clean, citrusy and has a smooth finish. Perfect as an aperitif.
Olianas Cannonau This is a "new style" Cannonau, aged in buried clay amphora, stainless steel, and finished in French oak. The winemaker is bringing out the bold flavors of the grape in a lighter, brighter palette. The concentrated red berries are still there amid hints of chocolate. A unique wine that will pair well with many different dishes.
Parpinello:
Ala Blanca. 2015. Vermentino. This refreshing, cold-macerated white, has floral bouquet and excellent minerality.
Sessantaquattro. 2015. Vermentino. Ala Blanca's elegant cousin. Deeper floral notes, smoother finish, and higher minerality.
Monica. 2014. This award-winning wine is a great expression of a relatively obscure grape. Beautiful bouquet, ruby red color, strong spice. Six months in oak barrels. Would drink well with roasted meat.
Jonathan Russo is the founder and publisher of Organic Wine Journal. As a talent agent, he specialized in culinary media where he represented producers and chefs. He helped develop hundreds of hours of television food programming.
Deborah Grayson was initially in publishing, and now, in the culinary and nutrition worlds. She has two Masters degrees in nutrition and has written for Edible East End, Organic Wine Journal and the Shelter Island Reporter.