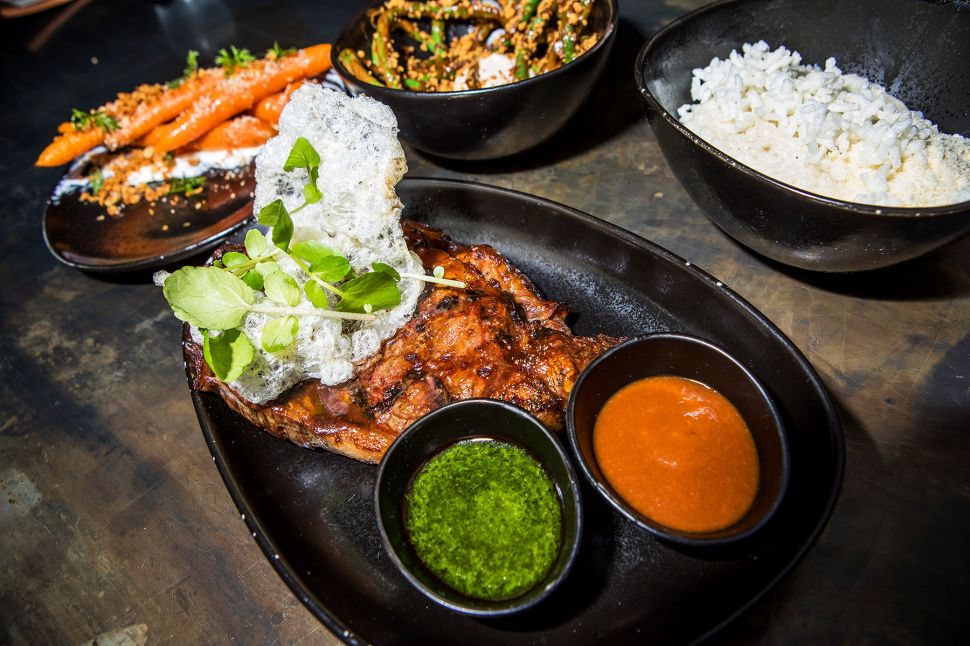 Michael Voltaggio is a modernist wizard, a chef whose repertoire at Ink in Los Angeles includes a dish with cauliflower in the form of cold, almost ice cream-like "rocks" and also "quinoa" topped with caviar. He's known for manipulating ingredients, playing around with texture and temperature while making food that's both delicious and surprising at his Melrose Avenue restaurant.
Voltaggio, whom you might remember as the season six winner of Top Chef, has introduced a new menu at Ink with a section focused on dry-aged Holstein beef. And here are just eight of the things that happen when such an avant-garde chef decides to offer his versions of steakhouse classics:
1) The Flannery California Reserve rib eye, easily one of the best steaks in town, intensely beefy and delightfully funky after being aged for 24 to 36 days, is topped with puffed tendon. There are also filet mignons, short ribs and strip steaks on the menu.
2) Voltaggio's egg yolk gnocchi, a remarkable mindfuck of a dish that offers both the silkiness of egg yolk and the chew of gnocchi, is now served with French onion broth, Appenzeller cheese and miniature croutons. (It previously came with a brown butter sauce and hen-of-the-woods mushrooms.)
3) The Caesar salad with Little Gem lettuce and smoked parmesan has an oversized anchovy chip on top that you'll likely want to break into little pieces for a burst of salt and extra umami in every bite.
4) Beef tartare is reimagined as bibimbap with crispy rice and tofu dressing.
5) Smoked tofu and fermented black beans show up in the green beans with an almond-shallot crumble.
6) Mashed potatoes come with your choice of seaweed butter or organic grass-fed milk.
7) Instead of traditional macaroni and cheese, Voltaggio brings the carbs and creaminess with Carolina gold rice, local milk and freeze-dried Fiscalini cheese.
8) Nantes carrots are prepared with cumin granola, Greek yogurt and toasted coconut.
Ink recently celebrated its fifth anniversary, which is a reminder that Voltaggio's been doing his wildly creative, globally influenced thing for a good while now. He's long been ahead of trends, but he's also now adding to the conversation about how there's never been a better time to eat meat in Los Angeles. From the wagyu tasting at Baltaire to the California Holstein strip at Shibumi to the charcuterie and steaks at Gwen to the large-format madness at The Cannibal, L.A. is a wonderland for aggressive carnivores. Things should only get more intense whenever April Bloomfield opens her Hollywood restaurant.
L.A. is also a wonderland of confident chefs who know they don't have to be just one thing. (Voltaggio has his casual Ink.Sack sandwich shop down the street from Ink and was the star of a Carl's Jr. Super Bowl commercial this year.) Yes, Ink is where you can go to be dazzled by molecular gastronomy. Yes, Ink is a great steakhouse. It really isn't so weird that it's both.