A 2017 Kia Niro Triathlete Inspired autonomous concept car with a shower head in the passenger door is on display ahead of the Los Angeles Auto Show, November 2016.
ROBYN BECK/Getty Images
People look towards an autonomous self-driving vehicle from Transport Systems Catapult, as it is tested in a pedestrianised zone, during a media event in Milton Keynes, north of London, on October 11, 2016.
JUSTIN TALLIS/AFP/Getty Images
A driverless EZ10 minibus, able to carry up to 12 passengers, carrying out its first test on the banks of the river Seine in Paris, September 2016.
ERIC FEFERBERG/AFP/Getty Images
This photo taken on April 20, 2016 shows people taking photos of an internet electric battery driverless concept car 'LeSEE' during a launch event in Beijing.
AFP/Getty Images
The Mercedes Benz F 015 self-driving stands on March 13, 2016 at the Dam square in Amsterdam.
BART MAAT/AFP/Getty Images
A driverless car from Audi is seen on display during the first Consumer Electronics Show (CES) in Asia in Shanghai on May 26, 2015.
AFP/Getty Images
Driverless minibuses began taking passengers in Lyon, France in September 2016, in a year-long experiment that officials called a "world first."
PHILIPPE KSIAZEK/AFP/Getty Images
A semi outfitted with sensors for autonomous driving, by Otto. One of its truck completed its first autonomous delivery this year: 50,000 Budweiser beers.
Steve Jurvetson / Creative Commons
The Devbot, an autonomous race car prototype, from Roborace.
Courtesy of Roborace
Automakers in Michigan persuaded lawmakers in that state to pass four new pieces of legislation, making the state arguably the most permissive place to experiment with self-driving cars and autonomous vehicles. Governor Rick Snyder has signed the legislation into law, as Fortune previously reported. We recently reported on car sharing pioneer Robin Chase, who predicted the demise of any transportation company that is not built to complement autonomous vehicles.
Change is coming for personal transportation, and it's probably coming sooner than people expect.
Cars are designed for people to drive them. Once designers (and regulators) fully wrap their heads around personal vehicles without a human operator, it should dramatically change what a car looks like and how it feels to be inside one. We can see signs of these changes ahead in the nine recent concept cars from different makers of vehicles shown in the slideshow above.
Mercedes has been one of the first companies to really show off how different these cars could be in practice. Notice the door handles above. The two doors above open in opposite direction, providing the largest possible entryway for passengers. Inside, the seats all face toward the core of the car, so the person in the "driver" position actually has their back to the road. Tech.co called it the first attempt to create a luxury experience in an autonomous vehicle.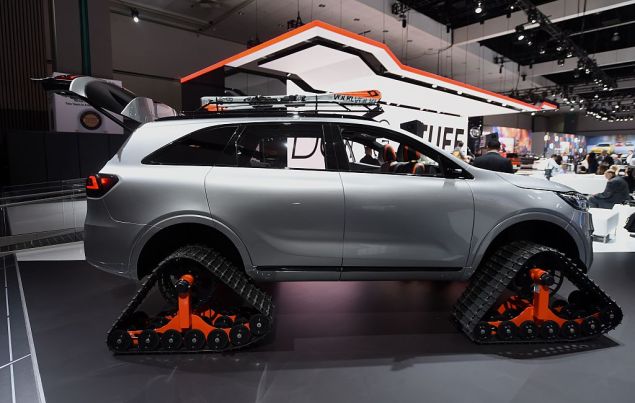 Kia has a couple ideas that it's tinkering with for athletes. Besides the version for triathletes shown above, this idea has the skier in mind. This version was outfitted by Lux Motorwerks, according to Top Speed. For athletes, the value of self-driving cars is obvious. Imagine, for example, kayakers that can ride to the top of a river's headwaters, slip their boat in and simply direct their car to meet them at a dock fifteen miles away.
Roborace unveiled its prototype "Devbot" this year. Its goal is to create a sort of NASCAR for self-driving vehicles. In November, it released a YouTube video of an autonomous race car successfully navigating multiple laps around a racetrack, but it didn't divulge the car's speed.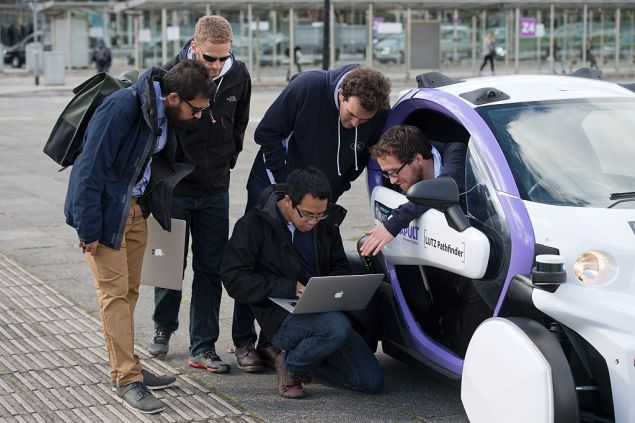 In a press release from October, Transport Systems Catapult, which is running an experiment with driverless cars shown above in the United Kingdom, the company described the system that operates their purple and white vehicles, writing:
The autonomy software running the vehicle, called Selenium, was developed by Oxford University's Oxford Robotics Institute and integrated by Oxford University spinout company Oxbotica on to an electric vehicle. Selenium uses data from cameras and LIDAR systems to navigate its way around the environment.
A French firm called Easymile put together the EZ10 test for the city of Paris, according to RFI. These smaller buses are meant to serve as last mile solutions between major transit hubs and passengers final destinations.
Buses have been inching into their whole autonomous category. Besides France, Australia has also been trying out robotic mass transit. Arizona-based Olli has been leading in experimentation here, as The Verge reported.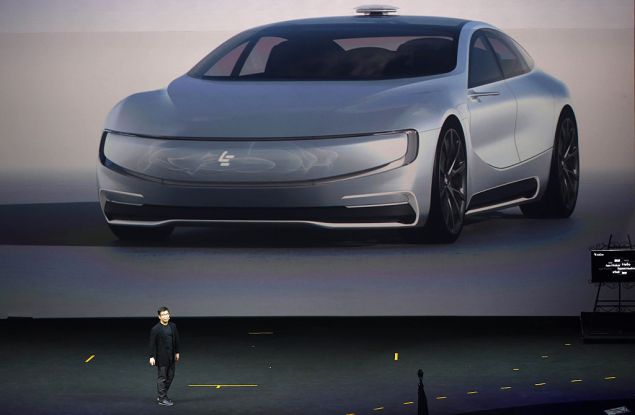 The strange thing about this vehicle? The pains its designers have taken to tuck its sensors away.
Chinese manufacturers don't want to be left out of the race to dominate a new category of automobile. LeEco showed of the vehicle above, a partnership with Faraday Future, in April, according to Electrek. The company has predicted it will overtake Tesla in the market for electric vehicles. Last month, it raised $600 million from 10 Chinese companies, Reuters reported.
Can't wait for a real life autonomous vehicle? Until then, there's virtual reality.