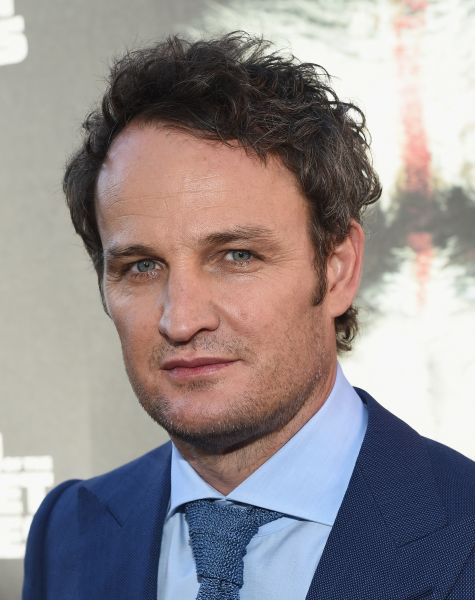 It's one hell of a detour to fly to Morocco from New York to discuss Chappaquiddick, the late Senator Ted Kennedy's Massachusetts Waterloo. But here in Marrakech — where time and space stretch out like Elastigirl's forearm – I sipped mint tea with actor Jason Clarke. We discussed his starring role in John Curran's recently completed biopic that should make the tall Australian actor, 47, a household name.
The blue-eyed manly man is already recognizable from roles waterboarding in Zero Dark Thirty, climbing Everest, and raging as the broken mechanic George Wilson in Baz Luhrmann's florid Leonardo DiCaprio jalopy, The Great Gatsby. He's on the jury of the Marrakech International Film Festival and has escaped a dark screening room to relax in a hushed colonnade of the posh La Mamounia, the hotel where Alfred Hitchcock shot the 1956 thriller The Man Who Knew Too Much with Jimmy Stewart and Doris Day.
While birds chirp and a fountain burbles, Clarke explains diving deep into the role of Ted Kennedy (and donning a wig and prosthetic teeth) in the chillingly titled Chappaquiddick.  Slated for 2017, the period drama zeroes in on Joe Kennedy's fourth son whose presidential aspirations drowned alongside his tragic companion, 28-year-old Mary Jo Kopechne (Kate Mara) on July 18, 1969 in a drunken single-vehicle accident. Clarke recently recreated that fateful night, filming off Mexico's Rosarito Beach where James Cameron shot Titanic.
Jason Clarke: We shot in the massive water tank in Rosarito over six weeks for the night of the accident. It was a long night — and it was a really long night for Ted – and a long day. We start off Washington; then Martha's Vineyard for the boat race, and then the whole party, the race and then the accident and the whole night to the next morning.  So it was a long night for Ted.  He had a rough night.
Observer: Not to mention what kind of night it was for Kopechne, which is what makes the subject particularly chilling and challenging. I'm assuming, since you are the star, that it doesn't present a portrait of Kennedy that paints him with devil's horns. But this was a critical night – the critical night — in his life and his career?
A critical night, yeah.  Then we have the week leading up to his speech, to the people in Massachusetts.  This was in 1969 and he was already a senator.
The same year you were born?
Yeah, well it was also the week of Apollo 11, NASA's fifth manned space mission. They took off for the Moon, one of Jack Kennedy's legacies, on July 16th. I was born on the 17th. The accident happened July 18th.
How strange.
It was pretty strange.  And particularly difficult for the family and the father, for Joe, whose buried three sons and this is the weekend that NASA's gonna land on the moon, which is what Jack set in motion. And, then, Joe gets a phone call from his last remaining son in the middle of the night–
The Great White Hope in some ways.
Probably, great, a lot of hope too, in a lot of ways, the Great Left Hope, maybe. It was a key moment in American history in the 20th century.  I started off reading about Joe Kennedy in the book The Patriarch, which is a great read, a big history of the 20th century in America; Joe Kennedy was a massive figure on all kinds of levels. He's a much abused, maligned; I think misconstrued as well as you know, rightly blamed in it.  But his impact and influence on American society is huge. He did incredible things, good and bad.
In the movie, two-time Oscar nominee Bruce Dern plays Joe, whose final hope for a son in the White House is Ted. And then he gets that call in the night…
Yes.  After Chappaquiddick, he had two strokes and then he died a few months afterwards.  I also heard a story that Ted slept in his father's room for like three days on the floor, in the final days. It was a very tight family. The film paints a very straight-up picture. It's a horrific event and what happened is horrific.  And then it's all the more confusing, I think, in confronting that dark night when you put it in context of his life as a whole.
How so?
We're a very judgmental society. That's not to say that you shouldn't be held accountable or that what happened is wrong, but, the life was lived, and you need to look at the whole picture.  Ted went on to, arguably, when he let go of the whole Presidency thing and all that, to be one of the great, if not the greatest legislators America has had, in terms of the amount of legislation he put into motion and the effect that it had on everyday people's lives.  And you don't forgive him for what happened in Chappaquiddick.  But, we've just seen it, working hard just to pass legislation now there for the last, how many terms, eight years, ever longer, and so to go to pass any meaningful legislation 'cause it just, people just, people aren't what they seem to be.  And don't really actually maybe want to do it as much and, you know, are blocked.
One of the last political arguments I had with my progressive father before he passed away was about Ted Kennedy – whether we should judge him by his character or by what he accomplished as a legislator.
It's very divisive. It's a confronting film. I was profoundly affected just in reading the script; I wouldn't say moved, because it's an emotional thing, and it was.  But there was a lot of turbulence inside me. It made me go and read about the incident. And then, go back and watch Bobby's assassination. As I read up and began to put it all in into context, I found it to be a very challenging film. That one critical night changed a lot of things, you know?  It changed his career, it really did, and it started a lot of things, being Chappaquiddick, and it being an examination of politicians and their private lives.
How would you describe Teddy's character, Chappaquiddick aside?
Hopefully if I've done my job and the director has done his job, then that's what it's about, a question of character.
Would you say it attempts to answer who this complicated political figure was?
There is no answer, but you'll feel like you know him. I think it's very important to allow people into Ted Kennedy. Thousands of people lined the streets the day of his funeral. And there was also this mythical family, and magical and also incredibly reviled, as well.  They were massive figures: Joe, Jack, Bobby and Teddy.  What we set out to achieve as well, within the story, is some understanding of the individual man and what he went through.
That title itself – Chappaquiddick — is freighted with meaning.
It's a deep, deep thing.  People have very strong feelings. Even in terms of what people think of it, what's Hollywood going to do with it?  And also what Ted represents for liberal Democrats, you know?  That night in Massachusetts is one event within it. It's become a political football. For a long time it's been, you know, nobody died at Watergate or nobody died at such and such, and then what?  And Ted Kennedy: he struggled against it and worked with it his whole life.
It's the kind of tragedy that, if you survive, changes you.
That's at the very heart of the movie.