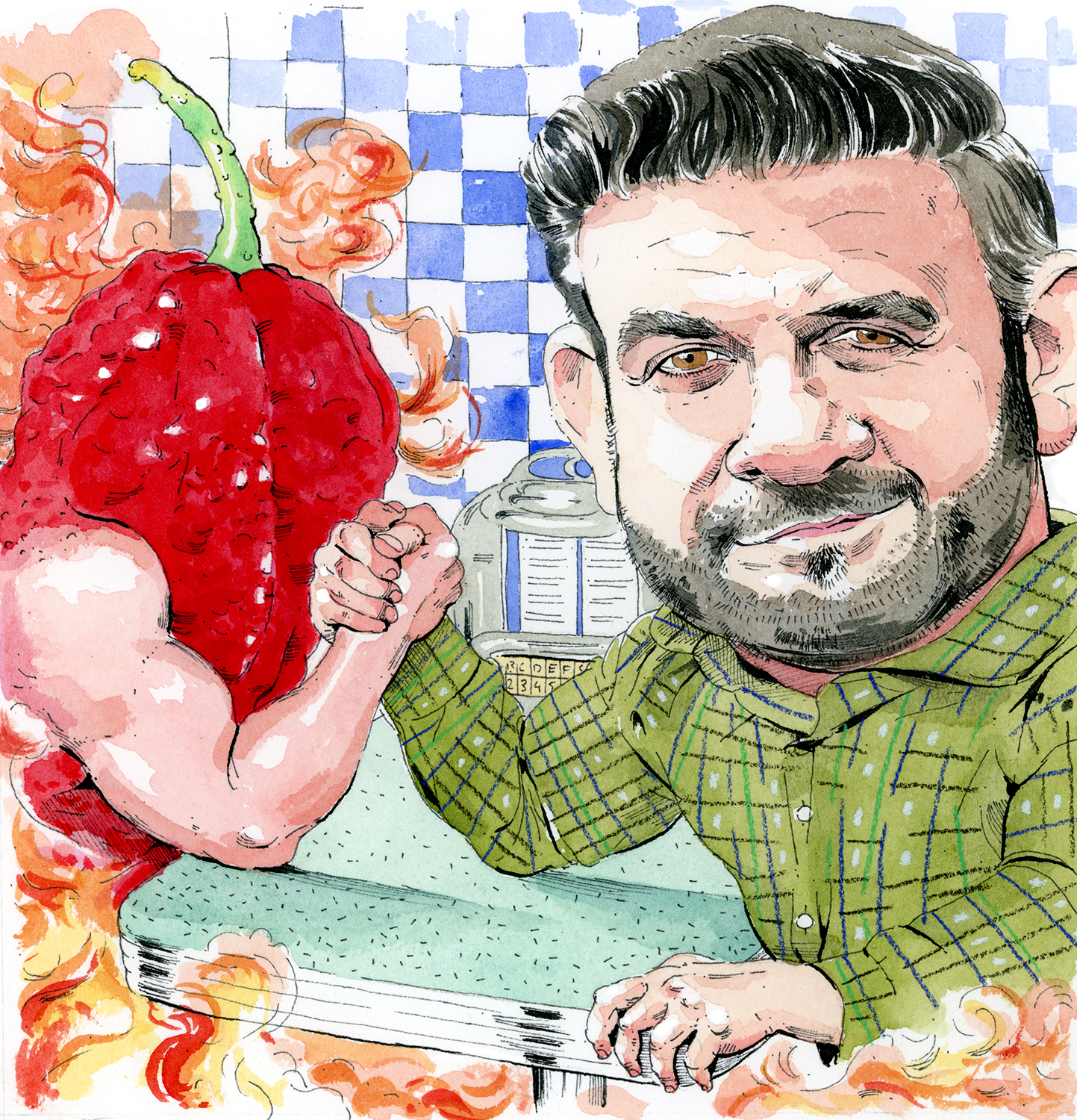 The strong, sweet scent of roast beef and gravy wafts down Avenue U and leads into Brennan and Carr, a squat brick meatery that has been serving Brooklyn carnivores since 1937. Adam Richman, the host of shows, such as Man v. Food, and author of cookbooks, including Straight-Up Tasty: Meals, Memories, and Mouthfuls From My Travels, strides into the Bicentennial Room of the restaurant, wearing a blue camouflage hoodie and dispensing bear hugs to the white-jacketed waiters he calls "Brother." He grew up nearby, pointing toward the front of the restaurant at the long-gone branch of Roosevelt Savings Bank, where he opened his first passbook account (opening balance: 10 bucks from his great aunt Ann) and the YMCA in the other direction where he learned to swim.
The Yale School of Drama grad speaks three foreign languages (Hebrew, French and Japanese) and can banter over a double dip about Shakespeare or international politics, but he also can converse with ease with the proletariat. That's clear when he greets a fan who marvels at Richman's competitive eating feats of yore. The large construction worker in a yellow florescent vest named Tony tells Richman how he once tried but failed to eat 10 hot dogs in one sitting. As they snap a selfie, Tony rhetorically asks, "How does he fucking do it?"
Your shows attracted a broad demographic. You connect with people…Thank you so much
What do you understand about the country that many Brooklyn liberals can't fathom? People in entertainment—especially, the hubs of New York and Los Angeles—some of us with hubris refer to Chicago as "the Second City." How many times have you heard even in passing people use the phrase "fly-over country"? That expression is hurtful. And I feel that my dad, who had an interesting youth growing up in a little bit of a rougher area of Brooklyn, taught me, "respect for respect." Be alert; be aware of your environment. And when I go into someone's kitchen in Nashville or Oklahoma City, places where I have absolutely zero cultural touchstones, where I absolutely do not have the familiarity I have with Avenue U, the home-training that my mom and dad gave me—sir and ma'am and holding doors for ladies—goes pretty far.
You jokingly refer to yourself as "Jewy McJewpants" during a talk you gave at your alma mater, Emory University. Have you experienced anti-Semitism in your travels? Absolutely. The very first time I experienced anti-Semitism was on Ocean Avenue after temple (I used to grab a bacon egg and cheese biscuit from the McDonalds on the way to temple on Shabbat and then go in and pray. I'd pray for my soul, having just eaten bacon, egg and cheese). But after Temple, a lady started shouting at my friends, saying how we should have died in concentration camps. Obviously, with the internet, I've gotten called a kike. My mom even told me she had to like stop looking at stuff online because she had seen someone who said, "I wish I knew he was Jewish before I started liking him."
Could you talk about the healing nature of food following the death of a loved one? I particularly like the ritual of the shiva. I'm certainly no theologian, but I would wager that we have a dietary component to nearly every aspect of our faith, whether it's putting the handkerchief in the wine at a bris to having challah on Shabbot. Seeking comfort in food is something that we understand about and I think because in the times of joy, especially in Judaism, we share food. Grandma's rugelach, Grandma Rose's gefilte fish reminds us about what's still important.
In the speech at Emory, you describe your time studying pre-med as "a dream that other people had for me." What or who do you think enabled you to chase your own dream? The guy I think of as a mentor is named Tim McDonough. He's a theater professor at Emory. On a $5 bet, I started acting and ended up with the lead in an adaptation in Antigone. I was out of my depth, and it became very clear to me very quickly that I needed more work. And everyone reverentially talked about Tim McDonough. I just said to him, "Tim, I know I'm not a theater major; I'm not a student of yours; you don't know me from a can of paint. Would you work with me?" And he took I don't know how many hours of his time and just changed what I thought acting was.
Bussing tables is the one job that I think everyone should have.
According to researchers at the University of Vermont, women who watch food programs for inspiration or to cook meals weighed 11 pounds more than those who derive recipes from other sources like friends. Do you feel some responsibility for the nation's obesity epidemic since your show focused so much on consumption? No, I don't. Starting with the show that is perhaps the most incendiary in this subject matter would be Man v. Food. I always made it very clear, and I couldn't be clearer about it in every media opportunity I had, that I never espoused that show as a way to eat, a way to live. Those were always once-in-a-blue-moon indulgences.
The idea was never that every day you should eat Gus's Fried Chicken. It was not. But if you find yourself in Nashville and don't eat Gus's Fried Chicken, you will miss out on a culinary experience. All I can do is find an interesting story to tell, be respectful to the host restaurants that help me tell it and try to bring the viewer there in an entertaining way for 22-and-a-half minutes. You are making entertaining programming, and you're not screaming "fire" in a movie theatre. There has to be a point when while showing a delicious dish, your culpability ends and someone's habits and inability to find balance begins.
You worked many jobs in the restaurant industry. What have you learned from bussing tables and washing dishes that serves you today? Bussing tables is the one job that I think everyone should have. The actor Rufus Sewell said it best. He said in drama school, no one wanted to play the butler and as a result everyone played the butler badly. So…"if you think I'm just the busboy, you'll always be the busboy," I'm speaking metaphorically. It's about really committing, because if you do it and you're efficient, the restaurant will be inherently more efficient; the waiters will get better tips because the tables will turn more quickly; they will be appreciative; they will tip you out; the owner may see your hustle and promote you. No matter what your job, do it well. Hustle is always appreciated, even if not recognized in the moment. Someone is watching you, not in a bad way.
Last question. I heard that Anthony Bourdain blamed you for the creation of ISIS, arguing that…Someone watches my show, and they supposedly say, "America's a very bad place. Tomorrow I bomb it." Tony is actually a friend of mine and I talked to him about it. I was like 'You threw me under the bus.' I understand the need for a good line but I hope that his want of a good friend is greater than that, and he made it clear that it was.
For the record, are you a member of ISIS? Have you no decency sir? I have not nor have I ever been a member of ISIS.
Though I think there was a girl named Isis in my high school.
This interview has been edited and condensed.