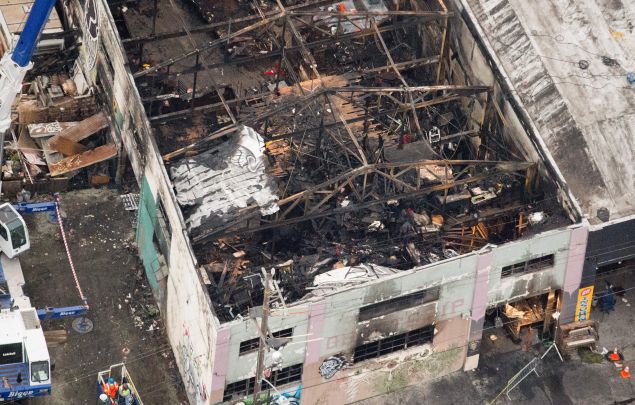 In the days after Oakland's Ghost Ship warehouse fire, those exhumed from the debris held a mirror to our own creative scenes.
Just a few raids and coats of paint ago, The McKibbin Lofts could just have easily been ignited by kids smoking in cramped hallways and loft bedroom alcoves. A vivid memory of a bassist lighting a match on the wall of crust-punk haven 538 Johnson that once seemed reckless now seems suicidal.
But beyond Brooklyn's DIY creative class, the tragedy in Oakland revealed what society-at-large thinks about DIY spaces, too.
Sophie Weiner wrote a powerful Village Voice piece about how the fire ought to provide an opportunity for the media to understand and propose solutions to safeguard these marginalized scenes, but instead only criticizes them. "Their assessments of the tragedy emphasize the illegal nature of the space, which was neither zoned for housing nor permitted to host events," she writes. "The New York Times called it a "fire trap"; the Daily Mail, always searching for opportunities to sensationalize, called the space a "death trap" and a "commune," describing the party as a "rave"—a term that's nearly impossible to define."
She articulates very well what the larger media narrative fails to understand—that these spaces exist out of necessity, safety be damned. Kids on the edge, often part of vulnerable communities, have a home at all-inclusive DIY spaces in Brooklyn like Silent Barn, Trans-Pecos and Market Hotel. And we know that Ghost Ship was such a place from the diverse backgrounds of those lost.
"Among the attendees and performers unaccounted for or confirmed dead, according to the Trans Assistance Project, are three transgender women: Feral Pines, Em Bohlka, and Cash Askew, one half of downcast synth-pop duo Them Are Us Too," writes Sam Lefebvre for Pitchfork. "Known casualties include film director Alex Ghassan, as well as Ara Jo, who ran arts spaces and zine fests with infectious aplomb. One of Friday's scheduled performers, Chelsea Faith, an electronic musician who records as Cherushii for 100% Silk, is unaccounted for…The breadth and scope of the missing persons—whose varied identities and backgrounds reveal an event intent on inclusivity—incited a staggering show of tribute."
"As we mourn this tragedy, we can take heart in the fact that the electronic music scene was born out of, and made resilient by, struggle—and that no amount of crackdowns has been able to stop it," wrote Weiner. "Far from being fearful or resigned, the response from artists in the Oakland community has affirmed the importance of these spaces for people who use art to survive in the face of lives characterized by oppression."
Simply put, many of these spaces that outsiders demonize as shady dens of iniquity are safe havens where kids with nowhere else to go can be themselves.
Baltimore forgot this when its fire department shut down the similarly inclusive Bell Foundry, citing "numerous safety violations as well as deplorable conditions." Oakland, meanwhile, has learned that these tragedies can be prevented with some infrastructural support from up top—mayor Libby Schaaf announced a $1.7 million investment to "support sustainable, long-term solutions to creating affordable, safe spaces for Oakland's artists and arts organizations."
Municipal organizations will come together in the interest of closing a place down, but not helping keep that place up to code.
Will New York soon follow suit, recognizing the value of its art spaces and cultural incubators? Gov. Cuomo recently set his sights on combatting ticket bots, so the arts should certainly be on his mind, but DIY spaces have never earned anything but ire from municipal organizations. Palisades was shut down last spring by both the Department of Buildings and the fire department for not having sprinklers, suggesting that municipal organizations will come together in the interest of closing a place down, but not helping keep that place up to code.
"We had tons of meetings with lawyers and architects in order to build two more doors along the side wall of Palisades," booker Ariel Bitran told Ad Hoc's zine. "The Department of Buildings was just not cooperating. We were trying everything we could to get the licensing right, and it was going nowhere."
No one knows this better than Todd P, the proprietor of Bushwick's famed Market Hotel. Though the show space was brought up to code with a $100,000 grant, and registered as a nonprofit with a temporary event permit to sell booze, the police got together with The Department of Buildings to shut down the space for illegally "warehousing" alcohol in a short time between when their temporary permit expired and their permanent liquor license moved into the next phase of the approval process. This was a clear example of an organization going above and beyond to stay up to code and operate legitimately, to follow the law, yet they were still penalized for it.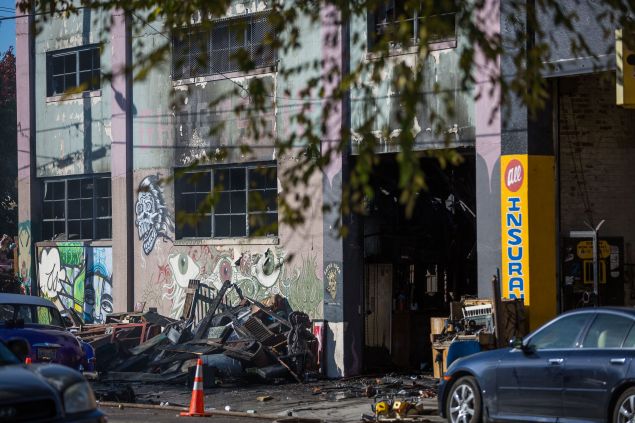 "I think that sadly, and this is no insult to the police, just a statement of fact, that the police in this particular jurisdiction may not see this organization in the same light as other more traditional fine arts institutions," Todd P told me in a thorough conversation. "At this point I'm less concerned with what I should or shouldn't have to do and more concerned with what is going to get the message across."
One solution proposed by Todd involved a collection of resources for how to keep our spaces safe, from potential hazards and dangers in construction to general best practices. This involves some radical inclusion, extending the reach of the space to the community beyond its current patrons to include builders, contractors, and other folks with the resources and the know-how to not just keep these spaces safe, but thriving.
Safer Spaces organizer Melissa Frost has done just that, creating a master Google Doc of resources and tips for keeping places up to code that no municipal organization in town could possibly dispute. Because the document is very popular and too many eyes can cause it not to open, I've copied it here.
Some of Frost's tips sound obvious, but are nonetheless the kind of things people forget to look for in a party atmosphere—clear paths, no obstructions, no clutter. Others, like not allowing large art instillations with certain materials, may not be so obvious.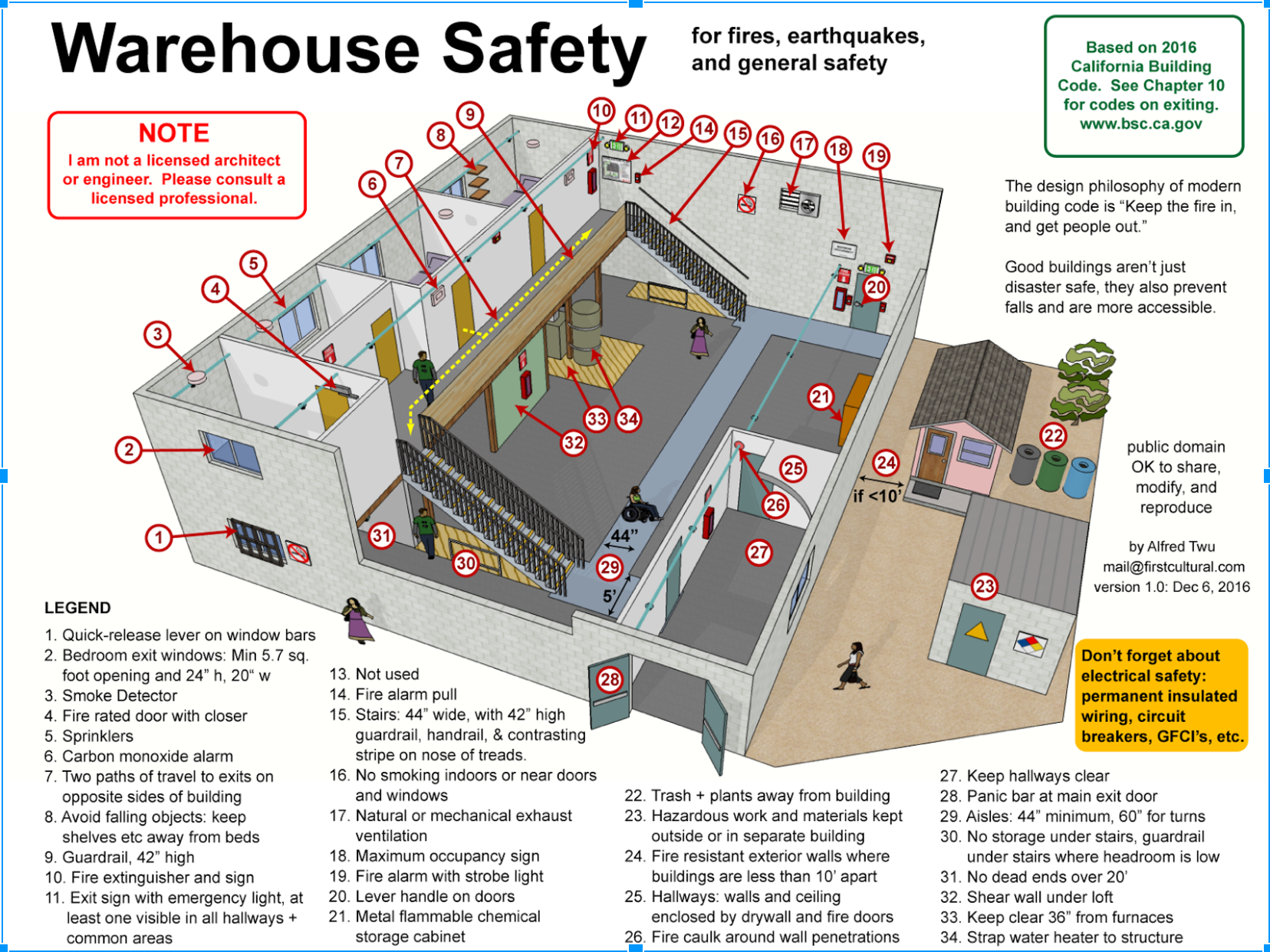 "I have played in so many spaces with precarious floors and beams and stairs and not enough exits and certainly no sprinklers," wrote Oakland resident and former Moldy Peaches member Kimya Dawson after the fire. "Warehouses, squats, basements, rooftops, barns. Playing music saves my life. People tell me listening to music saves their lives. People telling me that my music saved their life saves my life even more. And we take the risks. Playing and listening in unsafe spaces. Because when we feel like we are dying anyway the risks don't seem as risky as the risks we already face every day. The risk of self-destructing.
"There aren't enough places for us to gather. Our favorite places get turned into parking lots. So many clubs with their overhead and their staffs and their contracts and their lack of inclusivity and lack of tolerance and their age restrictions and their bars and their bigots. Those spaces are also unsafe just in different ways. Those spaces break you if you don't make em the money. Because it's always about the money. The fucking money. They will make you feel like a failure. Like a piece of shit."
"But all we can do is art. So we meet underground. We lurk in the shadows. And there it isn't about success or failure. We sing and scream and cry and laugh and dance and group hug like cinnamon rolls and tell each other to get home safe and stay safe and be careful because the world is scary and the world is risky. We know we have to take care of each other."
We always did know, but as Dawson suggests, there was a thrill in ignoring these problems, a vacuous fleeting rush of youthful ambivalence. Now that the thrill is gone, what comes next?
A community of creators is a community of people who build things, too.
For one, everyone whose ever thought about throwing shows needs to take some personal agency and make sure their space is up to snuff. There should be no reason for any municipal entity or organization to deem the space unworthy. If these sort of spaces are important to you, making sure they're not death traps needs to be just as important.
The next step is to stop engaging in blame. Maybe Oakland Mayor Schaaf was too cozy with developers and enabling the gentrification that made Ghost Ship a necessity in the first place, and maybe her announcement of that investment really is too little, too late. For the 100% Silk community, that hurt will never fully evaporate. But writing Op-Eds that place blame and churning out evergreens about gentrification is one thing, while starting and maintaining your own show space is another. It's that same old "be the change you wish to see" speil that your inspirational high school english teacher always defaulted with, only now the stakes are much higher.
The truth is, if you're a working artist, the city, by and large, doesn't give a shit about you. If municipal organizations can join forces to shutter a venue, they could surely join forces to ensure its health and vitality, too. But they aren't.
And so this work needs to start with those who frequent that community first and foremost. Pool your resources, seek donations, hold each other accountable. A community of creators is a community of people who build things, too. The tragedy at Ghost Ship needn't happen again if we remember this, and commit to making sure our bodies are safe inside the places where we go to lose our minds.