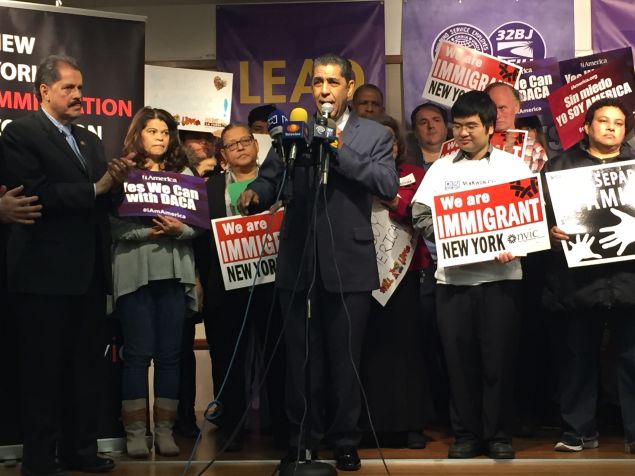 Rev. Al Sharpton and Congressman-elect Adriano Espaillat railed against the array of "far-right zealots" President-elect Donald Trump has selected to head various federal agencies—and called for black-Latino unity in the face of a possibly hostile incoming administration.
Sharpton used the weekly Saturday gathering at the Harlem headquarters of his National Action Network to rip into an array Trump's recently announced Cabinet nominees: former World Wrestling Entertainment CEO Linda McMahon for head of the Small Business Administration; mega-investor Wilbur Ross for Secretary of Commerce; billionaire businesswoman Betsy Devos for Secretary of Education; ex-Goldman Sachs executive Steven Mnuchin for Secretary of the Treasury. The controversial civil rights activist also reminded the audience and listeners on the radio of his planned protest at the Dr. Martin Luther King Jr. Memorial in Washington, D.C. on January 14, six days before the Queens-born real estate mogul's inauguration
"He's stacking the Cabinet with the most far-right zealots that we ever seen in Washington. To the right of Ronald Reagan's," Sharpton warned. "Trump has appointed Wall Street guys, billionaires, over Treasury, over Commerce."
Sharpton added that Devos—a longtime backer of charter and Christian schools—"does not believe in public education," and would transform federal school funding into a voucher system that would favor a small percentage of well-off students while neglecting the rest. And he mocked the selection of McMahon at length.
"He put the woman from WWE, the wrestling folk, over Small Business. Oh, yeah, Ms. McMahon, who made a living with people body slamming each other," Sharpton, who himself served as a WWE Raw guest host in 2009. "That's who you're going to try to get an SBA grant from, the body slam lady."
These nominations, the African-American advocate argued, constituted a betrayal of the populist overtones that characterized Trump's run for the White House.
"When you look at the footage of what Trump said to America, during the campaign, then look at who he has selected to nominate for his Cabinet, it is the most blatant bait and switch that I've ever seen," Sharpton said. "You go to blue collar workers in Wisconsin, in Kentucky, in Pennsylvania. You go to coal miner workers in West Virginia. And you tell them that they've been forgotten, you tell them that they've been ignored, you tell them that it's us against them, you tell them they've exported your jobs to China and to Mexico."
"I'm telling you this is as serious as it gets. Donald Trump is not even near subtle about it," he added.
Espaillat, the first formerly undocumented immigrant elected to the House, assailed several other Trump's proposed appointees: Breitbart News co-founder Stephen Bannon for chief political strategist; Alabama Sen. Jeff Sessions for U.S. Attorney General; Oklahoma Attorney General Scott Pruitt as administrator of the Environmental Protection Agency; fast food magnate Andrew Puzder as Secretary of Labor. The Dominican Republic native alluded to the rainstorms that have deluged his home country—a symptom of climate change, Espaillat said, a phenomena Pruitt doubts exists—and to Sessions' assertions that immigrants from the Hispanic island lack the skills to contribute to U.S. society
"He nominates Jeff Sessions, a fellow that gets on the floor of the U.S. Senate, and says, when he's talking about immigration, if you come from Latin America, if you come from, that you have nothing to offer the United States," said Espaillat, who will assume the seat that belonged for 46 years to retiring Congressman Charles Rangel. "We will not go back to the times when Immigration used to raid our homes on Saturdays and Sundays, when we used to meet with our families, to try to deport those that didn't have any papers. We will not go back to those days!"
The former state senator also attacked Puzder's record as chief executive of the Hardee's and Carl's Jr. restaurant chains, where he opposed minimum wage increases and the Affordable Care Act. A number of his company's franchisees also faced allegations of abusing and underpaying their employees.
"So he appoints him, of course, as the head of the Department of Labor. This is a guy who opposes the minimum wage of $15 an hour across the nation. How can you live in America making $7.25 an hour?" the lawmaker lamented, noting many fast food workers subsist on government benefits. "So they can rape the economy by getting their own workers to be eligible for food stamps, to get their own workers to qualify for Section 8, to get their own workers to qualify to Medicaid, to make sure they don't have to up the money for a health program."
Espaillat linked these appointments to Trump's long record of incendiary statements, online, at the debates, at his feverish rallies and in the 2005 tape that captured him describing his affinity for grabbing women "by the pussy."
"More than the toxic words, more than the intolerant language that he has perpetrated throughout the debates for the presidency and subsequent, his appointments are deeply concerning and dangerous," he said. "And that is why we should all march on the 14th. That's why we should all join the National Action Network and Reverend Sharpton and all march on the 14th! I will be there with you on the 14th!"
The congressman-elect ended his address with the exhortation "keep the faith"—the famed slogan of Adam Clayton Powell Jr., the legendary representative who held the Upper Manhattan seat before Rangel. But Espaillat, a powerbroker locally, will have little influence in Washington as part of the largely inert House Democratic minority.
Sharpton and Espaillat have had a complicated relationship. The black activist backed the then-state legislator's failed 2005 campaign for Manhattan Borough president, but favored Harlem Assemblyman Keith Wright in the race to fill Rangel's spot—and even accused a pro-Espaillat group of attempting to suppress the district's African-American vote.
He recanted that stance after Espaillat triumphed in the Democratic primary. The congressman-to-be then supported Marisol Alcantara, a former NAN employee, to take over his seat in Albany.
"Sometimes you gotta let old beefs go, when everybody is targeting you," Sharpton said at the Saturday rally, though it was not clear exactly whose feuds he was referring to. "The only way they can keep that control at the southern tip of this island is to keep us fighting at the northern end."
Check out the Observer's exclusive interview with Sharpton below:
[protected-iframe id="dbc2e1ede101671306a7b9f327e6e00a-35584880-66645959″ info="https://www.facebook.com/plugins/video.php?href=https%3A%2F%2Fwww.facebook.com%2FObserverPolitics%2Fvideos%2F1450605784967010%2F&show_text=1&width=560″ width="560″ height="420″ frameborder="0″ style="border:none;overflow:hidden" scrolling="no"]
Disclosure: Donald Trump is the father-in-law of Jared Kushner, the publisher of Observer Media.