Four years ago, I was lucky enough to attend the White House Christmas Party. That's one of the few occasions where the masses in attendance are allowed to form a line and do a step-and-repeat with the president and first lady. I remember being more nervous than the usual meeting-a-celebrity butterflies in the stomach; and I was relieved, watching the line inch closer and closer to President Barack and Michelle Obama, that it didn't appear that anyone was given more than a couple seconds to chat before a camera flashbulb went off and the star-struck attendees were escorted out of the room.
When it was my turn to meet the president, I managed mumble some words into a barely cogent sentence, which unfortunately are seared into my brain forever. "You like Homeland?" I asked the leader of the free world.
"The TV show? Why yes, I like Homeland," President Obama replied.
"Me too. I like Homeland."
The cameraman then took mercy on me, and a bulb flashed.
As I was skittering out of the room in the White House, relieved the hard part was over (I needed to go cry in the next ornately decorated room, thank you very much. Homeland? Come on! That's a show about terrorism!), I felt a light touch on my shoulder. It was the president.
"You know," he said thoughtfully, "I usually don't like tats…but I really like that one you have." He indicated to my shoulder, where I had an abstract tattoo in red circles and what seemed to be black brushstrokes. Because I must have looked like I didn't understand English real good, President Obama clarified, slowly: "I…like…your…tattoo."
Then I got to go into the other nicely appointed White House room and cry for five minutes straight.
I should have anticipated this response: Almost everyone I've met in the last eight years has commented on my tattoo by New York artist Amanda Wachob. Her style of abstract watercolors seem more hand-painted than tattooed and are as recognizable in their unique properties as a Van Gogh or Matisse. Often people on the street or subway, in other states (and increasingly, in other countries), will flag me down shouting, "Amanda!" and pointing at my arm. It's a universal acknowledgement: "You have an Amanda Wachob tattoo!" I've started answering to the name "Amanda" at this point.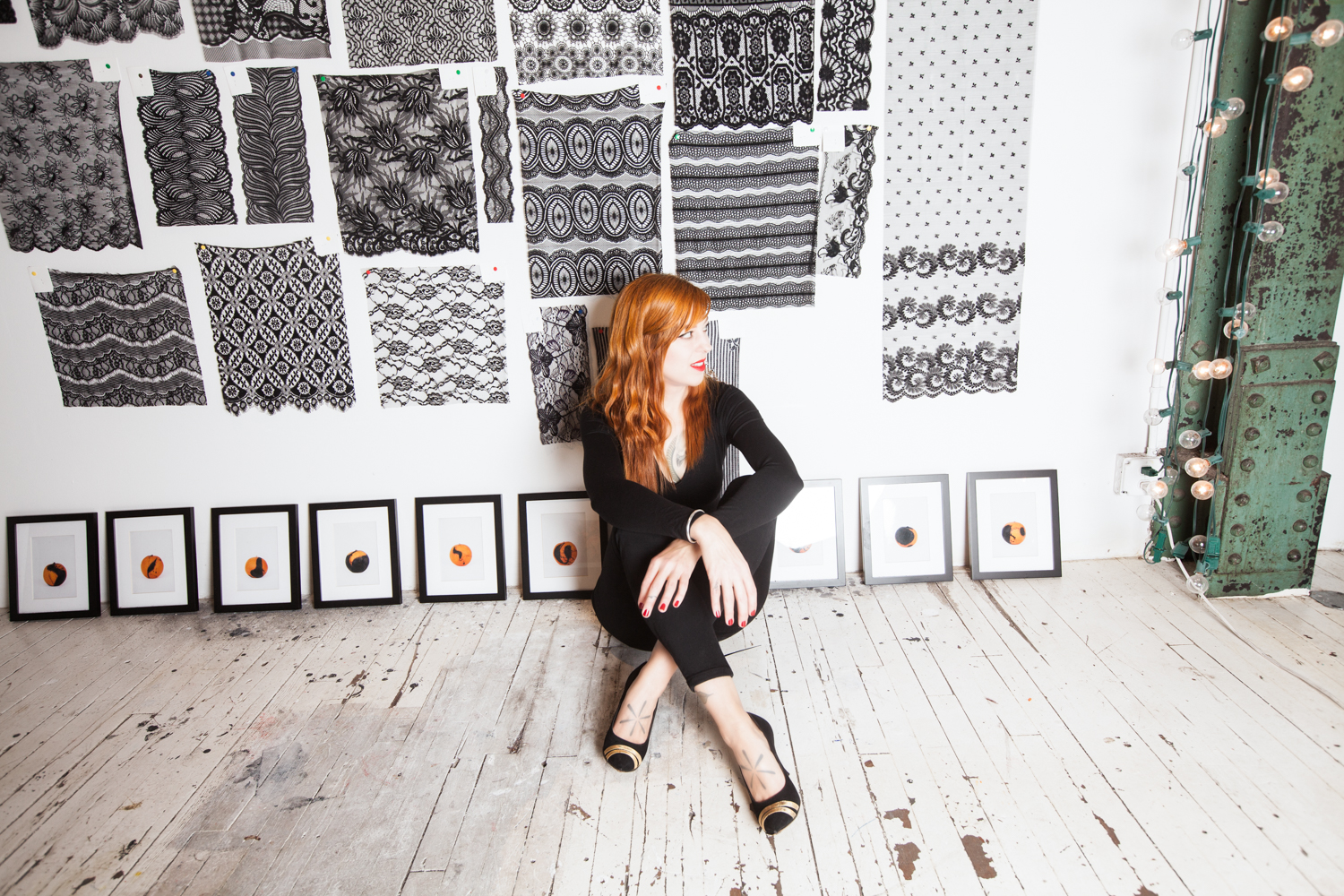 "That's what fascinated me, looking at the way light and color gets absorbed through our skin. In tattooing, that gets translated into, What if the colors I'm applying on people can be a way to charge them? Looking at color as a companion that you can carry with you, that can make you feel invigorated or make you feel kind of calm and soothed."
Dressed in flowing black and with bright orange-red hair and surrounded by her other art series—tattooed lemons, a series of lace patterns on the wall, individual tattoo needles photographed on a surface covered with ammonia and then exposed to light—Wachob is as far from the stereotype of the gruff, monosyllabic, tattoo gun-wielding bouncer type as you can get. For example, her studio boasts no flash art on the walls, and you can't just walk-in for an appointment and tell Wachob what you want. For those lucky enough to finally make it through the gauntlet of her years-long waiting list, your first appointment with Wachob wouldn't even involve any tattooing. It's more like a creative therapy consultation.
"When I meet with people, color is the thing that I really talked to them about. 'What colors do you feel excited by? What do you feel empowered by? What colors do you like to see, that make you feel good about yourself?' "
https://www.instagram.com/p/qMk11gJtxF/?taken-by=amandawachob&hl=en
You can bring her ideas or pictures of what you want, but don't expect the end result to look the same as you imagined. Instead, after you consultation, Wachob will take several months and paint you around four different renditions, using tattoo ink brushed onto canvas, of how she interpreted your initial concept. When it's time for your actual appointment, several months later, Wachob will bring you the designs she has created, and you work with her picking and choosing your favorite aspects from her bespoke art to put on your body.
The results can range from impressionistic swirls of color—which Complex once deemed "as close as you can come to having fine art painted on your body"—to hyperrealistic renderings of flowers, birds and, in one case, a cockroach. ("A client was leaving New York for good and wanted to have something to remember the city by," Wachob explains.)
"I just thought it would be interesting to approach tattooing from the perspective of painting," Wachob says about her style. "So much of tattooing is about drawing, and it's heavily based on illustrations. You're using pencils and making sketches and drawings." From the beginning, Wachob says, she gave her clients the option of leaving the outline—the bold, dark lines that delineate a tattoo's edges—off the final product. "So say, if somebody came to me and asked for a tulip, I would say, 'I could do this with a black outline or I can do this without, if you just want the color,' " Wachob explains. "It didn't make sense to me why for certain tattoos there had to be a black outline; not everybody wanted something that looked like a cartoon. Some people would come to me and ask for realism. But I did apprentice in a traditional street shop, so initially I was learning by way of 'the black outline needs to be there.' "
Wachob grew up in Buffalo, N.Y., and after studying photography at SUNY Purchase, she originally did not know what to do with her fine arts degree. A friend alerted her to an apprenticeship opening at a shop in Kingston, in upstate New York, and after going in and showing the owners some of her drawings, she got the gig. "I didn't know anything about tattooing," she admits, though she was excited to learn a "new craft, a new art form. I was really open to trying anything that sounded artistic and interesting at that point." She practiced on oranges at first, which have a texture closest to the human skin (in terms of fruit, presumably). Her earliest tattoo was on a friend who wanted Linus from Peanuts holding a blanket. "It took me about six hours, and my hands were shaking the whole time, I was so nervous." Still, in retrospect, Wachob can boast, "It turned out pretty good."
Soon, however, Wachob found herself pulled to the craft. "It became all-consuming. It was all that I thought about. I became obsessed with every aspect of it. There were so many parts to creating tattoos I didn't even know about. It just seemed like the most challenging thing I'd ever had to do, and that's why I loved it so much."
It wasn't long before Wachob found herself in New York City, where she got a job at Daredevil Tattoos on the Lower East Side. To date, that–along with Fun City Tattoos, owned by the same person– are only shops she's associated with. Even with her own studio, she spends one day a week working at Fun City and seeing friends. The first page of her Daredevil portfolio consisted of a single, pivotal piece: a sleeve of pastel watercolors she had done as a cover-up for a friend named Sullivan. "So people would open up to the first page of my portfolio and say, 'Oh, my god, I've never seen anything like this before.' " Soon, Wachob's work was getting distributed through personal blogs and New York culture sites. By the time I found some of Wachob's work in 2008, while perusing cool tattoos on Pinterest, the artist's visibility had exploded. Her waitlist was several months long…just for a consultation. And her infamy has only grown exponentially. In 2011, The New York Times' blog The 6th Floor did a feature on her work, in which the journalist wrote, "Her originality within the field pays homage to the defiance of her trade's origins, while the exuberance of her work acknowledges the living and breathing vitality of her medium." Buzzfeed put her in the No. 1 slot of their list of 13 coolest tattoo artists in the world in 2013 and, along with the Huffington Post, has written at least one glowing post focusing on her work for the past three years.
Which is especially notable, since somewhere in 2012, Wachob pivoted her brand entirely, wiping her tattoo work from her website. Instead, her new online identity focused on her fine art projects with a CV boasting of her collaborative art exhibitions and solo shows, some in such prestigious locales as the New York Historical Society, The New Museum, Minascapes in Osaka, Japan, the palacial Museo De La Cuidad De Mexico and the Seattle Center, a 74-acre art and entertainment park originally designed for the 1974 fair. During this time, she did not take submissions for new tattoos and removed images of her increasingly sought-after ink from her website and Instagram.
It was as if, at the height of her fame and renown, Amanda Wachob had pulled a Willy Wonka and shut the gates to her magical enterprise. It was unclear to fans if she'd ever reopen for business again.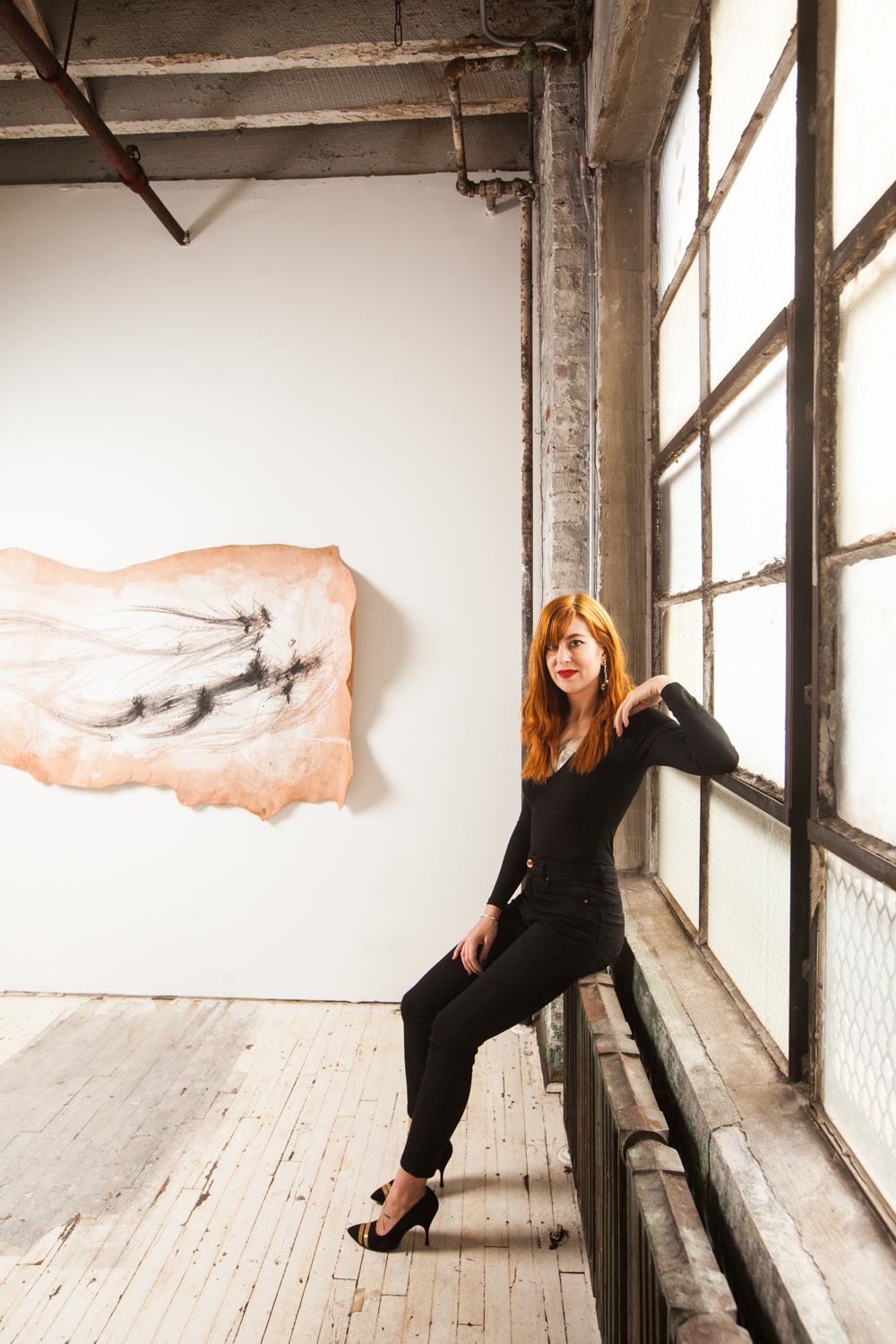 And then, last September, I received an unexpected email from the mailing list of Amanda Wachob:
"Hello Everyone! I have opened up my schedule for new tattoo projects!
I'm looking to do some unique and unusual tattoos. I've been adding more black into my work these days, and I'm open to doing some larger pieces.
I've created a submission form on my website and will leave this up for about a month. I'm located in NYC…but do have many future travel plans, so stay on the mailing list for announcements about this." 
You didn't need to tell me twice. I eagerly applied on the waiting list, trying to come up with the most unusual tattoo concept (involving lots of black) that I could think of. A response from an assistant told me I had been put on a waitlist. So I waited. And waited. No word came for the rest of the year. But I was patient. That winter, I met with Imagine Dragons' drummer Dan Platzman while he was in town, only to be surprised when he rolled up his sleeve and showed me his recent ink. I recognized it immediately. We were tattoo twins.
In March, I received another email from the mailing list, this time with a special offer:
"I'm looking for two people in the NYC area who would like to get one of these triangles tattooed this coming Friday, March 25, at the Echo Art Fair in Manhattan. I have a spot open at 12 p.m. and one at 3 p.m. We will be a bit limited in terms of space and equipment, so somewhere on an arm…shoulder…maybe an ankle, would work out best."
I immediately applied, only to find out that the two spots had been booked in the several minutes since the email had been sent and my reply. But I began thinking of the idea of those triangles and of portals into other dimensions, a concept that had been making its way around Instagram under the hashtag #Slimeplanet and #Vaporwave. On my third email attempt to contact Amanda, this September, I hit the golden ticket: an email asking if I was available to come in the following day. Attached was Wachob's rate, along with picture instructions of how to find her studio in the almost-gentrified area of Brooklyn alongside the BQE. The very next day, I found out what had happened to Amanda Wachob.
The answer isn't as mysterious as the Wonka factory: Wachob had never stopped tattooing, it turns out; she just needed four years to get through her existing waitlist, so had closed her books and focused her website on her other projects.
"I was just really trying to get people to pay attention to some of the other things that I was doing, that are really important to know about tattooing," Wachob said of her decision to pivot. "The tattoo machine is just a tool, and you can use tattoo needles to create art on other surfaces, too. So I really wanted to push that agenda for a bit. I took all the photos of tattoos off my website, and I really wanted people to just focus on the other work I was doing. I was still tattooing the entire time."
Part of this rebranding, if you want to call it that, was based on her perception of balancing on a precarious space between the two words of her occupation: "tattoo" and "artist."
"I'll never fit into the tattoo industry," she told me. "I feel like everything I'm doing with art, people (in the art community) aren't really at that point yet where they're ready to embrace it as something that's more than just a craft. So it's tricky." Complicating the matter is the politics of the art world, where some artists who have already gained credibility have turned to the idea of tattooing and incorporated it into their own work.
One thinks of Wim Delvoye, a Belgian artist who gained notoriety for his "Mosaic": glazed tiles featuring photographs of his own shit. His most recent work includes a series called Art Farm in which he tattoos piglets with designs like Disney princesses, skulls and crossbones or the Louis Vuitton symbol. As the pigs grow, their tattoos expand. Purchasers have the option of buying the living art and letting their investments grow old on the farm—now located in China—or buying the skins of already deceased pigs. In 2006, Delvoye expanded this idea of "living art" by tattooing the back of a young man, Tim Steiner. Steiner then signed a contract with German art collector and gallerist Rik Reinking, that mandated, among other things, that upon Steiner's death, his tattooed skin would be "harvested" and sent to Reinking, who could then sell the work.
Making ethically questionable and morally subversive statements isn't what motivates Wachob. She's interested in creating art that is not overtly didactic but still contains elements of the political. Inspired by the collaging of fabrics Nigerian painter Njideka Akunyili Crosby uses in her work, Wachob is starting a series of tattooed candy hearts containing meaningful slogans. She's working with NECCO for that project, which she'll be showcasing at The Whitney.
She's also interested in a project of tattooing a wide variety of skin tones, which germinated from her interest in Byron Kim's Synecdoche. "I think a lot about it: I'm in the skin business. My medium is skin. There is something political about it." While most tattoo artists will tell you that color tattoos don't work for people with darker skin, Wachob disagrees. "It's not harder, it's just different. Certain colors are going to work better."
To that end, she admits that her "lottery system" of submissions she receives does have one loophole: "I don't know the race of the person who is writing in to me for an appointment, but if there's a little photo of them in their email, and I see they have dark skin, I slide them in there first. I want to have the experience of having tattooed as many different skin tones as possible. People with darker skin can get color. And I want to people to know that."
As for the cult of Wachob fanatics, our ranks are still growing.
"I saw an image of her watercolor flower work and instantly fell in love," says Madison McFerrin, a soul singer-songwriter based in Brooklyn, who Wachob tattooed with a blue delphinium as a cover-up for two forearm tattoos she'd had removed. "It was like no tattoo work I'd ever seen before, and I thought it was stunning."

Ashley Woodson Bailey, an artist with over 14,700 Instagram followers, has posted several pictures of Wachob's work on her account. When I contacted her to ask about her experience, she wrote back "I wish I had a tattoo by her- I am on the list! I just post images of her gorgeous tattoos on my feed."  In fact, trying to figure out who has an original Wachob tattoo (versus those like Bailey, who just aspire to get one,) can quickly turn into an endless, entangled web for even the most industrious Internet detective.
"That's something I love about working differently in the industry," Wachob said, when I talked about her growing international fan base. "I will have clients that will send me pictures and say 'Oh, I was at this Farmer's Market in LA, and we saw one of your tattoos.'" Another friend was seated next to a stranger on a plane when he turned to her, gestured to her arm and asked "Did Amanda do that?" The two seatfellows are now working on a script together.
"It's amazing how my tattoos have connected people. And given people a reason to speak to each other when maybe there wasn't a reason before to talk to a stranger."