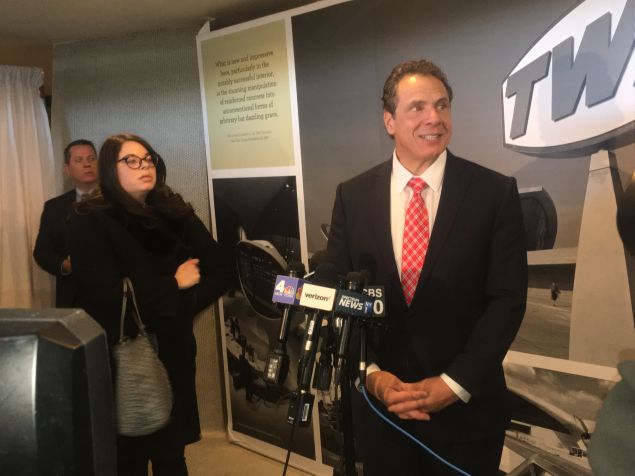 Gov. Andrew Cuomo, who led the Department of Housing and Urban Development from 1997 until 2001, today raised doubts about Dr. Ben Carson's qualifications to fill that role under the incoming Trump administration.
President-elect Donald Trump selected the retired neurosurgeon and former Republican presidential candidate to head the agency earlier this month, despite Carson's previous protests that he lacked the experience to run an arm of the federal government. Cuomo served for four years as HUD's assistant secretary for community planning and development, then took over the agency after previous Secretary Henry Cisneros resigned amid a Federal Bureau of Investigation probe.
The Democratic governor wondered today whether Carson's groundbreaking work in medicine prepared him for the work of breaking ground on housing developments.
"I don't know that a doctor has a natural proclivity to housing and urban development policy," he told the Observer at an unrelated event today, before allowing, "But maybe I'm wrong."
Cuomo called upon the Senate—where Sen. Charles Schumer will lead the minority Democratic conference—to lean hard on Trump's Cabinet picks in general. He did not speak specifically to any appointees other than Carson, but Democrats have expressed dismay over the selection of Alabama Sen. Jeff Sessions for U.S. Attorney General, fast food executive Andrew Puzder to head the Department of Labor, former World Wrestling Entertainment CEO Linda McMahon to lead the Small Business Administration, mega-investor Wilbur Ross for the Department of Commerce, billionaire businesswoman Betsy Devos for the Department of Education, ex-Goldman Sachs executive Steven Mnuchin for Department of of the Treasury and Oklahoma Attorney General Scott Pruitt for the Environmental Protection Agency.
"By some of President Trump's appointees, I believe there is questions. Some have very little experience in the area, some the experience they do have is troubling," he said. "I hope the Senate, the U.S. Senate does a diligent job in vetting them before they are confirmed. And I think the Senate should take this very seriously, and really question these nominees."
The Trump team did not immediately respond to requests for comment.
During his time at HUD, Cuomo was a zealous advocate of home ownership, and urged federal lenders Fannie Mae and Freddie Mac to offer more mortgages to low-income Americans. Some experts have speculated that these policies may have contributed to the 2008 financial crisis.
The governor's response to Carson's nomination contrasts with that of Mayor Bill de Blasio, who offered the Detroit native an "open hand" and publicly invited him to tour the New York City Housing Authority's developments, which are heavily reliant on HUD funding.
Disclosure: Donald Trump is the father-in-law of Jared Kushner, the publisher of Observer Media.