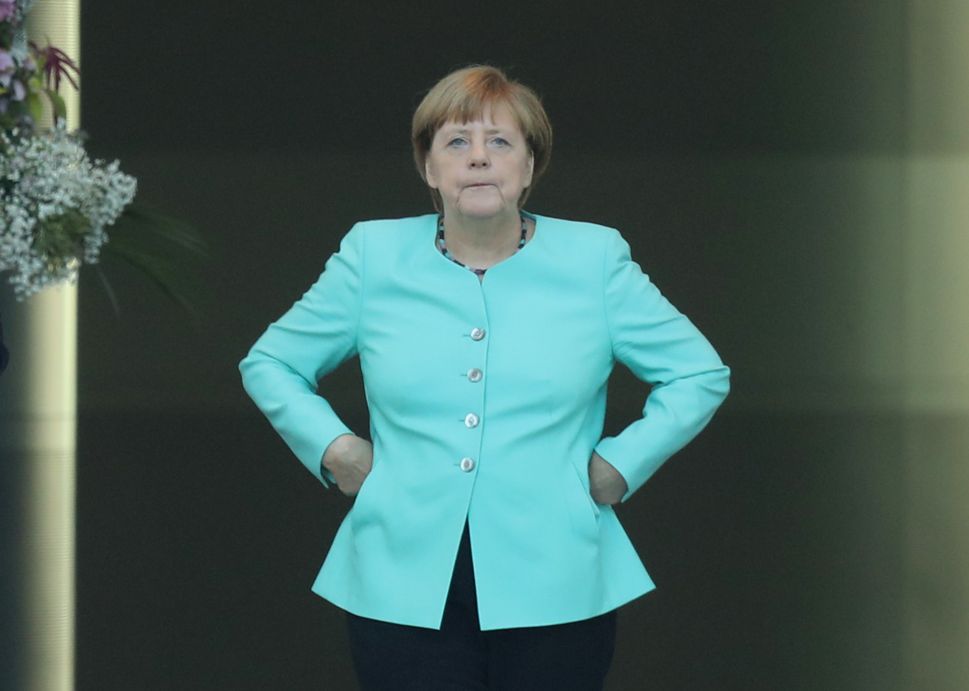 With far-right political powers gaining momentum across Europe, Great Britain set on leaving the EU, and Donald Trump elected the next U.S. President, one thing is clear: German Chancellor Angela Merkel is one of the last world leaders with a principled position against Russian aggression—be it the invasion of Ukraine, bombings of civilians in Syria, or unprecedented meddling in Western elections. Right now, she is the driving force behind European sanctions against Russia and practically the only leader openly standing up to Vladimir Putin.
For that reason, Merkel will be the next target of full-scale disinformation and influence operations of the Kremlin and its proxies. And she knows it, as do German intelligence agencies. Merkel has said she expects Russian disinformation to play a role in the Bundestag elections scheduled for September 2017. The goals are simple: to diminish her personal legitimacy, undermine current German policy of resisting Russian aggression, and to support her opponents who are at the same time appeasing—and even collaborating with—the Russian autocrat.
The Kremlin has used several tools to meddle in the elections of international, democratic countries. The Dutch saw the demise of 193 their countrymen when flight MH-17 was shot down by a Russian rocket; Kremlin so-called "media" produced at least nine fake versions of the event to confuse the West. During the referendum on the EU Association Agreement with Ukraine, a fake video of Ukrainian extremists threatening the Netherlands was supposed to intimidate Dutch voters. It was created by a Kremlin-run troll company in Russia.
Brexit was obviously a decision of the British people; nevertheless, evidence that the Kremlin tried to poison UK public debate with massively manufactured disinformation is clear. The long-term relationship between the leader of the Brexit referendum, Nigel Farage, and Russia's official propaganda channel Russia Today is also well known.
Based on what we have seen so far, at least six tools can be potentially useful in Putin's attack against Merkel in 2017.
First, expect massive disinformation operations focusing on falsifying stories about migrants in Germany. Merkel puts all her political weight behind her immigration policy decisions, and therefore any incident related to migrants in Germany will hurt her. Obviously, there will be genuine cases of migrant wrongdoings, but, as we have seen since 2015, Kremlin disinformation campaigns will focus on creating even greater chaos with fake victims, fake stories, and a developing narrative that Germany is collapsing because of Merkel.
Second, Putin could push its trading partner Turkey to undermine the deal limiting the number of arrivals to Europe, which bought time for Europeans during the recent migration crisis. If Putin is able—probably in times of another crisis or before the Bundestag elections—to persuade Turkey's president Recep Tayyip Erdoğan to open the floodgates of migrants toward Europe, it would again hurt the Chancellor. The Balkan route is closed, but a large humanitarian disaster in Greece would again lie on her shoulders. No matter what solution she could find, Moscow would take her campaigning time, energy, political leverage and some portion of the voters.
Third, as German intelligence agencies already stated, cyber-attacks are on the way. The Chancellor will be the target—as well as her relatives, party members and German political institutions in general. Look for a series of tiring attacks, Wikileaks-style, that portraying Merkel as a corrupt American puppet—a warmonger against brother Russians—that would cost her some percentage of the votes.
As a fourth tool, the Kremlin will likely use Russians living in Germany. As the early 2016 case "Lisa F." has shown, there is the potential for thousands of German-Russians to demonstrate against Merkel—regardless of whether the whole story is fake.
Fifth, the Kremlin will support European far-right, far-left and extremist groups. The aim is simple: cause chaos in critical moments. Trained hit squads can, for example, attack mosques and incite a circle of violence during key moments of the campaign.
The sixth tool of Kremlin influence in German politics is an obvious long-term strategy. Moscow uses economic operations to fulfill political goals such as taming SPD politicians or increasing German dependence on Russian energy. The name Gerhard Schroeder is synonymous with political corruption, serving an aggressive autocrat responsible for least 10,000 dead Ukrainians on Ukrainian soil. The more influence Moscow exerts over SPD, the more angles it has to attack Merkel. Another hostile influence operation designed to lobby pro-Kremlin positions in Germany is the so called "Dialogue of Civilisations Research Institute," run by former KGB officer Vladimir Jakunin.
Are there ways to mitigate these threats? Yes, at least 50 relevant counter-measures are available. If the German government wants to take it seriously, simply sending intelligence agencies to investigate isn't enough. Setting up specialized operational centers for assessing disinformation campaigns and providing rapid responses in real time would be a good start.
Jakub Janda is Head of Kremlin Watch Program and Deputy Director at the European Values Think-Tank based in Prague. He specializes in response of democratic states to hostile disinformation and influence operations. In 2016, he was tasked by Czech security and intelligence institutions to consult on "Influence of Foreign Powers" chapter within Audit of National Security conducted by the Czech government. Follow him on Twitter @_jakubjanda