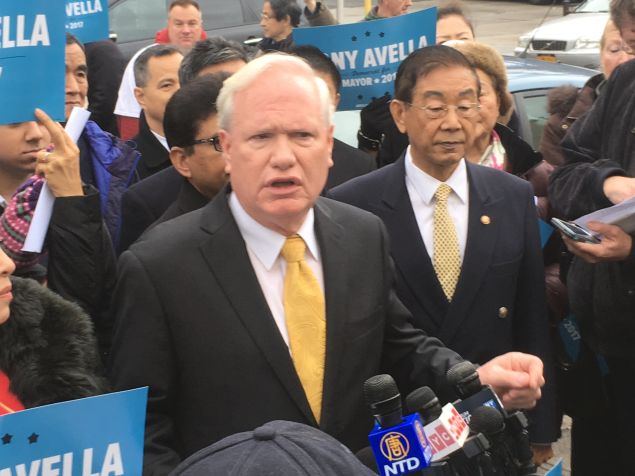 Queens State Senator Tony Avella gathered a dozens-strong crowd outside the Holiday Inn Express in Maspeth, Queens—the site of a bitter battle over the city's effort to lodge homeless families—to launch a quixotic bid to beat Mayor Bill de Blasio in next fall's Democratic primary, accusing the liberal leader of an arrogant "top-down" approach that ignores the needs of local communities.
The state senator, whose turf covers not Maspeth but neighborhoods like Bayside and Whitestone, read a scripted speech that sounded like a laundry list of middle-class outer borough complaints against the present administration: from de Blasio's "narrow-minded anti-motorist" Vision Zero program, to his opposition to bringing the city into line with the rest of the state's two percent property tax cap, to his allegedly insufficient support for co-ops and small senior centers, to the influence of high-power political consultants at City Hall, to the lack of public transit options in the deepest reaches of the city (which the state controls), to his purported failure to shield small businesses from rent hikes, to—yes—his scrapped plans to convert the Holiday Inn into a homeless shelter. Those surrounding him wore t-shirts attacking the "illegal shelter" and carried mock-ups of a New York Post cover that referred to the mayor as "De Waaasio" and depicted him as a baby.
"It is time to stop dumping homeless families and individuals in hotels and motels throughout the city without support services and the prospect of stable long-term housing and without community notification or involvement," Avella said. "It is time to put people and neighborhoods first in this city and politics last."
After a vitriolic fight over the motel's fate, which found Maspeth residents picketing the Park Slope home of Human Resources Administration Commissioner Steven Banks, the city decided to only put up employed men there rather than indigent families.
In 2009, then-Councilman Avella sought the Democratic nomination for mayor but got just 21 percent of the vote against then-Comptroller Bill Thompson. A year later, he defeated longtime Republican State Senator Frank Padavan and headed to Albany—where, in 2014, he became a member of the Independent Democratic Conference, which shares power with the GOP.
Like Thompson in 2009, de Blasio enjoys strong support among the minority populations who tend to dominate the Democratic primary, despite generally sour approval ratings overall and rock-bottom favorability among whites—particularly with the home-owning, car-driving  constituency Avella represents. The state senator also has a poor relationship with Congressman Joseph Crowley, the Queens Democratic Party boss and an occasional de Blasio foe, so he may struggle to draw substantial backing even in his home borough.
Questioned about his potential problems with nonwhites, Avella alluded to the group around him, which included numerous Asian-Americans and Indian-Americans, though no blacks.
"I think if you look behind me, you see a very diverse group of community leaders, who have come here to support my campaign, my candidacy, so I think that speaks for itself," he told the Observer, a point he expanded on a short time later. "People are fed up with government, and I think that goes across the board. I don't think it matters what race you are, what ethnic background you are, where you live, what your economic background. People feel government is no longer being responsive, and I think that goes city, state and federal. And I think people want change. And I've always been the maverick."
The lawmaker would only take a few questions in front of the crowd about the symbolism of launching his bid outside the Holiday Inn, cutting off one reporter who attempted to press the matter. Asked afterward how he would deal with the escalating shelter population, which broke a record record of 60,000 people earlier this month, the candidate complained the "city's out of control."
But he offered only bromides about "talking to people" and a proposal to boost aid to renters—the latter of which, at least, de Blasio has already attempted.
"There's a lot of solutions we can come up with if we work together. He's not working with anybody," Avella, a former aide in the Koch and Dinkins administrations, said. "People in this neighborhood have a right to say what goes on in their own community. That's the same thing with every neighborhood. And for the mayor to come out and criticize community leaders and residents because they care about their own community, I think, is absolutely disgraceful."
The state senator alleged back in February that the mayor snubbed him by giving him late notice of a town hall planned in his district. In 2012, he proposed a bill that would require any New York City business with a foreign language sign to also put up an equally large sign in English.
He chuckled today at suggested parallels between his current insurgent campaign and that of another outraged and outrageous Queens native, President-elect Donald Trump. But he left open the possibility of complying with Trump's plans to deport undocumented immigrants, which de Blasio has vowed to defy.
"Define for me what 'sanctuary city' means. I don't think anybody knows what that definition is," said Avella, referring to the popular phrase for cities that do not comply with Immigration and Customs Enforcement. "When we have immigrants come to New York City, we welcome them. There's no question that we love them. But we also have to recognize that we have a new president. Let's see what he wants to do, and let's see if we can work together. Because New York City cannot survive without federal and state funding. So we'll—let's wait and see what the new president decides to do."
Avella's kickoff today comes as state and federal grand juries contemplate evidence that the mayor and/or certain of his political aides may have engaged in illegal fundraising tactics and pay-to-play schemes with large real estate donors. By seizing a sizable chunk of the anti-de Blasio Democratic vote, Avella could potentially deter a white candidate with broader appeal, like city Comptroller Scott Stringer or former Council Speaker Christine Quinn, from entering the primary.
So far, former Brooklyn Councilman Sal Albanese—who placed last in the 2013 primary—is the only other Democrat in the race. On the Republican side, real estate mogul Paul Massey has announced his intention to run, while Queens Councilman Eric Ulrich has launched a national fundraising drive that has drawn the support of Ohio Gov. John Kasich.
Asked for comment on Avella's campaign kickoff, the mayor's team proffered only the canned quote it has given to all talk of prospective challenges.
"Under Mayor de Blasio, crime just hit another all-time low, jobs are at record highs, the  city is building and preserving affordable housing at a record pace, while graduation rates and test scores continue to improve," said spokesman Dan Levitan. "We are happy to match that record against anyone."
Updated to include comment from the de Blasio campaign.
Disclosure: Donald Trump is the father-in-law of Jared Kushner, the publisher of Observer Media.