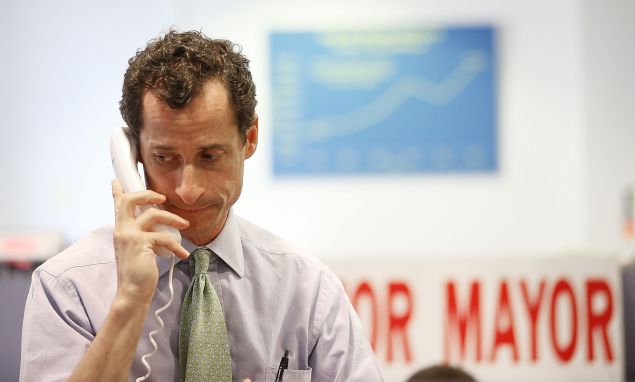 It's been a bad year for Anthony Weiner.
The fallen congressman's third sexting scandal finally ended his tortured marriage to Hillary Clinton aide Huma Abedin in August, and a picture of his small son cuddled up to his engorged groin subsequently drew the scrutiny of the city's Administration for Children's Services. The discovery of another series of explicit exchanges with a 15-year-old North Carolina girl triggered a Federal Bureau of Investigation probe a month later—which achieved a shattering public climax when agents came across a cache of emails deemed "pertinent" to their investigation of Clinton's private email server, an October surprise that sandbagged the Democratic nominee in the polls 11 days out from the election.
Now, Weiner—who Long Island Congressman Peter King, a former colleague, recently described as "a nightmare that just keeps on coming"—will have to fork over more than $260,000 to the city from his failed 2013 mayoral campaign, leaving him tens of thousands of dollars in the red.
The Campaign Finance Board sucked his campaign committee dry by ruling he must refund $195,377.79 in leftover public money he received through the city's matching funds program. This figure constitutes the entire balance in his mayoral coffers.
On top of that, the serial sexter will have to come up with $64,856 for an array of violations, which include spending more than $1,500 in campaign funds on his personal dry cleaning and cell phone bills, and blowing $115,000 on impermissible expenditures after the 2013 election was over.
Those two offenses alone will run him more than $30,000 in fines.
The board also assessed him $22,031 for overpaying outside contractors, for failing to obtain the appropriate documentation detailing what work they did for the campaign and when and how they did it—and for an odd, unexplained $600 expenditure on televisions. It also charged him $1,100 for failing to identify bundlers who collected cash for him, and an additional $1,177 for taking a prohibited donation from a business partnership and for failing to disclose a separate in-kind contribution from a different company.
Further, he will need to pay more than $9,200 for accepting donations larger than the legal limit, and $512 for not submitting several required finance reports and for filing others late. Finally, the board found Weiner had failed to reveal some $61,300 in campaign transactions, resulting in a $1,227 penalty.
A CFB spokesman told the Observer that Weiner will either have to convince donors to give him the nearly $65,000—or take it out of his own pocket. The documentary Weiner, released earlier this year, revealed that Abedin was responsible for much of her now-estranged husband's fundraising.
After briefly leading the crowded Democratic field, the congressman's second lewd photo scandal sank his campaign. He ultimately placed fifth in the September primary, well behind now-Mayor Bill de Blasio.
Two years earlier, he abdicated his once-promising career in the House of Representatives after he accidentally posted a picture of his scarcely-covered penis on twitter.
Disclosure: Donald Trump is the father-in-law of Jared Kushner, the publisher of Observer Media.