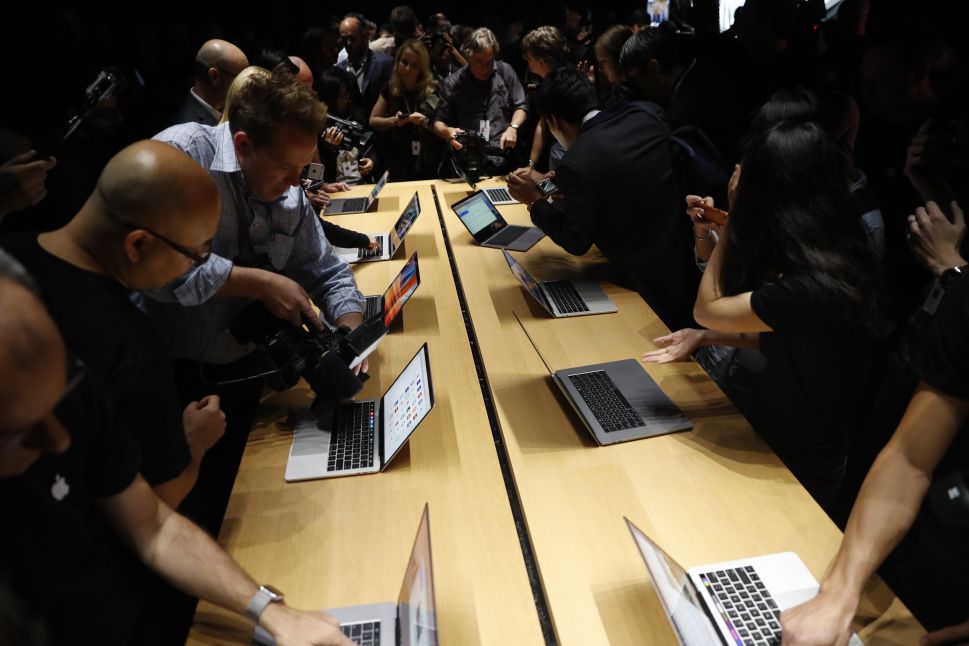 Ben Erez has a side hustle. His iPhone app, Breathe, is simple: it sends push notifications throughout the day to remind users to pause and take a breath. This mindfulness exercise has many benefits and, with few marketing resources, Erez has built a loyal audience from more than 11,000 downloads. In San Francisco, the land of tech titans and billion-dollar valuations, Breathe is the successful small startup that doesn't grab the headlines. Until it did. Sort of.
In June, publications, including Observer, covered an exciting Apple (AAPL) Watch feature that the company announced at their Worldwide Developer Conference. It is an app called Breathe that sends push notifications throughout the day to remind its users to pause and take a breath. Sound familiar? 
Neither Erez or his co-founder Mohammed Islam were involved. In a shocking twist to their side-hustle tale, Apple's announcement was about software they built in-house.
David, meet Goliath.
Erez describes being surprised at the announcement, and he wasn't alone. "I got text messages from friends saying that Apple stole our idea." Still, he spent the moments following the announcement celebrating validation: "The moment that you see that headline where Apple gives this feature primetime coverage, you realize that there's really something there. It was also cool to see that these branding geniuses at Apple, with an unlimited budget, came up with the same name that I came up with, with nothing but time and my own thoughts."
The honeymoon feeling was brief. "Naturally, I started wondering if I was wronged."
Predictably, Apple's 74-page developer program license agreement protects the company in these cases. Buried in section 14.4 on page 37 of this document that many have blindly accepted: "Nothing in this Agreement will impair Apple's right to develop, acquire, license, market, promote, or distribute products or technologies that perform the same or similar functions as, or otherwise compete with, Licensed Applications, Covered Products, or any other products or technologies that You may develop, produce, market, or distribute."

One lawyer who works with a large number of tech startups told me that his "inclination is that there's a strong case here." In a non-scientific, quick survey of 15 startup founders at the Runway co-working space in San Francisco, all said they would take legal action.
Another tech employee, who now works for Twitter, agrees: "True market potential is hard to find. That exists in a situation like this and a founder needs to protect that at all costs." The same employee recalled his work at a startup that had raised more than $10 million dollars before launch. He said they never reached Breathe's daily active user number.
Following introspection, conversations with lawyers, time, and a lot of breathing, Erez made the decision not to pursue Apple for damages. His reason is uncomplicated: "We saw an increase in numbers. I don't want to be a hypocrite and say they screwed us."
While he saw (his) Breathe's traffic double and he has enjoyed sharing one of his passions with the world, Erez does have concerns about the precedent Apple's behavior reinforces. There are difficult questions to be asked about developer abuse and whether stories like this will jeopardize the viability of Apple's App Store ecosystem. 
After all, this is not a one-time incident. There are dozens of app developers who have found themselves in a similar position, some who had as many as ten times the audience that Erez does with Breathe. There was F.lux, which Apple copied and integrated as Night Shade in iOS 10. There was Bump, which allowed the wireless transmission of files and documents, functionality available in iOS as Air Drop. There was Skitch, the online annotation tool that Apple copied and integrated in Mac OS X Yosemite. There were flashlight apps galore before Apple built their own. The Erez story isn't one of an independent developer being wronged by Apple, it's the story of Apple repeatedly ripping off their own developers.
This is an issue of increasing importance, especially as Apple's smartphone market share stagnates and competitors gain steam. Strong software is what awarded Apple the industry lead when they arrived on the smartphone scene in 2007. The iPhone App Store offered software that users had never dreamed of, with more than 10,000 releases by the end of 2008. This made the switch from smartphone standards like Blackberry a no-brainer. Apple's App Store minted overnight millionaires (and billionaires) from ideas large and small, from the individual who released the number two paid app of 2008, a $0.99 Texas Hold'em release, to everybody's favorite $66-billion transportation company, Uber.
The past eight years have been a thrilling time for mobile developers but the enthusiasm for iOS appears to be fading. Apple allegedly helping itself to developer's ideas can't be helping.
Andrew J. Chapin is a technology entrepreneur in San Francisco and a Boston Red Sox fan. Follow him on Twitter: @andrewjchapin.