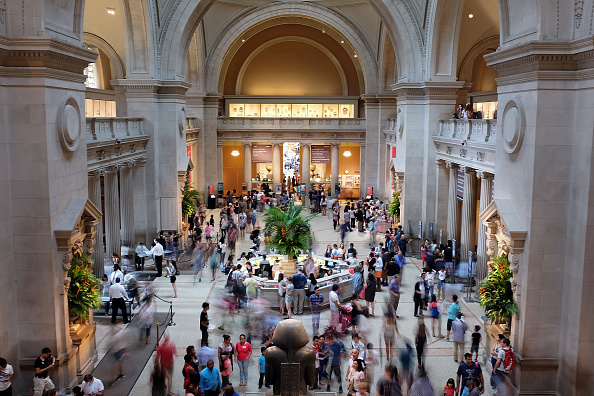 'Tis the season to give charitable donations—for tax reasons as much as philanthropic ones. But it's not always simple to give an artwork or an art collection to a museum.
For most art museums, receiving donations of objects is relatively easy. The person making the gift turns over the items along with "a deed of gift, transferring title from the donor to the institution," according to Ralph Lerner, a long-time New York City art lawyer and art adviser. The principal complicating issue is whether the gift is made right then and there or as a bequest and, if the donor is the artist, whether or not copyright (the right to reproduce images of the artwork) is included with the donation.
Retired Boston lawyer John Axelrod made one of those straight-out gifts back in 2008, donating his 377-work collection of decorative arts to the Boston Museum of Fine Arts. "Curators from that department always wanted to borrow pieces, so I figured let's just give them the whole thing, no strings attached," he said.
Well, a bit of a string. "I told the museum that I wanted it to establish a gallery for this material, because I didn't want to donate something that would just sit in the basement." And, in fact, the museum did one better, establishing that gallery and naming it for Axelrod. "I didn't ask for that," he said. "They just did it."
Donations of highly expensive or highly sought-after art objects usually take place after a period of negotiated give-and-take, frequently involving a team of lawyers, art advisers and accountants. The donors regularly want to apply conditions and restrictions on their gifts, such as the requirement that items will never be sold and will always be on display. If the gift is a group of artworks, the donor may want them to all be exhibited together. Such an arrangement was announced just in October by Paris' Musée d'Orsay, which was given a collection of 600-plus paintings by late 19th and early 20th century artists, including Pierre Bonnard, Jean-Baptiste-Camille Corot, Edgar Degas, Andre Derain, Henri Matisse, Amedeo Modigliani and Edouard Vuillard from American couple Marlene and Spencer Hays. As part of the deal, works from the collection are to be exhibited intact in a dedicated space in the museum rather than be dispersed throughout the galleries.
"When it is a number of items that a museum really wants," Lerner said, "that gives the donor more leverage to ask for things."
An example of an extreme case is the Metropolitan Museum of Art's agreement with Robert Lehman. Lehman negotiated with the museum to donate his collection of paintings, drawings, manuscript illumination, sculpture, glass, textiles, antique frames, maiolica, enamels and precious jeweled objects—2,600 objects in all—to the Met after his death, with the stipulation that they be displayed as a private collection. The collector died in 1969 and, in 1975, the Robert Lehman Wing opened to the public.
"It is not uncommon that donors want to keep their collections displayed together, as that shows people their vision," said New York City art lawyer Susan Duke Biederman. "Donors like to show the fact that they were collectors."
Art museums, however, increasingly have been reluctant to accede to prospective donor demands, because these gifts may handcuff the institutions' when circumstances require it to change with the times. When, in 2006, Fisk University in Nashville sought to sell a 101-piece art collection donated to the institution by artist Georgia O'Keeffe in 1949 in order to raise funds to increase the school's endowment, it spent six years battling Tennessee's attorney general who demanded that the original stipulation that the collection never be sold or broken up be adhered to. (Eventually, Fisk was permitted by the state Supreme Court to sell a 50 percent stake in the collection to the Crystal Bridges Museum in Bentonville, Ark.)
Severe conditions and restrictions could also work against the donor when the agreement requires gifted artworks be returned to the donor if the agreement has been breached. "The donation may not count as a completed gift if the gift has to come back, which could affect the donor's ability to claim a tax deduction," said Marilyn Phelan, a retired professor at Texas Tech University School of Law and author of the 1994 tome Museum Law.
Donor restrictions also may limit a museum's ability to display other works (there is only so much space to put things if there is a requirement that certain pieces must be exhibited all the time) or to interpret older artworks in new ways For instance, should a woman abstract expressionist's work only be shown next to that of other women artists or should it be displayed amidst other abstract expressionists who happen to be men? Curatorial interests and goals change over time, and a donor's restrictions may hamper the ability of the museum to tell a more complete story.
As a result, the discussions between prospective donors (and their lawyers and advisors) and museum curators (and their directors and legal counsels) about the terms of a gift can be wide-ranging. "Donors may offer money"—an endowment, for instance—"or more artworks or an earlier transfer of artworks to the museum to get what they want," Beiderman said. For their part, the institutions are apt to offer an alternative to donor prohibitions on selling any or all donated items: a promise that nothing will be sold for 10 or even 50 years. In place of a requirement that artworks always be kept on display or displayed together, they may suggest a large plaque that details the donor's gift or create a series of lectures (or an entire conference) on the gift, the publication of a book on the gift or naming a gallery or whole section of the museum after the donor. In 2011, the Miami Art Museum changed its name to the Jorge M. Pérez Art Museum of Miami-Dade County in order to recognize Pérez's $35 million gift in cash and art to the institution. (In 2008, a $25,000 gift to the University of Colorado at Boulder from venture capitalist Brad Feld earned him his name over the door of a men's room.)
At the same time that the Musée d'Orsay was finalizing its arrangement with the Hays, New York's Museum of Modern Art accepted a gift of 102 Latin American paintings and sculptures from Patricia Phelps de Cisneros, a long-time patron and trustee of MoMA. The Modern announced that it will create a Cisneros Institute at the museum to research and publish books on art from Latin America.
Perhaps, the Boston MFA was being far-sighted in naming that decorative arts gallery after the donor, as Axelrod—who has been described as a "serial collector"—also had been assembling a collection of 67 African-American paintings and prints, which the museum wanted. This time, Axelrod had a more specific condition: that the transfer would be a gift-purchase, requiring the institution to pay a certain percentage of the value of the artworks. The terms of the 2011 transaction were not made public, but the purchase portion of the arrangement benefited the museum by not requiring it to hold onto specific works that the MFA curators did not want. The remainder of the negotiations involved which works would be donated and which were to be purchased, as Axelrod looked to gain the maximum tax deduction.
Not every negotiation works out. Axelrod also built a collection of Latin American artworks that the MFA would accept as a donation but only if he provided additional funding to pay for a curator in this area. "We talked on and off for a while, but I didn't really care for the deal," he said. He decided to sell that collection privately to a group of investors through an agent. "I ended up making a lot more money than I could have claimed as a deduction."