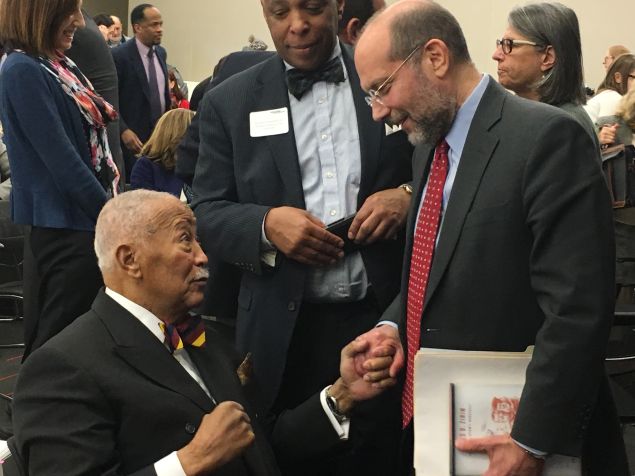 Human Resources Administration Commissioner Steven Banks, Mayor Bill de Blasio's top homelessness official, said that city is less concerned about "noise" from critics at the state level and protesting residents and focused on the "problem in front of us."
At a New York Law School breakfast this morning, an attendee asked Banks about the extent to which "political figures" at the state level are contributing to public perception of the homelessness crisis and his performance. Earlier this month, the city's shelter population surpassed 60,600, an all-time record.
Banks—who, as a Legal Aid Society attorney in the 1990s, won the court order forcing the city to provide a roof to all in need—picked up his glass of water and drank briefly as the audience laughed, then sighed and leaned on the podium before he finally spoke.
"You know, it's a very cold day and we're very focused on bringing people in off the streets," he said. "Look, I understand your question. One thing I learned when I was at the Legal Aid Society—and it served me well in government—is to focus on the problem in front of us and not dwell on all of the things that go on."
In April, the mayor announced that Banks, who has frequently fought with Gov. Andrew Cuomo's office over homelessness issues, would handle all city services for the homeless moving forward.
Banks took over the Department of Homeless Services on a temporary basis last December when then-Commissioner Gilbert Taylor resigned and led a 90-day review to address the rising homeless population and derelict temporary housing.
A month prior, Cuomo insisted that the city's homelessness crisis was continuing to worsen because of the mayor's "mismanagement," despite de Blasio's claim that progress was made. Cuomo's office has bashed Banks as unqualified to handle indigent issues, and promoted at times spurious claims of violence and chaos in the shelter system, prompting a bitter exchange of letters in February.
Cuomo put city Comptroller Scott Stringer, a de Blasio rival, in charge of reviewing conditions and operations of temporary housing in the city as part of his State of the State agenda.
Advocates have said they'd like to see the governor commit more funds to addressing the crisis. He introduced a $20 billion plan in January and has promised to fund 20,000 supportive housing units across the state over 15 years.
Banks referenced a Daily News report indicating that the city's shelter system has been accepting more families over the past year due to an abrupt shift in a state policy that relaxed the eligibility requirements.
"If those programs had been in place decades ago when we had 24,000 people in the shelter system, we may well not be here today," Banks continued. "But we are here today and the mayor accepted responsibility, owns the problem. I own the problem on a daily basis as his commissioner and we are seeing reforms take hold for some clients and new resources that are on their way so the reforms take hold for more clients."
A community board member from Sunset Park—which he said has anywhere from 8 to 12 shelters and is not notified about shelter placement—snapped at Banks, accusing him of using rhetoric that "basically make it easy for you to say nothing to the local community board."
Banks said the city now has a clear notification system in place for ongoing shelters and that it will be coming forward with a siting plan very shortly. He also noted that the Maspeth community was notified of the shelter plan 60 days in advance.
"For an ongoing shelter that's going to be in operation, we for many years the city would simply open a shelter in the middle of the night," Banks said. "I see a lot of providers here who participated in that and I apologize on behalf of my predecessors that you had to."
Indeed, he took a jab at the Maspeth residents who protested outside of his home over the city's proposed homeless shelter at a neighborhood hotel, saying that the city is concentrated on solving the broader problem.
"At the end of the day, with all of the noise that sometimes happens, whether they're people in one community that don't want a shelter and another community wants people to be brought of the streets but don't want services provided," Banks said, "We're very focused on solutions because at the end of the day on any given night when all the noise goes away, we have the obligation to find shelter for people because we don't want people to left on the street without shelter."
Banks told reporters after he concluded his speech that, in the aftermath of the death of two baby girls after a radiator exploded in their family's apartment at a Hunts Point cluster site, the city remains committed to its plan to phase out the often decrepit private apartments where the city lodges homeless families.
The 16-year-old cluster program, he said, has 11,000 men, women and children and the city has already eliminated 450 units it thought had some of the worst conditions and the least number of services.
Former Mayor David Dinkins, who recently endorsed de Blasio's bid for reelection, was sitting in the front row and praised Banks' work after he concluded his speech.
When the Observer asked Dinkins what his thoughts were on the Maspeth protesters, the former mayor blasted them for not contributing to a solution.
"I wish more people would understand the problem and not simply protest against what's going on. More people could be helpful and are not," Dinkins said. "It's easy enough to complain and condemn what's going on but there's something each of us might to do to help. And I think the fact that many people are here this morning on the subject—this is not everybody's top item but there are a lot of good people here who—many of them worked with me in the field and that's important."