Touring across the world to promote your first EP is a huge gamble, no matter how strong the songs are. So when cousins Chloe Kaul and Simon Lam, a.k.a. Kllo, were signed to Ann Arbor's beloved electronic label Ghostly International and released their second EP, Well Worn, they knew what was coming.
Ghostly set them up as openers with fellow Aussies RÜFÜS DU SOL, playing a string of sold-out dates along the West Coast that vastly increased their audience and raised the hype for their imminent full-length considerably. While electro-pop sees plenty of mellow R&B vibes with silky smooth female vocalists (guest appearances on records by SBTRKT, Odesza, Flume, Disclosure come to mind), Kaul's gift of interplay with Lam is something real, and they're equal partners in the compositional process.
Kllo's blend of R&B and UK Garage music is fresh because it arrives after the UK Garage revival but sets sonic precedents early on in the game for the duo to build on. To consider how quickly they've ascended since 2014's first EP, Cusp, is to quickly learn that Kllo's universe is only expanding further from here.
"Australia makes a lot of mutated interpretations of what's happening. It's not the first place to develop a sound. We take in sounds from other scenes and push out something different."—Simon Lam
I caught up with Kall and Lam at an empty Baby's All Right early in the evening before Kllo's first headlining gig in the city, right after they'd finished soundcheck. Their tight performance that night was notable for its warmth and real instrumentation—Lam and Kaul both actually play keys, not just triggers, and achieve their swooning crescendos the old-fashioned way by ever-so-slightly turning up the volume knobs on their instruments. It helped that the room was packed, and that fellow Ghostly artists Lord Raja and Heathered Pearls showed up to show their support.
Kllo had a blast here, and though they aren't ready to leave, they'll be back. But with the cost of U.S. travel visas increasing exponentially, a group this babyfaced finds themselves in a precarious position where giving so much to come over here is a risky investment. For the bodies they've swayed and the booties they've shaken, however, there is no risk, only the certainty that we'll be having them back to dance real soon.
[youtube https://www.youtube.com/watch?v=NYd4t5uINNY]
You guys are cousins, right? How did that play into you getting together creatively?
Chloe: Yeah, I was doing solo folk music at the time and Simon was studying sound engineering.
He came and saved you?
Chloe: [Laughs] Pretty much! He recorded me, made some electronic sample tune out of it and asked me if I wanted to sing on it. Very organic.
Simon: I guess it started out as folk. [Laughs]
You just got done opening for RÜFÜS DU SOL on a huge tour all over the West Coast. How did it go?
Chloe: They killed it. Sold out three nights at The Wiltern in a half hour.
Simon: We knew they were big back home, but didn't quite realize the extent of their fanbase here. They're from Sydney.
And you guys are from Melbourne?
Chloe: Yeah.
So this was your first U.S. jaunt.
Chloe: First time, two and a half months. And it's the first time Simon's been here.
Simon: My trip's been great, yeah, amazing. Places like Portland and Seattle were incredible.
"People are paying more for visas than what they're getting for shows."—Chloe Kall
Anything crazy happen?
Simon: Some of our Uber drivers get pretty heated up about the current music climate, I think.
Does it start off with the question of what you guys are doing here? Then you tell them you're musicians, and they start talking about how good it used to be?
Chloe: Yeah, how music has died.
Simon: They can't believe what's being called music today. They just talk the whole way, we don't get a word in. [Laughs]
What's going on in Melbourne? Over the last 10 years there seem to be a small trickle of very young, talented producers coming out of there. Nick Murphy (FKA Chet Faker) comes to mind, for example. Is there any semblance of an electronic scene or community? Or is it more dudes in their basements just fucking around?
Simon: It's interesting. In a place like L.A. you speak to one person and that one person has so many connections, and their whole career is based on collaboration. Whereas in Melbourne, everyone knows about everyone but not everyone is working with everyone.
Everyone takes a little leaf out of everyone else's book and sounds start to spread from a single source, but there's not as big an emphasis on getting together in one spot, especially for producers. A lot of producers work solo. That's kind of how I am. But I'd like to bring back a bit of the attitude that the U.S. has, get into rooms with each other.
Compared to the time that U.K. club culture has thrived, the U.S. are babies. Where does Australia fall on the spectrum?
Simon: It's pretty young as well. In terms of the history of all music, we don't really have a history.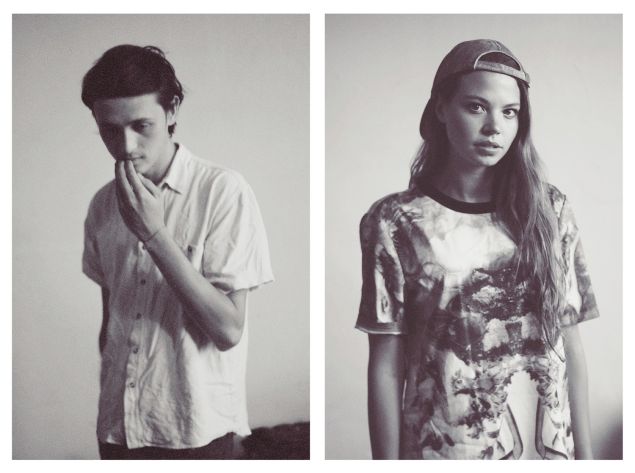 What about "Waltzing Matilda"?
Simon: [Laughs] Yeah, yeah. And I think we had some pretty prevalent '80s rock bands like Men At Work. Other than that, I feel like Australia is geographically between the U.K. and the U.S. so we just take everything in.
Chloe: We always hear everything second. We're always last to the table.
That can be good, though. So many scenes and so much cultural presumption in U.K. electronic music make it a rush to digest for people in those scenes. But when you're a few degrees removed maybe you don't feel as concerned with pulling a sample from a Garage track or pull vocals from an old R&B or disco tune. From a producer's standpoint, you're not as tied down to expectations for a sound.
Simon: I think so, and that perfectly describes our sound. Our records are one half R&B, one half U.K. Garage.
Chloe: It's versatile because we're always learning from different parts of the world.
Simon: Australia makes a lot of mutated interpretations of what's happening. It's not the first place to develop a sound. We take in sounds from other scenes and push out something different.
[youtube https://www.youtube.com/watch?v=PmiygZRFtvo]
You're a human processor! How does Ghostly affect that? They've got a lot of respect here from the community as a crossover label. So much love for Tycho and Matthew Dear, but they're also really good at taking in new artists under their umbrella. Has that community reached out to you at all? Are you being hazed as the babies?
Chloe: We're definitely the babies, I think, just because we're so far away from everyone. This is our first time in the U.S., our first time meeting Ghostly, but we have Lord Raja and Heathered Pearls from Ghostly playing with us tonight, which is amazing.
So you guys could be super weird and you still wouldn't be the weirdest people on the bill.
Chloe: We're versatile in that sense, too. We play a lot of different shows with different people supporting.
Rufus is very different from you guys.
Simon: Yeah, more "four to the floor."
Chloe: So it's definitely really amazing to finally play with some Ghostly artists.
Simon: It's great to have some roots here as well.
Just to show up and feel like you know somebody?
Simon: Yeah! And having an association that Americans would know just kind of helps us find out feet.
"You have to give everything and you don't even know what's gonna happen next."—Chloe Kall
How do you move to the LP mindset from this EP when it's time to think about expanding that?
Chloe: We're pretty excited, it's more experimental than our EPs in a way. We're recording demos, figuring it all out. It's just nice to see another side of us. I think with the EPs we just tried to keep it very structured.
Simon: Concise.
The travel visas for international touring artists have become much more expensive, and I know tonight's gig is your only headlining date in the U.S. I imagine if you had it your way you'd probably stay a bit longer. What's your perspective on the accessibility of the U.S. touring market?
Simon: On the visa side, it's definitely complicated. Compared to going to the U.K. and Europe, it's so much more complicated than it needs to be.
Chloe: At this stage, paying so much money is almost impossible. It's like we're trying to start a business, expand our audience. You have to give everything and you don't even know what's gonna happen next. It's a gamble, and that's very tough. I think it's also the difference between upcoming bands that don't get to that next level, because it's so difficult with visas and things. You can't afford it. That's why people are coming here secretly from other countries. People are paying more for visas than what they're getting for shows.
Does it go the other way, too? Are touring acts having trouble coming through to play Australia?
Simon: Well there's been talk of it. I've just seen a few articles floating around. We've got a really conservative government in power at the moment, and they're looking to push up the price of a working visa, particularly for people in entertainment.
Is that just an effort to keep the talent more locally sourced?
Simon: I'm not sure, I think they might just look at festivals. Our biggest festival is Splendour in the Grass. It's only at one spot in Northern Australia, and we get our biggest international acts there. They must just see that the festival is making money and want to cash in themselves, which is just silly.
Chloe: No one's gonna come. It's hard enough to get people over there anyway, it's a 24-hour flight.
[youtube https://www.youtube.com/watch?v=kSPETjXwLOA]
I'd travel to one of those big Walkabout raves in the fuckin' Outback, though! Those sound like a trip and a half. That seems like a whole culture in of itself.
Simon: It definitely is.
Chloe: Like Burning Man but just 300 people—
Simon: And a bunch of techno DJs.
Chloe, your eyes lit up when I mentioned those. Do you have any good stories about them?
Chloe: We've just played a few, like Bush Doof.
Doof?
Simon: Bush Doof. Like doof music in the bush.
Chloe: Yeah, it was one of our first ever gigs, and our first EP is pretty innocent. So going there and playing the music we played was full on—
Simon: It's a fun time with the whole—
These guys are sweaty, naked and painted and stuff?
Chloe: Naked, screaming—
Simon: Not just the whole crowd, but the people running the place—
Chloe: All the sound engineers.
So basically everywhere you guys go, you're the fresh meat.
Simon: Yeah, there's just a small pocket in Melbourne where we're not. Everywhere else, though.