Reality star Ashley Iaconetti, better known as Ashley I. to devoted members of the #BachelorNation, is most famous for sobbing on television and leaving dozens of crying gifs in her wake. Her Instagram bio reads, "I'm either optimistic or delusional. It depends on your point of view." The millions of wealthy, educated watchers of The Bachelor and Bachelor in Paradise are equally optimistic and delusional, all living vicariously through the show's escapist hijinks. Through the seasons, Ashley I. has provided a relatable, albeit dramatic foil to the sanitized, lifestyle blogging women she goes up against.
In person, Ashley is far more self-aware than her televised moments might lead you to believe. Over lattes at Coco & Cru, she wore a sweatshirt and baseball cap pulled down low, looking naturally beautiful with no makeup on, aside from her signature Kardashian-inspired eyelashes.
As any devoted Bachelor fan knows, Ashley is most famous for her unabashed status as a virgin, a fact that she's unafraid to discuss on television, or in person. In a world where even 14-year-old CW characters ditch their virginities the first season in, it's refreshingly honest to hear someone open up about something oddly taboo.
Ashley is equally infamous for her flirtation with Aladdin lookalike Jared Haibon, who was torn between two women on the last season of Bachelor in Paradise. He was faced with the dilemma of falling for best friend Ashley versus Caila Quinn, a typical Bachelor contestant with a sunny disposition, a Pinterest-perfect lifestyle blog and Disney princess hair. Ashley was deemed crazy because of her emotional demeanor, especially when competing against Caila, the textbook definition of a cool girl.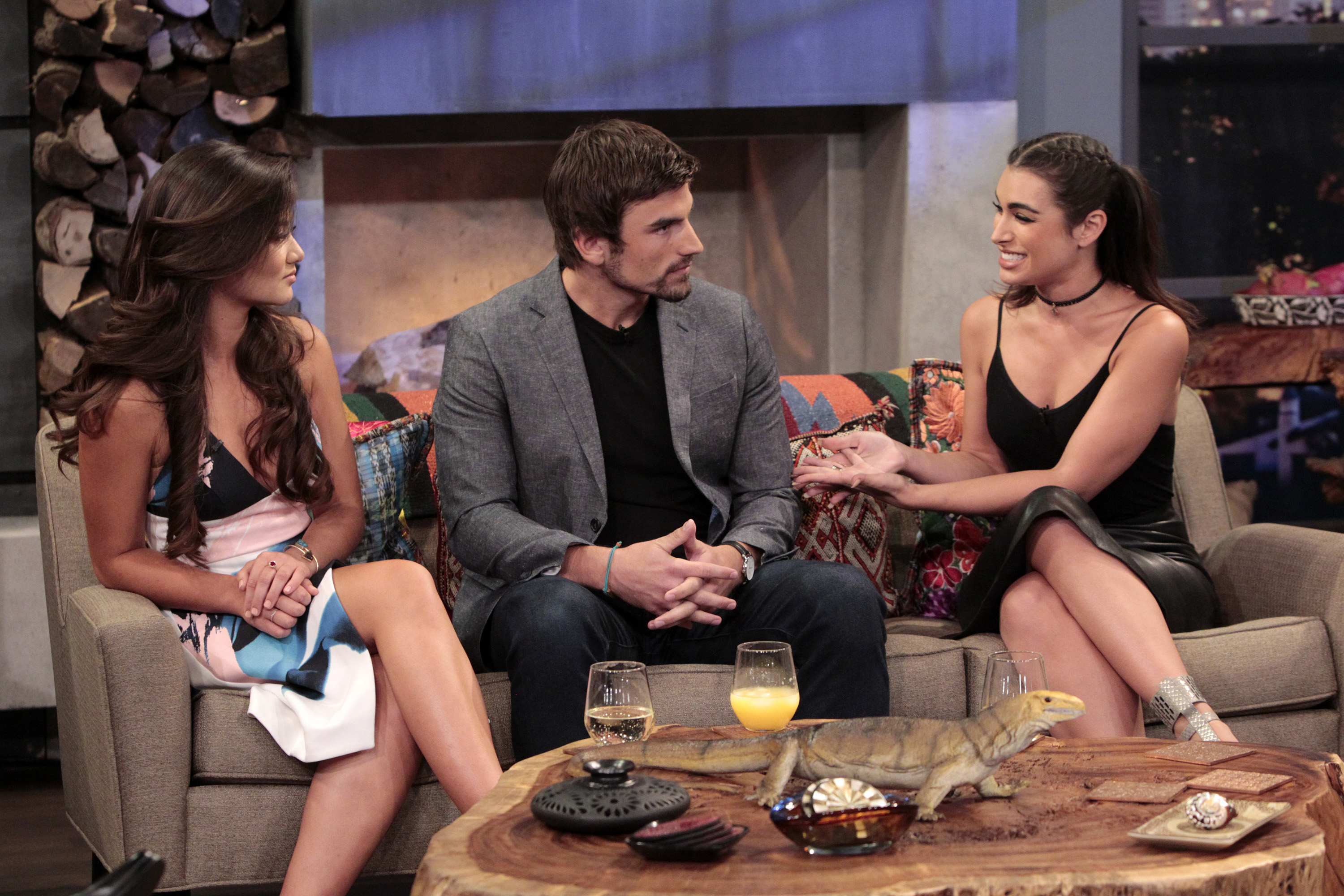 On the most recent season of Paradise, where Ashley cried about her dog and provided the show's most memorable moments, she had a short-lived romance with radio DJ Wells Adams, who seemed far too hip for the franchise. When Ashley met Wells, everyone breathed a collective sigh of relief, as it offered a respite from her prior unrequited romances.
On the topic of Paradise, Ashley admitted it's not actually an island, although the contestants are secluded on a beach. And there is a psychiatrist available, just like UnREAL, although Ashley called her "more legitimate" than the one on the scripted show. While it might seem like the relationships on The Bachelor aren't manufactured storylines, the producers have a heavier hand than you might realize. (Just watch one episode of UnREAL for confirmation). "They don't want any drama off the show, they want it all to be on camera," Ashley announced. Unfortunately, Wells and Ashley are no longer together, much to the chagrin of hopeful fans. Their not-quite-breakup created an awkward weekend when he brought a new girl on a Bachelor press trip.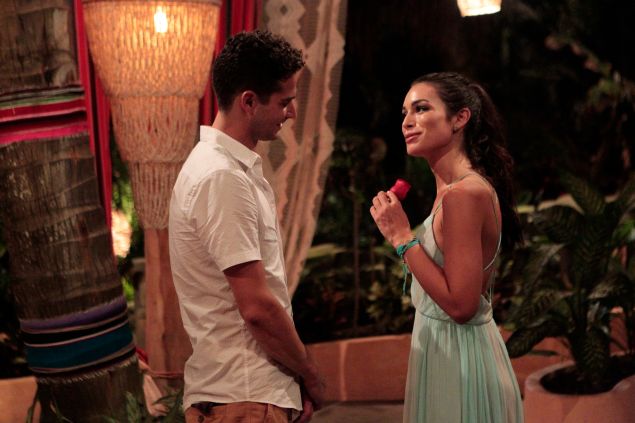 "I never like anyone," Ashley admitted sheepishly. While the other contestants manage to find love on the beach, Ashley is constantly searching, even if it inevitably ends with smudged mascara. Off the show, the hunt continues, made more difficult by the fact that she's the most well-known 20-something virgin in America—well, aside from Tim Tebow.
Like every other millennial, Ashley has met potential paramours on dating apps. She uses Raya, the exclusive dating app reserved for celebrities and influencers; it's where Amy Schumer reportedly met her handsome, normal boyfriend. "I don't love Raya because in L.A. it has snotty photographers and musicians. I'm at the age now where a doctor sounds way more appealing than a musician," she semi-joked. She's spotted John Mayer on the app, along with few other pop stars slash modelizers. 
As a Newhouse School graduate, Ashley is realistic about why people are on The Bachelor. "A good chunk of the reason I did it was that it opens so many doors, but at the same time if I were to meet someone it would be a greater gift than anything. Even meeting Jared was one of the greatest gifts ever." 
"When you're part of this Bachelor family, you have an influx of hot new guys—fresh meat. You're always going to run into them. They're my sorority sisters and those are our frat guys. You're not going to get hotter than them," she shrugged. "A lot of them are super decent guys, especially from Kaitlyn's season. The bottom line is, usually what seems to end on T.V. doesn't, because we run into each other so often," she admitted. "It's kind of like in college, you're probably going to date around, or at least have complicated relationships with the guys you hang out with on a regular basis." 
One reason it's easier to date within the Bachelor pool is because they already know she's a 28-year-old virgin. "Guys really, really don't want to date a virgin," she sighed. "It's very much a big deal when it comes to dating, it's a huge turnoff with guys now." Ashley's virginity shocked viewers when she was originally on The Bachelor, and since then there have been plenty of questions about whether or not her V-card remains. Ashley said she's holding out for the right person, who she hasn't necessarily found yet.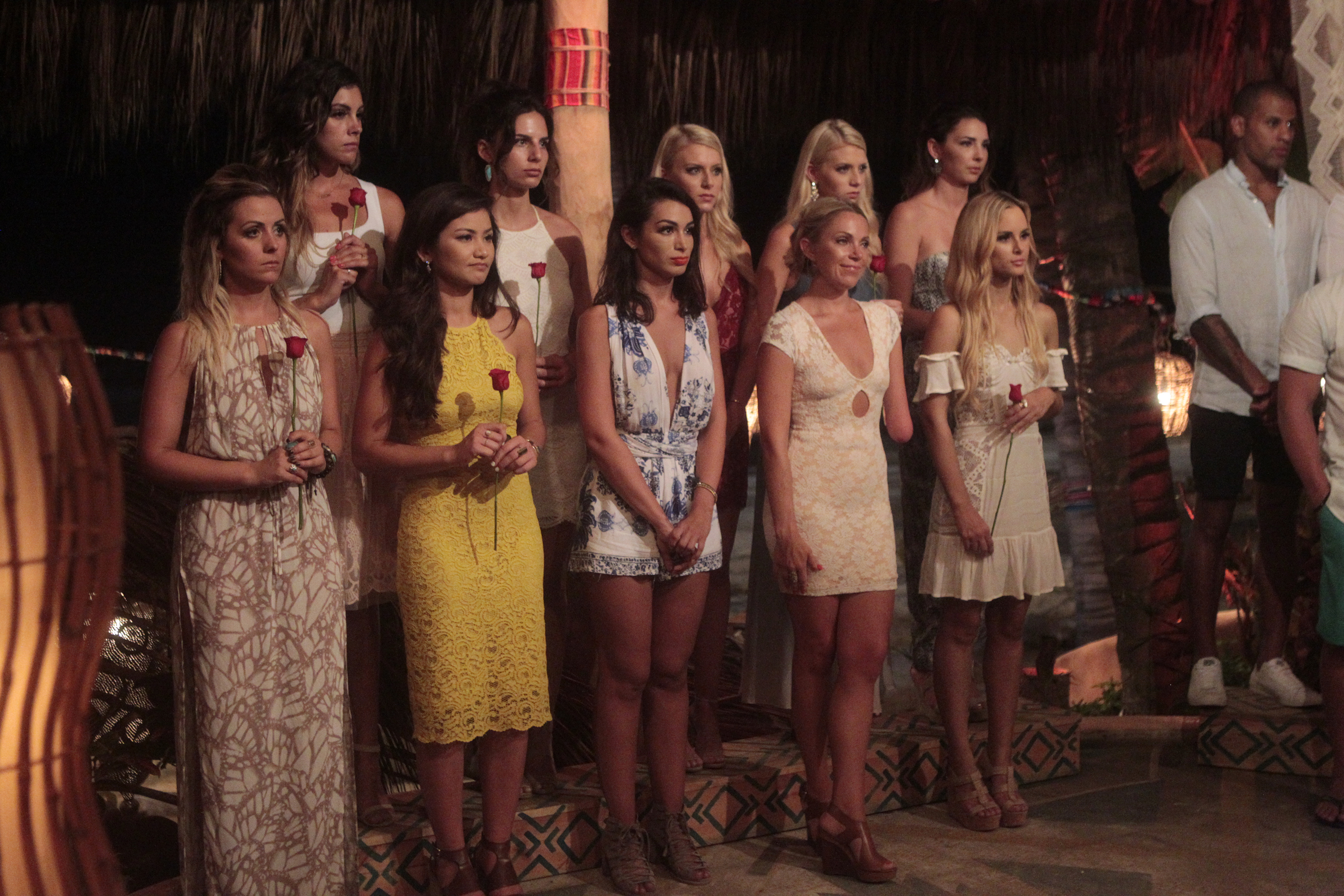 "I've been all over the country for the last six weeks. When I have four days off, I'm trying to be on the couch at night. I don't want to have a forced conservation," Ashley said about swiping on Raya and Bumble. It's also difficult to use dating apps when constantly surrounded by attractive, single people looking for love.
After one Raya date she thought went well, she never heard from him again; on another, she wasn't physically attracted—and on the worst one yet, her date asked her explicit questions about her sex life. Another issue is explaining what she does on a dating app, since her career lies somewhere between being a former reality star and an influencer. She has considered "social media influencer" or "T.V. personality," but thinks both "sound douchey."
Originally, Ashley wanted to be married before she was 23. Now, her theoretical ideal age is 30, which is right around the corner (no pressure). "I'm oddly in this weird point of my life. I'm that girl that never had a real boyfriend," Ashley said. Despite a few marriage pacts, she's taking dating less seriously these days. "The only thing I could ask for to make my life better would be an amazing boyfriend. I'm not even thinking about it. I think when I get to 29 in March, then I'll start freaking the hell out. I'm giving myself the next couple of months to try to enjoy everything." 
While Ashley might not continue looking for love on television, she doesn't want to meet her potential husband on a dating app. "Maybe I watched too many romantic comedies. I think Matthew McConaughey is going to save me and my shoe as I'm rolling down the hill in San Francisco. I think I might just have a cute encounter," Ashley admitted.