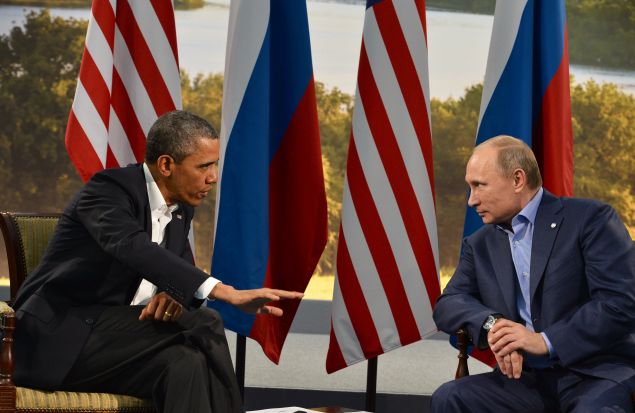 President Barack Obama finally made good on threats to retaliate against Russian President Vladimir Putin for meddling in the American election on President-elect Donald Trump's behalf—hitting the Eurasian nation with grueling economic sanctions and booting its citizens and resources from the American shores.
Obama signed an executive order imposing economic and diplomatic strictures on two Russian intelligence services—the GRU and the FSB—four individual officers of the GRU and three companies that gave "material support" to the GRU's cyber operations, which swiped and exposed emails from the Democratic National Committee and from Hillary Clinton campaign chairman John Podesta. The State Department also sanctioned two Russian individuals, both already on the Federal Bureau of Investigation's "Most Wanted" list, for using "cyber-enabled means to cause misappropriation of funds and personal identifying information."
"All Americans should be alarmed by Russia's actions," Obama said in a statement. "In October, my Administration publicized our assessment that Russia took actions intended to interfere with the U.S. election process.  These data theft and disclosure activities could only have been directed by the highest levels of the Russian government."
The State Department is also shutting down Russian government compounds in Maryland and in New York that it alleges Russian personnel used for intelligence-related purposes as of noon on Friday and proclaimed 35 Russian intelligence operatives "persona non grata." And the Department of Homeland Security and the Federal Bureau of Investigation are releasing declassified technical information on Russian civilian and military intelligence cyber activity, with the goal of assisting network defenders in the United States and abroad better recognize, root out and throw Russia's global campaign of malicious cyber activities into disarray.
Obama said that his administration will soon provide a report to Congress detailing Russia's efforts to interfere in the 2016 election and elections past. He also said that the actions are not the totality of Russia's "aggressive activities," saying that his administration will continue to take a variety of actions at a time and place of their choosing—some of which will not be publicized.
In a statement yesterday evening, Russian Foreign Ministry spokeswoman Maria Zakharova, said that the Russian government is "tired of lies" about Russian hacking "that continue to be spread in the United States from the very top." She even pointed to Georgia Secretary of State Brian Kemp's claim of an failed attempt to hack the state's computers containing voter information that was traced to a Department of Homeland Security address.
"We can only add that if Washington takes new hostile steps, it will receive an answer," Zakharova said. "This applies to any actions against Russian diplomatic missions in the United States, which will immediately backfire at US diplomats in Russia. The Obama administration probably does not care at all about the future of bilateral relations, but history will hardly forgive it for this après-nous-le-deluge attitude."
Trump, for his part, was just as disparaging, telling reporters ahead of Obama's formal announcement of penalties against Russia for its behavior. He said people would do well to "get on with our lives" but said that computers have made it harder for people to know "exactly what is going on" and that he's not certain that the country has the type of security necessary.
The sanctions put the president-elect in an uncomfortable position, as members of his own party have decried Putin's expansionist foreign policy and efforts to influence the affairs of other nations.
Not even two weeks ago, Obama confirmed that Russia was responsible for the damaging hacks that plagued Clinton's campaign and aided in Trump's shock victory. But he contended that Putin can only really win if "we abandon our values." And he said that the United States has a far stronger economy and military than Russia, and announced he had warned Putin in September that Russia would face consequences for its interference—apparently foreshadowing the penalties and dismissals he announced today.
Politicians across the spectrum and members of the intelligence community agreed that the Kremlin was behind the email leaks that hurt Clinton's campaign in order to help Trump, who has been an enthusiastic admirer of Putin. All of Us 2016, a progressive youth group, also gathered outside Trump Tower to call on the Electoral College to "delay the vote" pending the completion of an investigation into Central Intelligence Agency claims the Russian government plotted to get Trump into office.
As originally issued in April 2015, Executive Order 13964 established a new, specific authority for the American government to respond more efficiently to the most significant of cyber threats, particularly in cases where malevolent cyber actors function beyond the purview of existing authorities.
That executive order focused on cyber-enabled activities that harm or notably undermine the provision of services by entities in a key infrastructure sector, substantially disrupt the availability of a computer or network of computers or cause a significant misuse of funds or economic resources, trade secrets, personal identities, or financial information for commercial or competitive advantage or private financial gain.
The outgoing president amended the executive order to authorize sanctions on those who manipulate, adjust or cause mishandling of information in an effort to hinder or impair election processes or institutions. Using this new authority, the president sanctioned the GRU and the FSB and other individuals and companies.
The Department of the Treasury has also imposed penalties on Evgeniy Mikhailovich Bogachev and Aleksey Alekseyevich Belan. Bogachev and his cybercriminal associates are allegedly responsible for the theft of more than $100 million from U.S. financial institutions, Fortune 500 firms, universities and government agencies.
Belan, for his part, is said to have compromised the computer networks of at least three major United States-based e-commerce companies.
Obama also said that for the past two years, Russian security personnel and police harassed American diplomats abroad. Now 35 Russian government personnel, along with their families, have 72 hours to leave the United States.
Disclosure: Donald Trump is the father-in-law of Jared Kushner, the publisher of Observer Media.