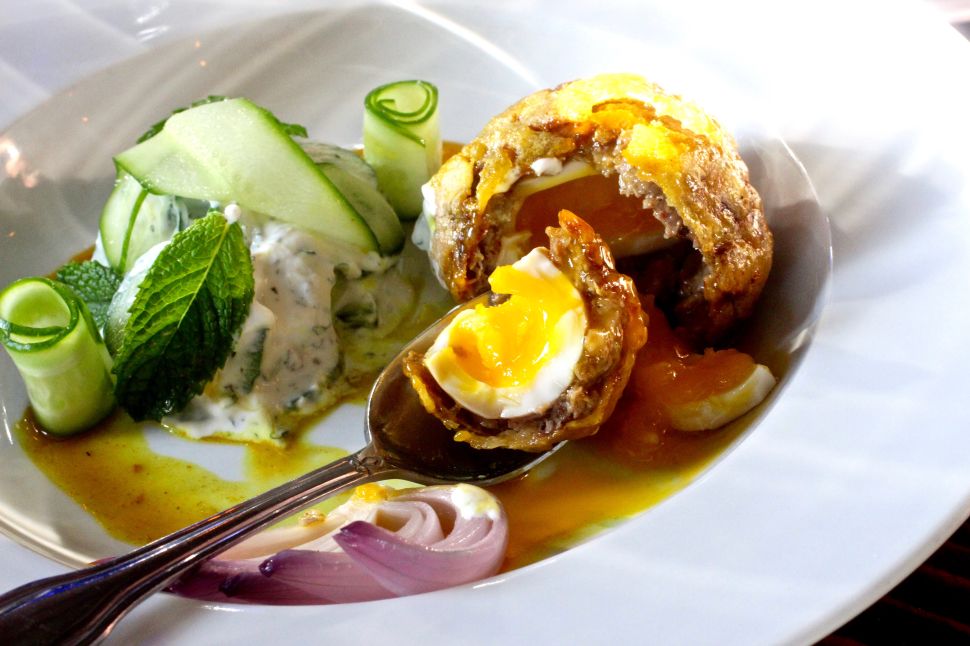 Jonathan and Jason Baran, the brothers who run white-hot Baran's 2239 in Hermosa Beach, have the restaurant business coursing through their veins. Their family opened Pasadena's Brotherton's Farmhouse, which debuted in 1937 and served comfort food like fried chicken, braised sirloin tips, fried young rabbit, stewed chicken giblets and calf's liver and onions for more than five decades.
Now in a parking-challenged South Bay strip mall on the PCH, the Baran brothers are serving contemporary comfort food, some traditional dishes "with a little twist," Jonathan says. The chicken here is smoked, fried and served with a soy and chile gastrique. There's a duck confit poutine.
Chef Tyler Gugliotta, whose resume includes Venice's highly regarded Tasting Kitchen, riffs on a Scotch egg with his Indian interpretation, featuring lamb sausage, curry jus and cucumber salad. It's a resplendent dish when you break the yolk before enjoying every transporting flavor.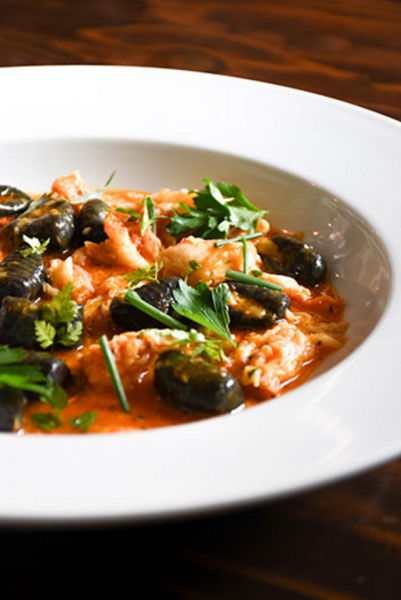 Gugliotta makes all the restaurant's sausage and pastas in-house at this restaurant that seats 50 people in a tight square of an interior that can fill up by 7 p.m on a chilly Tuesday night. The pastas include the best-selling gnocchi nero with king crab and Calabrian chiles, one of just a handful of dishes that has been on the menu every night since Baran's opened in March. This dish, with its pillowy pasta floating in a sea of spicy tomato sauce alongside generous chunks of wonderful crab, is perhaps the biggest reason this cozy neighborhood restaurant (next to a smoke shop and a place selling kebabs) has been deemed a destination-dining spot by both L.A. Weekly and Los Angeles Magazine.
You know this kind of neighborhood restaurant well if you eat out a decent amount in L.A. or New York. It tries harder, sources better ingredients, has a talented chef doing his own very personal and of-the-moment thing as he creates bold flavor combinations. Baran's does that thing that Buttermilk Channel and Colonie and, most recently, Olmsted are known for doing in Brooklyn—that thing you'll recognize in L.A. places like David LeFevre's M.B. Post in Manhattan Beach, Josef Centeno's Ledlow downtown and Ted Hopson's The Bellwether in Studio City. This is American food, made with premium proteins and fabulous vegetables, but it's got elements of classic French technique and influences from all kinds of far-flung cultures.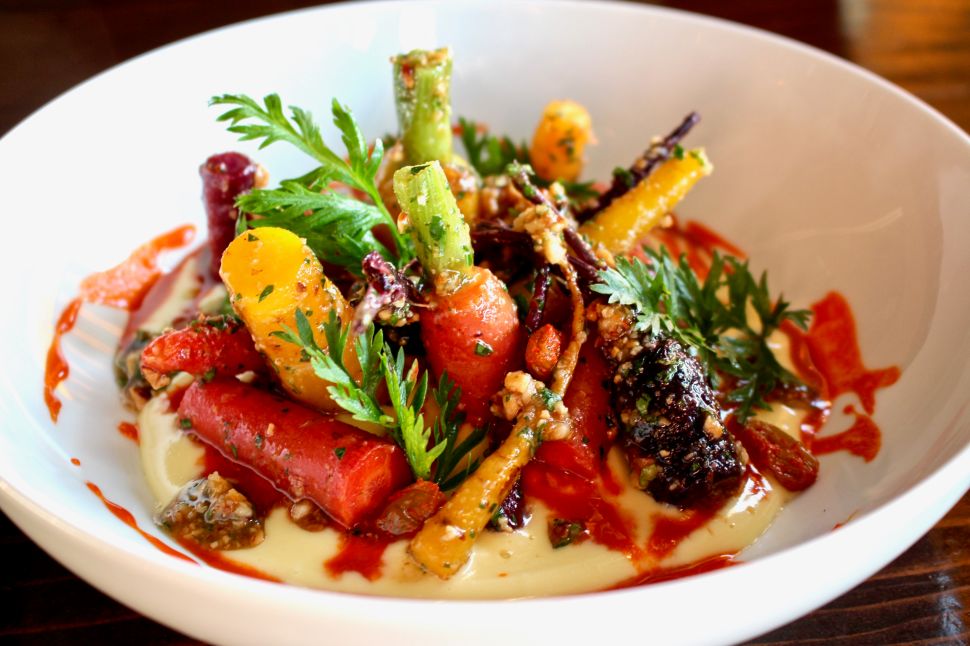 Dishes can be aggressively seasoned at Baran's, like they can be at, say, Animal. But maybe this just means a lot of overlapping customers with the smoke shop next door. And the impressive craft beer and wine list makes it easy to find palate-pleasing pairings. The youthful, friendly restaurateurs work their own room and are there to make suggestions.
Meanwhile, their youthful chef has customers happily eating their vegetables in bright, soul-warming dishes like baby rainbow carrots with a hazelnut/truffle sauce and hollandaise. This hearty plate of carrots is an earthy combination of sweetness and deep savory notes, an impressive composition even in produce-forward Los Angeles. And we're a long way away from 1937, so bring on the charred black kale too.