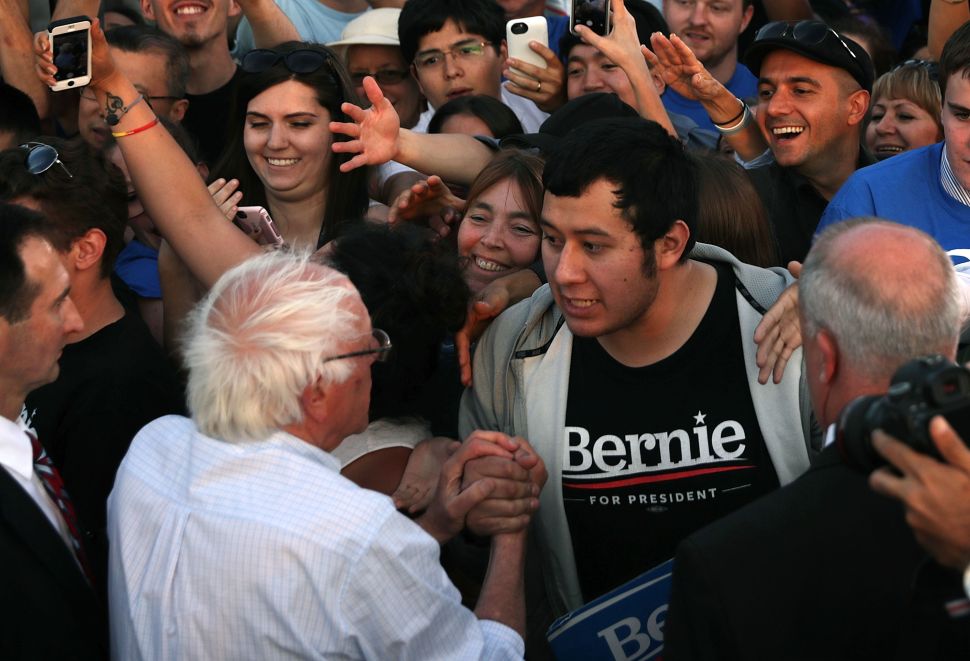 The Democratic establishment has responded to Hillary Clinton's election loss, and the party disappearing from elected offices across the country, by largely ignoring any calls for reforms. There has been more focus on excuses for why Clinton lost than constructive discussion over how the Democratic Party should reconnect with working and middle class voters. Though Clinton's defeat should serve as a lesson for Democratic leadership to embrace Bernie Sanders' progressive populism and his ability to make meaningful connections with issues that affect a wide range of disenfranchised voters, business as usual appears to be prevailing.
But some parts of the country offer hope to Sanders supporters that their people-focused brand of politics can become better reflected within a party leadership that has disproportionately supported Clinton and her partnership with wealthy donors and corporations. Shortly after the presidential election, Sanders activist Stacy Patel was elected Democratic Party chair in Brevard County of Florida. Several other Sanders supporters won Democratic Party committee positions. They capitalized on the area having a relatively weak Democratic Party establishment presence to assume power locally, and begin to influence the Florida Democratic Party.
Stephen Bittel, the billionaire Democratic donor and close ally to former Democratic National Committee (DNC) chair Debbie Wasserman Schultz, is in the process of completing a Machiavellian ascension to assume position as new chair of the Florida Democratic Party. The only person in Bittel's way now is Alan Clendenin, who narrowly lost a 2013 race for Florida Democratic Party chair, which he attributed to Wasserman Schultz's interference in the election. "I was the first one to experience what Bernie felt," Clendenin told Florida Politics in November.
In Florida, the establishment continues to push back against influence from Sanders progressives. However, in Washington, the Vermont senator's supporters are having better luck in taking over the state's Democratic Party. Sanders comfortably won the state during the Democratic primaries, receiving over 70 percent of the vote. But elected Democratic Party officials, mainly Washington's superdelegates, overwhelmingly supported Clinton.
In January, Sanders supporters are organizing to elect one of their own, Tina Podlodowski, to unseat current Washington Democratic Party chair Jaxon Ravens. Sanders supporters have gradually taken over local Democratic committee positions to provide a better reflection of the progressive values within the party, and rally enough votes to overthrow the establishment leadership in the state party.
"This last election cycle in Washington State was not kind to Democrats," Podlodowski wrote in a recent Facebook post, outlining the need for change in Washington—a state dominated by Democrats, yet plagued by their own shortcomings on connecting with voters. "Yes, we held the Governor's office and re-elected our Federal incumbents. But, we lost both the 3rd and 5th CDs. We have not recovered control of the State Senate since the defections of both Rodney Tom and Tim Sheldon in 2012. Our majority in the House has dwindled from a comfortable double-digit lead to one that is razor-thin and easily lost. And we did not secure that margin at all in this past election – in fact, there were seven legislative races where we allowed Republicans to simply run unopposed."
In Nebraska, Sanders supporter Jane Kleeb won election to serve as the State's Democratic Party chair in June, assuming the role officially this month. Sanders won the state comfortably in the Democratic primaries, and the state party's appointments have reflected his popularity, with 70 percent identifying as Sanders supporters.
Hawaii experienced a similar coup, with pro-Sanders Tim Vanderveer winning the position as the state's party chair shortly after Sanders trounced Clinton in the March primary caucuses.
Sanders' presidential campaign may have ended during the Democratic National Convention, but his political revolution was predicated on inspiring millions of people to become politically engaged. The Democratic Party establishment has made it abundantly clear they have no intention of relinquishing any of their political power and privilege to Sanders supporters. Therefore, it's up to grassroots progressives to take their party back from the wealthy donor–obsessed establishment that has been rotting it from within.