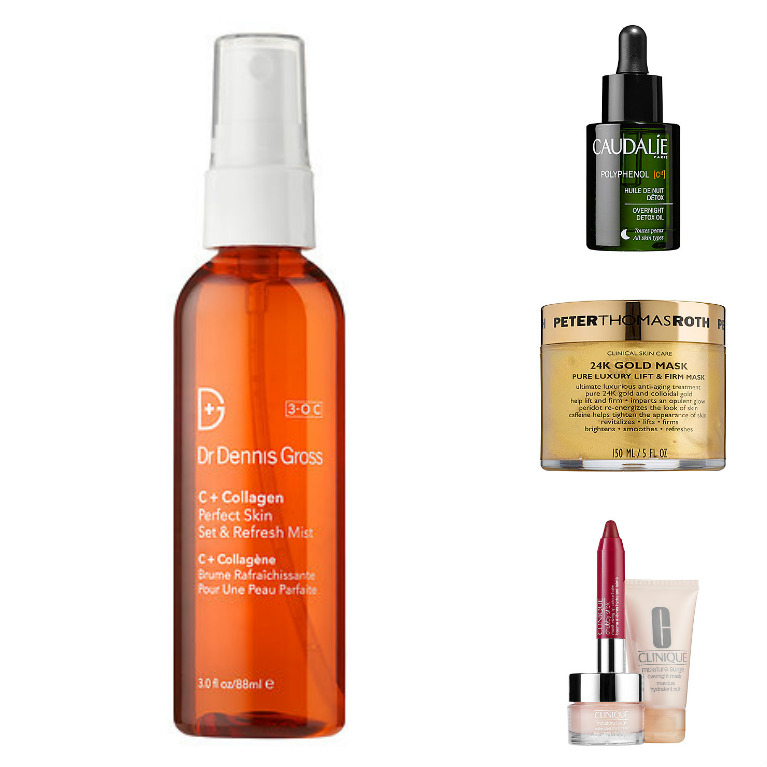 The Sahara Desert has a humidity level of 25 percent. Commercial airplanes have a humidity level of around 12 percent. This extremely dry air wreaks havoc on skin that can take weeks to repair. But if you board with a strategy and an arsenal of the right products, you can emerge luminous and refreshed instead of parched and haggard.
The strategy part is simple: hydrate, hydrate, hydrate. And then hydrate some more.
It's best to double cleanse and prep your skin before boarding. That way, once you're in the air, it's just a matter of maintenance. If you can't, use cleansing wipes the right way once in your seat and proceed with the rest of the routine.
Once your face is clean, use an acid exfoliant to turn over dead cells so your hydrating products can really penetrate. DERMAdoctor Kakadu C Intensive Vitamin C Peel Pads with Ferulic Acid & Vitamin E ($78) come individually wrapped and don't need to take up space in your TSA-friendly liquids bag.
Next, neutralize the acid and add a layer of moisture with a hydrating spritz. Many face sprays contain alcohol, so avoid those. Instead, opt for one like Dr. Dennis Gross Skincare C + Collagen Perfect Skin Set & Refresh Mist ($30), which boosts moisture and protects skin from environmental pollutants common in recirculated airplane air.
An ultra-hydrating serum is crucial to this line of defense. Vichy Aqualia Thermal Dynamic Hydration Serum ($36) is one of the most effective on the market, which you might not guess from the relatively modest price point. Just one pump over face, neck and décolletage will plump and calm skin for hours.
After serum, use the richest moisturizer or night cream you own (if you can fit it in your carry-on baggie). You could also pull out the big guns and go for a mask—even if your flight is only a couple of hours long, this is still worth doing. If you're flying long haul, it's an absolute must.
Clinique Moisture Surge Overnight Mask (included in the Clinique Dewy You travel set, $19) is an oil-free yet creamy layer that blends like a moisturizer, so it doesn't look like you're wearing a mask. Peter Thomas Roth 24K Gold Pure Luxury Lift & Firm Mask (part of a six-mask sampler kit, $25) sounds gimmicky, with colloidal gold that leaves skin glowing—but it also contains hyaluronic acid and caffeine to hydrate, brighten, and fight dryness. (And happens to be addictively indulgent. After trying the travel size, you will probably want to commit to the full size.)
Don't neglect your lips, unless you like that chapped, chewed up, burning sensation of dehydration. Fresh Sugar Lip Serum Advanced Therapy ($36) is a twice-a-day savior for lips in need of extra nourishment and volume. Apply and reapply as needed in-flight, alternating with Sol de Janeiro Brazilian Kiss Cupuacu Lip Butter ($18) if you like a scented, oil-rich balm.
At this point, you could leave well enough alone. Just re-spritz every couple of hours and add another layer of your mask or moisturizer if your skin seems to need it. But if you have naturally dry skin, it would be wise to ice the cake with a final, moisture-imparting barrier. May Lindstrom The Blue Cocoon ($160) is a wonder product: an intensely effective oil in solid form that melts on contact with skin, with a scent so beautiful you'll want to rub it all over your body. It's not cheap, but one travel-friendly jar will last you at least a year, if not longer—a little goes a very long way. If you prefer a dry oil, Caudalie Polyphenol C15 Overnight Detox Oil ($55) absorbs instantly, renewing and protecting skin while you (try to) sleep or watch in-flight movies.
If you need to step off the plane looking more sleek than spa-like, that's easy. Use a tissue to wipe any excess mask or oil from your face, then follow with the tinted BB cream of your choice. (Tarte BB Tinted Treatment 12-Hour Primer Broad Spectrum SPF 30 ($36) keeps coming up as a recommendation in this column because it's just that good.) Pop some Burberry Lip & Cheek Bloom ($30) on your mouth and cheeks, apply Milk Ubame Mascara ($24) to lashes, sweep some Anastasia Tinted Brow gel ($22) on, and you're good. Just don't forget your hairbrush and mirror.
Jackie Danicki created one of the first and most popular beauty blogs in 2004, and has consulted some of the world's most iconic brands on digital content strategy and innovation. Jackie blogs at burnedoutbeauty.com, and you can find her on Twitter, Instagram, and Snapchat as @burnedoutbeauty.