It might change shape, sound, or appearance, but we all know one thing's always true about jazz: no matter the time period, jazz never goes out of style.
Here's our five favorite reissued jazz albums of 2016 that were all long-overdue for our reappraisal. Like all truly special reissues, these albums don't just repackage the past—they improve on it.
5) The Cannoball Adderley Quintet, Music, You All (Real Gone)
[youtube https://www.youtube.com/watch?v=BbLyb4-fJ4k&w=560&h=315]
When it comes to the body of work created between Cannonball Adderley and David Axelrod, there isn't a more definitive title than 1976's Music, You All, which the ever-innovative producer/arranger put together to commemorate the one-year anniversary of the beloved alto icon's death in '75.
The album was sourced from a seven-night residency at the Los Angeles folk club The Troubadour in 1970 and features an expanded lineup of the classic Adderley quintet of his brother Nat on reeds, bassist Walter Booker, George Duke on keys and drummer Roy McPurdy with the addition of saxophonist Ernie Watts, percussionist Airto Moreira and Beach Boys guitarist Mike Deasy.
This LP, newly remastered by Real Gone after years on the high-end rare record market, is not only as vital to the Cannonball Adderley listening experience as his 1958 Blue Note masterpiece Somethin' Else, it's a crowning testament to why Axelrod is regarded as one of the high priests of studio ingenuity.
Transforming a week's worth of five-year-old material that wasn't included on the recordings' initial title The Black Messiah, Axelrod turned them into a cohesive 50:05 verification of Adderley's powerful handle on the evolving electric jazz movement of the late '60s/early '70s that arguably rivals that of his old boss Miles Davis.
4) Sun Ra, Singles (Strut)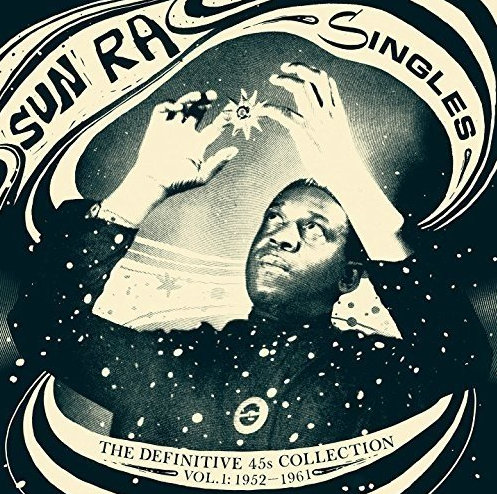 In addition to the seemingly infinite number of studio and live full-length LPs Sun Ra had released through the course of his time on Earth, the Saturn-born, Alabama-bred composer ran a parallel number of single releases on 45 RPM spanning the years 1952 to 1991.
Strut Records, working in close association with the Sun Ra Estate, delivers quite possibly the most definitive collection of these 7-inch singles that's ever been released on the market—some of which have only recently been discovered over the last few years. Offering a complete timeline chronicling the evolution of Sun Ra's "space-bop," this is some of the best you'll ever hear of Sun Ra in all his cosmic, complex iterations, making it the quintessential guide to the Arkestra galaxy.
3) Various Artists, The Xanadu Master Edition Series (Elemental)
[youtube https://www.youtube.com/watch?v=9E8Jrb9Jo_I&w=560&h=315]
One of the more under-publicized rescue operations during Hurricane Sandy was the retrieval of the catalog of Xanadu Records, a renowned '70s jazz label run by one-time Prestige house producer Don Schlitten. Not everything was salvaged from the wreckage, but the 25 titles that were saved by Elemental's Zev Feldman represent the acme of Xanadu's roster of aging greats with whom Schlitten worked alongside at his old job.
This second wave of the reissue series saw the resurrection of such essential titles as True Blue and Silver Blue, two 1977 gems from an incredible combo led by tenor sax giants AL Cohn and Dexter Gordon; guitarist Jimmy Raney's Live in Tokyo with his trio rounded out by Sam Jones on bass and drummer Leroy Williams; and the magnificent Saturday Morning, the first album of the 1970s from alto sax legend Sonny Criss with pianist Barry Harris, bassist Leroy Vinnegar and drummer Lenny McBrowne.
2) John Coltrane, The Atlantic Years – In Mono (Rhino)
[youtube https://www.youtube.com/watch?v=q-M5qmxXilU?list=PL_APmrCcMJYcTPdaAhEXyp7cLnd9jKdDH&w=560&h=315]
It's hard to imagine that at one point the music of John Coltrane was meant to be heard on only one speaker.
But listening to these five essential Atlantic titles from the Heavyweight Champion's catalog in mono gives these records a more natural feel, and an air of immediacy that makes you feel as though you are right there in the room with 'Trane and them.
Especially on his legendary co-lead LP with trumpeter Don Cherry from 1966, The Avant-Garde.
The immediacy of these interpretations of such Ornette Coleman classics as "The Blessing" from his 1958 Prestige debut Something Else!!!! and this 12-minute cooldown of "Focus On Sanity" off 1959's game-changing freejazz opus The Shape of Jazz to Come sound so rich and full in their monaural state you might not accept its quadrophonic counterpart moving forward.
1) Bill Evans, Some Other Time: The Lost session from the Black Forest (Resonance)
[youtube https://www.youtube.com/watch?v=I8Di1Y_znmY&w=560&h=315]
In a year fraught with loss and uncertainty, one thing 2016 offered as a positive counterbalance was what is essentially a new Bill Evans album.
Some Other Time: The Lost Session from the Black Forest was recorded in a living room in Villingen, Germany on June 20, 1968, and is the only known studio tape of the trio of Evans, bassist Eddie Gomez and Jack DeJohnette on drums.
"There was big excitement about us going to the studio," DeJohnette said of the sessions in the mini-documentary about this release. "This record represents a time and space where he was exploring new approaches to standard repertoire rhythmically and harmonically."
Warm, gorgeous renditions of such Evans faves as "Bangles, Baubles & Beads", "These Foolish Things" and his Kind of Blue highlight "On Green Dolphin Street" prove their iconic performance at the Montreux Jazz Festival just five days before was more than just impromptu kismet. This was a deeply intuitive camaraderie that should have been given more opportunities to gestate.
***
The 20 Best Jazz Albums of 2016
The 10 Best R&B Albums of 2016
The Best Live Jazz Albums of 2016
The 10 Best Hip-Hop Albums of 2016
The 10 Best Experimental Albums of 2016
The Best Overlooked Records of 2016
The 10 Best New Artists of 2016