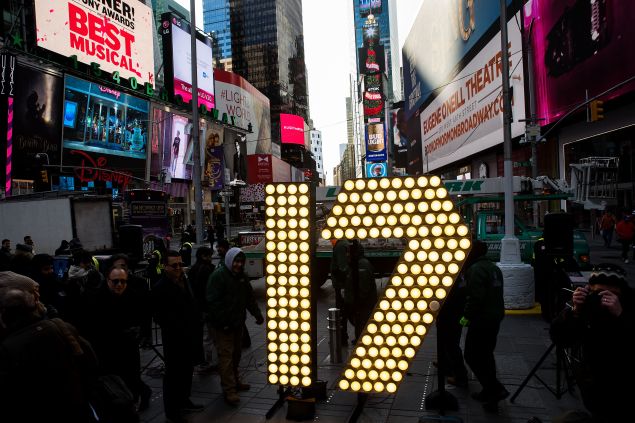 New Year's Eve is one holiday tradition New Yorkers take seriously. Let the rubes freeze in Times Square, sequestered by police barricades while they look around for the fading vapors of Dick Clark's hologram—we locals know better. If we're sticking around the city at midnight it's likely because there's a myriad of better ways to celebrate.
If New Year's Eve is the ultimate party and New York City is the ultimate party town, then the ball drop signifies much more than the new year. It's a sign of communal puberty, of growing up. New Year's Eve in NYC is one of the few festive nights of the year where everyone's turning the same page at the same time and countless sequined strangers will join you to watch the sun rise. And fostering such communal commiserating, such non-denomination union, is ultimately the function of a good party, no?
Yes, of course! But everyone running a business knows it, too. And that's why the bar you frequent all year suddenly charges a cover at the door on Saturday night, why the band you've seen countless times surrounded by chicken wire and crumpled PBR cans plays a room with a champagne toast at midnight, and why that guy who always sits in the corner of the restaurant in the Grateful Dead shirt and the "Fuck You" hat has swapped his headgear for something slightly more festive and less acerbic.
But price gouging and absurd crowds are no reason not to go out on New Year's Eve if you're doing it right, and your friends at Observer Music are here to help. We've broken down the shows and dance parties for you, taking into account the bang you get for your buck and the projected vibes so you can feel confident in your splurging, hedonistic, urban decadence.
On this night we'll regurgitate the age old question—is it right that old times be forgotten? And after this year, a chorus of music fans will resoundingly proclaim "yes," belting Auld Lang Syne at various "undisclosed Brooklyn locations," as is the trend these days. See you next year!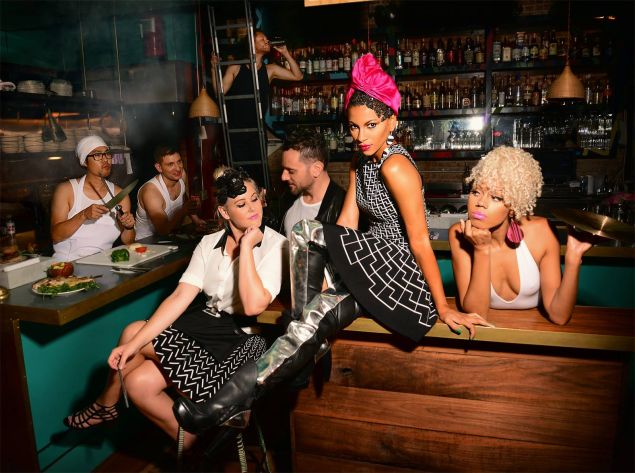 —One of the last punk/weirdo spots in the LES, Cake Shop is closing after New Year's Eve. We'll miss you, Cake Shop.
—Baby's All Right sister venue in the LES, Elvis Guesthouse has its final night on New Year's Eve, too. Does anyone know what surprises they have in store yet? Might be worth plundering around the internets for hints.
—Resident Advisor's throwing their "NYE Love Bomb" show at Good Room, a funky dance party with Soul Clap, No Regular Play, Justin Strauss & Billy Caldwell (tickets). It's in the fourth price tier at around $85…but keep in mind that this price includes a champagne toast at midnight, open bar from midnight to 1 a.m., and your standard balloon drop, confetti cannons and party favors. They're also providing breakfast bagels.
—House of Yes was reborn as the equal-opportunity center of inclusive, good-vibes hedonism when they reopened this year in their gorgeous new location on Wycoff, and they're staying up as the premier destination for contemporary circus folk and Bushwick Burners leading into 2017. Their December 30 "Cyber Sx" party features Waze & Odyssey DJing, as well as a "cyber strip club," "cuddle puddles & changing stations," "Ties & Wires, Leather, Metal, Latex and Vinyl" and more. Tickets will run you about $20, so why not go for it, ya weirdo?
[youtube https://www.youtube.com/watch?v=IuaLNKbycyE?list=PLeR4fPqwIhnC3EwkhcmIZWFZ21B10M_TR&w=560&h=315]
—On NYE proper HOY is throwing the "Future Perfect: New Year's Eve Gala" with a live performance by disco band Escort, including DJ sets from Tony Humphries, David Kiss, Zephyr Ann and DJ Bruce. The sliding ticket price of $50-90$ gets you all that dancing plus an open bar from 9-10 p.m., "Exquisite Secret Spaces," a "Midnight Moment of Manifesting Excellence," "3 Rooms of Music and Magic," "Future Beauty Perfection Parlor," "Energy Cleansing" and an "Elixir & Tincture Bar" (tickets). Why am I recommending you go see a "disco band"? Because if there's one place where flamboyant and ostentatious party not only makes sense but turns into a whole lot of fun, it's House of Yes. If you're nice, someone might even invite you into the hot tub.
—The city's own Jonathan Toubin, better known as New York's Night Train, can repurpose old "45s into an instant vintage hootenanny. He's throwing his annual NY Night Train NYE party at Home Sweet Home in LES with live performances from The Baby Shakes, The Ar-kaics and more. At only ten bucks at the door, this might be the most fun you can have in Manhattan for cheap, but Home Sweet Home gets packed quickly. Might be worth getting to early.
—Legendary Brooklyn party series Rubulad doesn't fuck around, either, and they're throwing Y2K Flashback party at the trendiest of party spots, an "undisclosed North Brooklyn location", with Friend Roulette, Preachermann and the Revival, Les Sans Culottes, Morricone Youth, and Emcee/Magician Tanya Solomon. Come for the dancing, stay for the Leonard Cohen singalong, tarot readings, projections, and silent disco tent. It's $20-40 depending on when you get there, and there's more info here.
—Some really solid rock 'n' roll options on NYE proper: Brooklyn via Jersey brainy punks Titus Andronicus are playing "The Greatest New Year's Party Ever 2017!" at Brooklyn Bazaar. Also on the bill is Toys in Trouble, plus DJ sets by Michael Tee, Cousin Cole, Loki Da Trixta, DJ Nique and Mario Bee. $70 tickets are still available, which gets you entry and four drink tickets. Not bad!
—Guided By Voices are playing Music Hall of Williamsburg for $70, but Robert Pollard parties endlessly, and the drunker he gets the more sprawling and rambling the set gets, too. Worth it.
—Atlanta's flower punks The Black Lips are still at it, putting on raucous sweaty shows that still manage to punch a hole in the Ozone Layer. They're playing Baby's All Right with PMS & The Mood Swings, which is the kind of band I imagine John Waters would put together. Also on the bill is Daisy Glaze, Winstons, and a post-ball-drop set by Chances With Wolves. That'll set you back $50, but includes two hours of certain tequila and rum (beware of the "while supplies last" fine print, though.)
—A great chat with Dave Harrington about the live music incubator culture New York reminded me that there are still certain pockets where our city's most intrepid musicians come together to create something new. To start your new year in a truly experimental fashion, there's Thurston Moore and John Zorn performing an improv set at Zorn's The Stone on New Year's Eve with Okkyung Lee (cello), Ikue Mori (electronics), and William Winant (percussion). That early show is $30 and starts at 8 p.m., but there's also an 11 p.m. show with Bill Laswell (bass) Milford Graves (drums) and special guest John Zorn (sax) for $40.
—My star pick for this strange, clusterfuck of a night has got to be the great Space Jazz revivalist Kamasi Washington at Brooklyn Bowl. He's doing the two-night residency thing on December 30 and 31 with the Daptone family's great Budos Band and two different acts DJing after each night—Sleigh Bells on 12/30 and Animal Collective (Avey Tare and DEAKIN) into the new year. It's unclear whether Budos and Kamasi's touring band are jamming together or playing separate sets, but at Brooklyn Bowl you can expect either.
We caught Washington just two weeks ago at Houston's Day for Night, and the band he had with him—including Stephen "Thundercat" Bruner on bass—re-arranged the songs off his wonderful 2015 masterwork The Epic with delicious Rhodes and Moog sounds thrown in for good, funky measure. This one's $65 in advance, $75 at the door.
Have fun, party smart, and stay weird in 2017.