Welcome to our TV Fashion column, where TV Ate My Wardrobe's Emma Fraser discusses the trends in television apparel. This week: Looking forward to the best fashion 2017 TV has to offer. 
The number of scripted shows in 2016 hit new records, with 455 making it to screens of various kinds. In 2011 this number was just 266, revealing the impact of streaming platforms such as Netflix and Amazon, and cable networks boosting their output as a result of new competition. Just looking at the new and returning shows for the start of 2017 indicates that Peak TV is still very much a thing and there is a lot to look forward to in the coming months.
The Golden Globes are just over a week away (January 8 on NBC) and no doubt this will deliver on the awards style, but we're looking to TV for sartorial inspiration from shows set to air in the next few months with offerings from long running to shiny new.
The New Year tends to kick off in a crime-solvers' dapper threads with Sherlock and this is no different in 2017 as Benedict Cumberbatch and Martin Freeman return to PBS for a fourth mini-season on New Year's Day. Last year tackled Victorian era Sherlock in a one-off special with bowler hats, moustaches, capes and deerstalkers and this time we are back to the three-episode format. Toby Jones joins the cast as Culverton Smith and he's got the super swish, icy blue suit of someone who is definitely playing a villain.
Sherlock's signature Belstaff coat he has been wearing since the pilot is still a staple, much to my delight, and there's plenty of timely winter wardrobe accessory inspiration including billowing scarves. Plus the final episode is being aired in movie theaters on January 16 and 18; expect big things.
Keeping on the dramatic long coat track: Tom Hardy stars in FX's mini-series Taboo, set in early nineteenth century England. Hardy's James Keziah Delaney returns home after the death of his father, but everyone seemed to think he was already dead. Awkward. The most recent trailer delivers on the creepy, with a whole lot of face-concealing, some more normal (a veil) than others (a pig mask). Hardy also works a loin cloth and top hat and while I'm not sure if either trend will/should catch on he definitely sells the hell out of this look.
If you've binged The Crown and miss Downton Abbey then Victoria on PBS (January 15) starring former Doctor Who companion Jenna Coleman might just be the one for you. Floaty nightgowns, poofy sleeves, dramatic headwear, hoop skirts and a reason to use the phrase "you forget yourself" all comes courtesy of this series following Queen Victoria's early days as monarch. It really is the ideal companion piece to The Crown for all royal fans.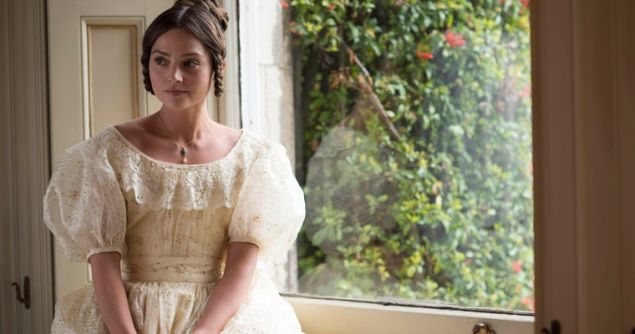 Period accuracy is one thing, but there are also a couple of new offerings which revel in heightened wardrobes. Netflix is taking over Lemony Snicket's A Series of Unfortunate Events, with Neil Patrick Harris starring as Count Olaf. Oscar-winning costume designer Angus Strathie knows how to make clothes stand out against backdrops both decadent and drab. Strathie won his Oscar for Moulin Rouge! and most recently worked on Deadpool and Age of Adaline; from sublime garments covering decades to creating an impressive superhero suit.
In the trailer for Lemony Snicket – which lands on Netflix January 13 – there is an impressive range of color, bold pattern and striking collars, particularly on Violet Baudelaire (Malina Weissman), off some of my personal favorite clothing detail boxes. I think I might have a new early favorite. Also, for all your red cable knit sweater needs, look no further than Klaus Baudelaire (Louis Hynes).
FX had a very good 2016 with its new hit critical shows including American Crime Story and Atlanta and continuing success stories like The Americans finally breaking out from just a critical darling to receiving major award nominations. It looks like 2017 will continue this pattern, when Fargo's Noah Hawley brings Legion to FX on February 8. I have to admit that I am unfamiliar with this Marvel character, but the trailer combined with the cast (Aubrey Plaza!) is super intriguing.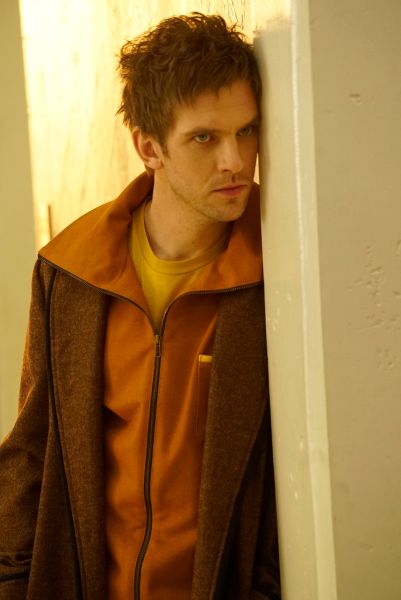 Dan Stevens' costuming consists of a very Jonny Lee Miller collarless shirt (as seen on Elementary), pajama top and a '70s looking polyester zip up track jacket, which in turn is making me think of '90s Britpop. Plus, Fargo costume designer Carol Case is on the costuming case and I am still looking to Kirsten Dunst's Peggy Blumquist for inspiration a year later.
Deep dark secrets is a theme of some new 2017 shows, with HBO's star-studded mini-series Big Little Lies gifting us with rich people wearing fancy clothes to show off their perfect lives while everything crumbles on the inside. This includes the floral pink Kate Spade blouse that also made an appearance on Gilmore Girls, expensive coats, knits and some very Lululemon looking exercise attire. As Reese Witherspoon is one of the big names in this cast I would also expect to see some of her lifestyle brand, Draper James (which also turned up on Gilmore Girls) making an appearance, along with some Goop-approved items and the relics of Preserve past. Tune in February 19 for the first episode.
For all things teen-intrigue, head to The CW on January 26 for Riverdale, a new spin on the characters from Archie. As with Legion, I am very much an Archie novice, but the trailer is selling me on the mysterious elements of this town. There is the familiar looking Letterman jacket in a very striking blue and yellow, which feels entirely symbolic of how high school is meant to look on screen. Plus, there is a caped entrance that includes this A+ Truman Capote-referencing line "I am Breakfast at Tiffany's, but this place is strictly In Cold Blood."
Perfect pink dresses, an investigation board complete with red string and the fact that American Crime Story costume designer Hala Bahmet is behind these creations all adds up to this being one of my most anticipated shows.
If you're already missing Empire (returning March), co-creator Lee Daniels has another take on the music industry, this time focusing on three young female singers and their dreams of stardom. Expect lots of sparkly attire, outfits to make your mark and a fur clad Naomi Campbell from costume designer Molly Rogers. Rogers has a very fabulous sounding resume, as she has worked on projects such as Sex and the City, Ugly Betty, The Devil Wears Prada and recently, Ballers. This is a star-packed cast including Queen Latifah and Lenny Kravitz. Hope he gets to bring his person-sized scarf and leather pants for the ride, which begins January 4 on Fox.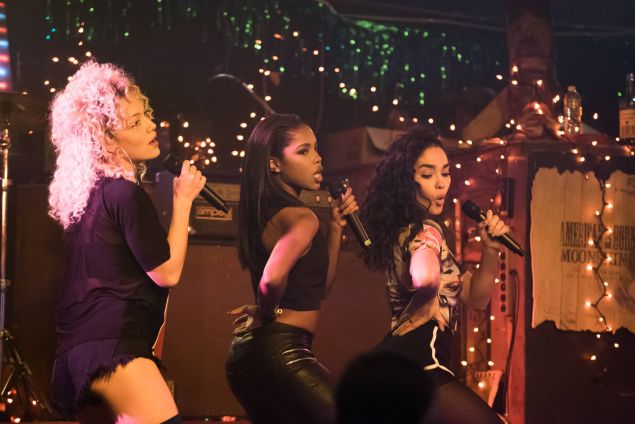 Also on the decadent front, but of a very different kind, is HBO's The Young Pope which starts January 15. Jude Law's Pope Pius XIII rocks all the white and gold, but pairs it with a cigarette and sunglasses, putting the young into The Young Pope. Diane Keaton is a style icon, and she somehow sells a nun's habit in a way that hasn't been done since Julie Andrews. It is not quite Annie Hall levels of cool, but you get my point.
A white hat makes up a lot of the promo shots of Jude Law in The Young Pope and TV's biggest white hat wearer (both literally and figuratively) returns for her sixth season January 19 to ABC to round out the full TGIT Shonda line-up. That's right, Olivia Pope is back and we're going to find out the results of the other big presidential election. Olivia has switched her signature white for red to show her desire to win in her always well crafted wardrobe from Lyn Paolo. Expect season 3 levels of coat cover-ups and big Prada bags for this early part of the season to conceal Kerry Washington's IRL bump. And maybe Fitz's knee if we are lucky.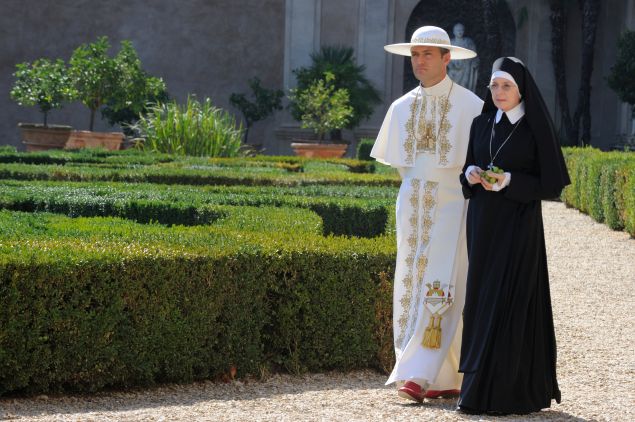 Also in the returning shows list that also happens to be for a sixth season are Girls and Homeland. There aren't really many similarities between the two other than the fact that both are set in New York this season and the lead character has a tendency to look inward a lot. Girls is the show which was the first subject of this column and had a very strong penultimate season which delivered some iconic Marnie Michaels looks. For its final season color and pattern dominate with stomach baring tops continuing to be all the rage. I don't think costume designer Jenn Rogien will let us down with this final adventure from the Girls ladies and gentlemen when it returns February 12.
Scandal isn't the only show getting a new president and Homeland new female leader is not here for the shenanigans of Saul and Co. She also dresses in a pretty neutral no-frills way mirroring Carrie's own very simple style. Carrie, much like her 24 counterpart Jack Bauer, has her all important messenger bag slung over her shoulder for much of the preview. Always be prepared.
Going back in time, but staying incredibly relevant, is The Americans, which returns for its penultimate season in March to FX. Showrunners Joe Weisberg and Joel Fields have remained pretty tight lipped on details, but Entertainment Weekly did get a first look at this airline related cover disguise. Their fake names – Dee and Brad – fit these costumes so well, and I am excited to see what other spy and at home treats costume designer Katie Irish has up her sleeve for Philip and Elizabeth for the rest of the season. After all, Philip's Dunlop tee was the sports apparel vintage find of 2016.
Finally, and this is looking slightly further ahead to April, The Leftovers starts the beginning of the end with a trip to Australia and Justin Theroux sporting a rather heavy beard as Justin Garvey. The white outfits worn on The Leftovers are very different from Olivia Pope's super stylish wardrobe, but if you click on this very spoilery link you will see a Leftovers season three costume that has me all a-flutter.
See you in 2017 for a lot more TV and Style chat!
Emma Fraser is the creator of TV Ate My Wardrobe and spends most of her time writing about TV, fashion and costuming; Abbi and Ilana's Broad City style, the wigs on The Americans and Mindy Lahiri's pajamas are just as vital as talking about '90s, '00s teen shows. Emma has a MA in film and television, and she probably holds Angela Chase responsible for this path. You can find her on Twitter @frazbelina.