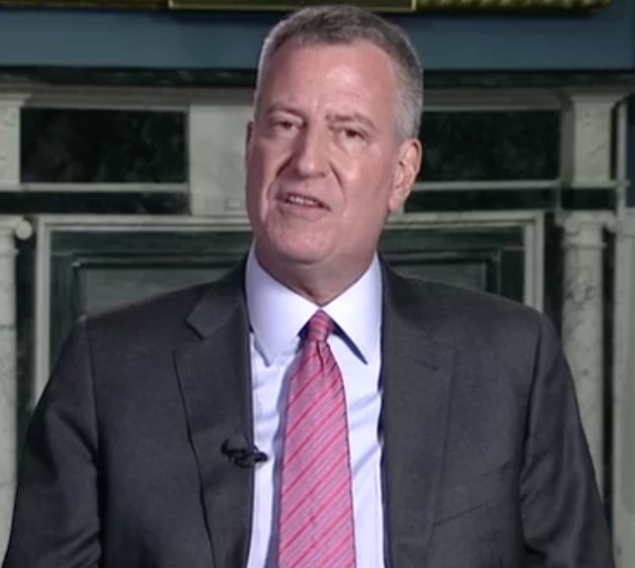 In the wake of evidence linking Mayor Bill de Blasio's support for a $2.5 billion streetcar linking Brooklyn and Queens to real estate company donations to the now-defunct Campaign for One New York from developers in the area, the mayor dismissed the reports as "damn inaccurate," saying that his administration was responding to calls for more transit options.
The Daily News reported that seven developers with projects along the route of the proposed Brooklyn-Queens Connector or BQX contributed a total of $245,000 to the Campaign for One New York, while urging de Blasio back the modern-day trolley—and have it stop at their blossoming luxury construction sites. The mayor subsequently announced in his State of the City address in February that the city would move forward with the proposal.
"That article has not been the talk of the building today 'cause it's so damn inaccurate," de Blasio told NY1's Errol Louis during the weekly "Ask the Mayor" segment. "It's just way off base and it's the same phenomenon we just talked about a moment ago on whether crime is up or down, you know. If tabloid journalists wanna create a reality that's convenient for their needs rather than tell the people the truth, well, people get the wrong impression."
He said he first learned of the proposal because it was brought to him by members of his administration who thought there was a "crying need" for more transportation options along the East River waterfront from the Sunset Park, Brooklyn up to the Astoria, Queens—which he said also includes neighborhoods like Red Hook that "haven't had enough mass transit for decades."
"That's a well-known fact. This line would serve 40,000 of public housing residents," de Blasio continued. "It just, to me, is astounding that someone is trying to create a conspiracy theory where it doesn't exist. This was a public policy idea brought to me by members of my administration. It has nothing to do with what anyone does politically."
In July, the city's Campaign Finance Board found that the fundraising and spending by the Campaign for One New York, which started as an initiative to support universal pre-kindergarten in Albany dubbed UPKNYC, was not connected to his 2017 re-election campaign, partly because the spending happened more than three years ahead of the re-election bid. But CFB was not entirely satisfied with the organization, saying that it directed spending to vendors involved in the 2013 campaign and to some who had already been paid by the 2017 re-election bid.
Last night, the mayor insisted again that the Campaign for One New York was about getting his universal prekindergarten and affordable housing initiatives passed, and that all donations were disclosed. And he maintained that everything that was done with the guidance of the Conflicts of Interest Board.
The Daily News, he claimed, tried to "knit things together here that just don't fit."
"This is not the makings of a conspiracy, my friend," de Blasio said. "If people do things right as we did and the people who worked on that campaign did, you seek legal guidance from ethics officials. You disclose every donation. You do things for the right reasons. You use the money that's raised to further the public good."
De Blasio said there have been discussions about a potential light rail line along the East River for years. He added that the city has been looking for any and all mass transit options, which is why the city expanded Citi Bike and Select Bus Service and introduced citywide ferry service for the first time in decades.
And he recalled the "huge fight in Albany" over his pre-K initiative and the resistance his administration encountered over the massive rezoning required by his Mandatory Inclusionary Housing proposal. He stressed that there were times where his administration disagreed with real estate or any other interests, noting that they tried to "drive a very hard bargain" on behalf of the public.
"They did not get outcomes because of any donation," de Blasio said. "We made the decisions on the merits and there's plenty of times that we told private sector folks, 'No' and we didn't agree with them and we weren't gonna do the thing they proposed," de Blasio said.
And when Louis asked him whether reporters will ever see the listing of instances in which donors received a cold shoulder or a negative response from City Hall that he promised six months ago, de Blasio said, "You are indeed."
"I said that originally and given some other things that are playing out, it made sense to hold for a while," de Blasio said. "But I look forward to that day. I think it will be very telling, Errol."
Louis jokingly asked him to release it on a Monday if he is able to do so—a reference to his Thanksgiving Eve dump of thousands of emails in partial compliance with NY1 and the New York Post's Freedom of Information Act request for his conversations with outside advisers.
"You're only looking out for the public interest," the mayor said in response, laughing.
The Campaign for One New York, like several of de Blasio's fundraising enterprises, is currently the subject of state and federal probes.