[youtube https://www.youtube.com/watch?v=BNxsaFCzqxc]
As both a veteran actor of stage and screen for decades and the OG Hannibal Lecter, Brian Cox is not one to be thrown off his game by an errant prop or distracting set-piece. Or, so he thought. Enter up-and-coming director / visionary Norwegian madman André Øvredal (Trollhunter) and his latest feature, The Autopsy of Jane Doe, a close-quarters slow-burner that is already garnering equal parts praise and chills from the festival circuit. Cox and Emile Hirsch (Bonnie & Clyde, Lone Survivor) star as a father-and-son team of coroners who, on a dark and stormy night, receive a mystifying corpse with no apparent cause of death (and who, for the most part, is played by very-much-alive actress Olwen Catherine Kelly). From there, as these things tend to do, everything goes horrifyingly, supernaturally wrong.
We called up Mr. Cox on a similarly gusty evening in New York, as he raced down a stormy Long Island Expressway en route to Jane Doe's Manhattan premiere. Along the way, we discussed the theatricality of Øvredal's film, the trials of being a father and the unique challenges that come with co-starring across from a breathing dead body. 
Observer: [Director] André Øvredal has been very complimentary of Jane Doe's script. What was your immediate reaction to it?  
Brian Cox: These two young writers [Ian B. Goldberg and Richard Naing] did an amazing job. They told a very accurate story of a father and son relationship, but they told it in this extraordinary way. I thought every twist, every turn was brilliantly negotiated. There wasn't a bit of fat on the script.
I love that Jane Doe is definitely scary, but it also delves pretty deep into what it means to be a father. I'm wondering if you drew at all from your personal experience for that? 
I always found being a father a very difficult thing to be, because children are their own people and, as they say, you can lead the horse to water but you can't necessarily make it drink. It's interesting, as children get older–I've got younger children and older children–when they're younger they're in this amazing combination of being extremely conservative and yet, at the same time, extremely anarchic. As they get older, they get a little bit more conservative, but sometimes they lose that childlike quality.
I think the nice thing about [the relationship in the film] is the protective nature of the father. And also that they are part of a tradition, a family tradition, which just happens to be the tradition of being coroners. And the grief that comes with it. They're both victims of grief, which is the loss of the mother and the circumstances in which she killed herself. That gives an added weight to the story, in terms of their responsibility to their job. There's a bonding there, because the very nature of the job itself is alienating in a way. It is a curious thing; they're very interesting people, coroners. The guy who was our adviser, for lack of a better term, was this sort of extraordinary character. And you soon realize that anybody who spends their days cutting up dead bodies, there has to be something a little bit strange about them [laughs].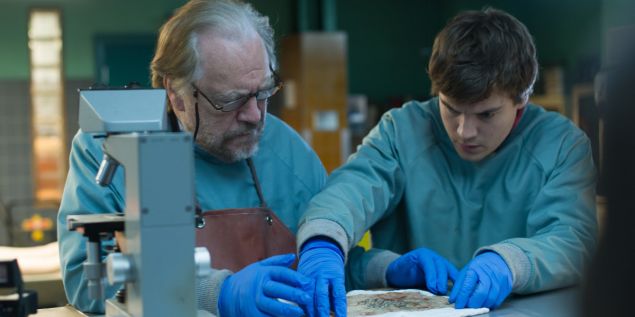 Well that's one of the most interesting parts of the movie — the mortuary itself, the set, felt so claustrophobic. I know you have a long history in theater, did this very confined area remind you at all of that? 
Ostensibly, it is a very theatrical piece. It's also a piece that's in one setting, so in a way the rules are very much the rules of theater, in terms of telling the story and the various acts. In that sense, it was incredibly helpful. It was just me and Emile, and we shot it chronologically, as it happened. Each incident we dealt with as it came. I think it would've been a monstrously difficult thing to do, shooting out of order.
André is quite an extraordinary director — he's one of those purely gifted directors I think we're going to hear a lot more of in the future. Just simply in the way he holds the whole thing in his head. He's not a great story-boarder, but you would think he was. He really depends a lot on the actors, and the actors making the script work, and then his visual ideas come from that reality. You never feel there is anything which is false. It's all based in a kind of deep reality. I loved that aspect.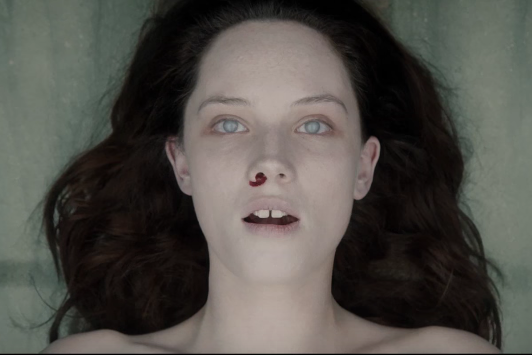 For most of the film it really is just you and Emile playing off each other, but you also had Olwen laying in the middle of the room. How does that affect your performance? 
That was quite eery, and quite extraordinary. Olwen, who played the body, is very quiet –ridiculously quiet in the film, given the circumstances [laughs] — but she is a sort of modest person as well, and quite beautiful. As far as you can, you have to get used to the idea of this rather beautiful woman lying absolutely stark naked before you. But after a while she became like what a cadaver would be. It was something de-human about her, which was actually quite scary. She developed a whole thing of shallow breathing. Sometimes I would look at her and wonder, and forget this was a real person I'm working with. It's not some kind of brilliantly made dummy. It's a real human being. That almost caught me, her incredible focus of lying there, day after day after day, with all the stuff we had to do vis-à-vis the cutting up of her, and all of that. Of course there was an artificial body we used, but there was also a lot of stuff that was done on her body, where she wore prosthesis. It really was remarkable. If there's an award for dead acting, she should get it.
The Autopsy of Jane Doe opens in select theaters December 21.