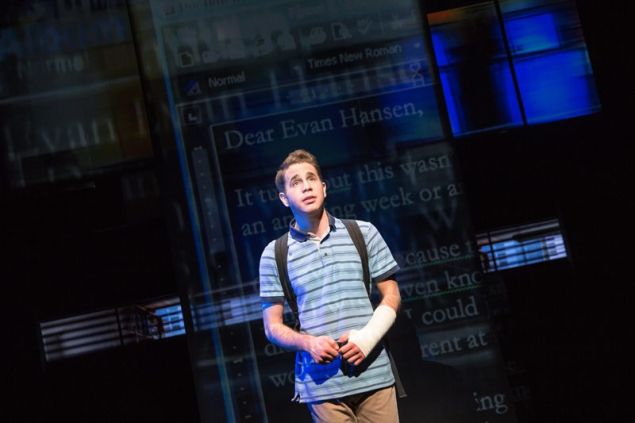 Broadway's newest hit, at the Music Box Theatre on West 45th Street, is a musical called Dear Evan Hansen. It's that rare phenomenon—a musical that enchants the critics, defines a career and makes a full-blown star out of a young performer in his first Broadway role. The new kid on the block they're gushing over is Ben Platt, a 23-year-old veteran of several regional and touring shows who plays a 17-year-old high school kid in the title role. He deserves the drooling. The show does not.
The slight premise is that loneliness knows no age boundaries and plays no favorites. Evan is a miserable high school senior so insecure he's on the verge of turning into a puddle of butter. He talks too fast, he trips over his own inability to make complete sentences, he's smart but almost catatonic, like the idiot savant Dustin Hoffman played in Rain Man. He's got a crush on a girl named Zoe, but he's so clueless about sex that he wouldn't know how to say hello to her with a gun pointed at his head. His only female companion is his mom, a working single mother who wants to save her son from an empty life but whose own place in the social fabric is so bleak she doesn't know where to begin. Awkward, frightened of living, desperate for affection, and a near-recluse from the world, Evan worries so much that his hands sweat, including the one in a cast from falling out of a tree. He's a St. Vitus dance of jerky nerves and stammering noises whose eyes blink like a mental patient, unable to focus on anyone face to face. He's the kind of misfit that is meant to be touching and sympathetic but grows irritating fast.
You're supposed to feel something in your heart for a lost creature like Evan, but it's pretty obvious to me why nobody likes him or wants to know him well enough to find out if there's a nice guy inside his nerdy frame longing to get out. There is, but in spite of the easy emotional pushovers around me, wiping tears away and loving Evan unconditionally, it's Mr. Platt who earns the affectionate audience responses, not the character of Evan Hansen created in the one-note, one-dimensional pop tunes by Benj Pasek and Justin Paul, the same team of hacks who have done their level best to ruin the movie La La Land, or the unexceptional book by Steven Levenson that makes everyone sound like they're reading from the cue cards on a television sitcom.
But I digress.
Does anybody see this social misfit? Does anybody hear what he says? Does anybody know he's alive? Encouraging Evan to come out of his shell, the boy's psychiatrist urges him to write letters to himself on his laptop, expressing his true feelings to build self-confidence. This is good therapy but it has dangerous consequences. What happens is that one of his letters gets snatched up by a fellow student named Connor who is even more unstable than Evan. Connor scrawls his name on Evan's arm cast, then steals the letter and commits suicide. Connor's parents find the letter and suspect it's a love letter to their son, whom they are getting to know posthumously for the first time.
In the landslide of convoluted mechanical contrivances that follow, Evan inadvertently gets involved in a campaign to make a martyr out of Connor, wins over the elusive Zoe, who turns out to be the sister of the dead Connor, finds a new family that fuels his own mother's resentment, and ends up becoming a sensation on social media, duty-bound to make everyone happy while concealing the lie that brought him out of his shell and accidentally turned him into a bogus national hero.
Making up stories to keep the dead boy's family interested in him, Evan perpetrates a perjury that turns into an elaborate hoax, including fake emails that keep him attached to Connor's family and close to Zoe. With the pretend letters, Evan turns the drug-addicted, mean-spirited Connor into a role model for youth whose legacy accelerates through social media. In song after song, Evan is joined by nerdy classmates, duped parents and even the ghost of Connor himself, who becomes a symbol of peace, tolerance and understanding. I found it all completely preposterous, especially the willingness of everyone involved to forgive, forget and erase both guilt and pain through love.
As I said before, it's the kind of phony feel-good narrative that could bend toward parody and get boring fast. But thanks to Ben Platt, that possibility never comes up. He never falters, even in the epilogue, where Evan at last sees the light and feels the need to tell the truth, realizing that all he will have left is himself.
The universal chord audiences identify with and take away from Dear Evan Hansen, clutching wads of wet Kleenex, is that everyone wants to find inner calm and feel cared for. It's a show about the consequences of a lie (a noble theme worth investigating), well guided by director Michael Greif, and well served by a cast with strong voices trapped in the mire of mediocrity. What it needs is an equally strong score, not a bland list of forgettable jukebox fillers. We live in an age where melody no longer exists. Although Stephen Sondheim can still bring a song to life with wit and intelligence, I gave up a long time ago going to the theater in search of another Kern, Berlin, Arlen, Rodgers and Hammerstein, or even Cy Coleman and Carolyn Leigh. But while wonderful songwriters struggle for ways to make a living, the team of Pasek and Paul crank out tunes so generic that they all sound alike—with dopey titles such as "For Forever," "Sincerely, Me" and "Only Us."
Tragically, today's critics don't know a good song from a bad one and over-praise the residue. One fawning rave called Dear Evan Hansen "a gorgeous heartbreaker." Quel dommage, or fromage, as the case may be.With a minimalistic set consisting of a bed and a few tables, there's nothing gorgeous about it. And on the night I was there, they must have left their hearts at home. Mine is still in one piece.