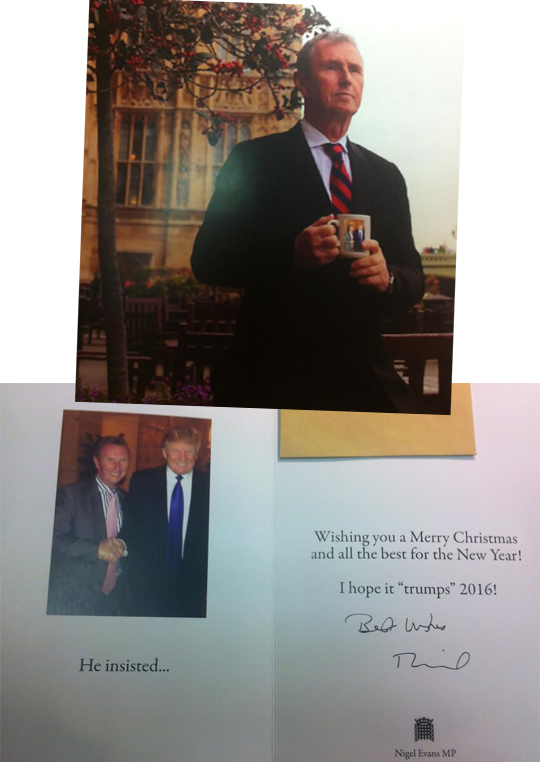 A senior British politician has attempted to 'Make Christmas Great Again' by sending the entire UK political establishment a Trump-themed card. The custom-made Christmas card has caused a storm in London after it was sent it to every senior political figure in the country.
Former deputy Speaker of the House of Commons, Nigel Evans MP, was behind the stunt and must now take the crown as the greatest 'Trump Troll' in the world. The front of the card features Evans on the terrace of the Palace of Westminster holding a custom made Trump tea cup, showing him meeting the President-elect.
Inside, there is a picture of the pair, with the inscription "Wishing you a Merry Christmas and all the best for the new Year. Let's hope it 'Trumps' 2016!"
Evans is known to be a Trump supporter despite most British politicians being firmly opposed to Trump's campaign to be President. Despite opposition, Evans sent the card to every British government minister, political journalist and Member of Parliament.
He has been attacked on social media but was unrepentant when he spoke to Observer. Evans said: "I think this card is superb and I'm very proud to be pictured with Trump. He might not be universally popular in Parliament but my colleagues will have to live with it."
10/10 for trolling the establishment. Evans, we salute you.
Disclosure: Donald Trump is the father-in-law of Jared Kushner, the publisher of Observer Media.
Andre Walker is a Lobby Correspondent covering the work of the British Parliament and Prime Minister. Before studying journalism at the University of London he worked as a political staffer for 15 years. You can follow him on Twitter @andrejpwalker