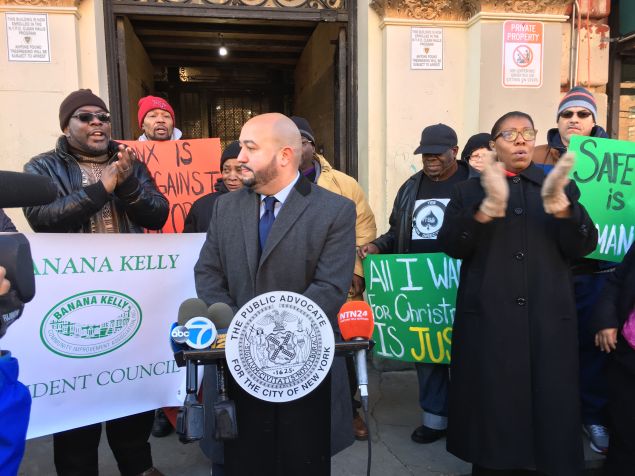 Bronx Councilman Rafael Salamanca asserted today that the the city's "irresponsibility" is at fault for the deaths of two toddlers in a radiator explosion at a Hunts Point homeless shelter last week.
Last Wednesday, Mayor Bill de Blasio labeled the burst of scalding fumes that killed the two-year-old and one-year-old daughters of a family staying in a so-called "cluster site" facility—controversial apartments the city rents for the indigent in private buildings—a "freak accident," saying that the Department of Housing Preservation and Development had recently inspected the premises. The mayor claimed that his agency had examined the adjacent boiler system and every apartment and did not find anything, which led them to restore the heat.
de Blasio also said that there were no specific complaints that would have indicated that such a tragedy could occur and that the apartment had been inspected last month.
"Last week, we did have a death," Salamanca said. "We had a death in Hunts Point of two children, two toddlers who lost their life because of irresponsibility that I blame on the city on not checking the radiators properly."
The lawmaker was speaking at a rally outside a different cluster site building in his district, where tenants announced a lawsuit against the owner. Salamanca is currently drafting three bills that would establish inspections for radiators, regulations surrounding the installation of barriers for radiators and more rigorous protocols concerning the contracts between the city and building owners.
The bill pushing for tougher protocols for the contracts has the support of Public Advocate Letitia James and the joint sponsorship of Bronx Borough President Ruben Diaz, Jr. Councilman Stephen Levin, chairman of the City Council's General Welfare Committee, and Councilman Jumaane Williams, chairman of the Housing and Buildings Committee, have agreed to hold a joint oversight hearing on the tragedy in the coming weeks.
James attended today's gathering and expressed dismay that the city used a buildings with "all of these violations" as a cluster site.
"We saw in Hunts Point a building where two children died," she said. "That, too, was a cluster site. It was just unconscionable that we would placing vulnerable populations in buildings which unfortunately violate health codes, violate building code, violate unfortunately unsafe families and families with children."
Former Mayor Michael Bloomberg established the cluster-site housing program, but subsequent studies have found such facilities tend to have the worst living conditions in the entire shelter system. De Blasio has pledged to phase the centers out, even as he insisted the program was not to blame for last week's deaths.
HPD told the Observer that it had, in fact, inspected the radiator at the location of last week's blast during a tour earlier this month.
Salamanca called on the city to investigate the site of today's rally and address the issues there. The property owner appeared on Public Advocate Letitia James's Worst Landlords list this year.
"I hope that the city comes here and tours this building," he said. "It is my understanding that the HPD inspectors have toured this building and I think they can do better. They can do better and as your councilman, I will advocate for nothing less but to ask that they do better and we take this building away."