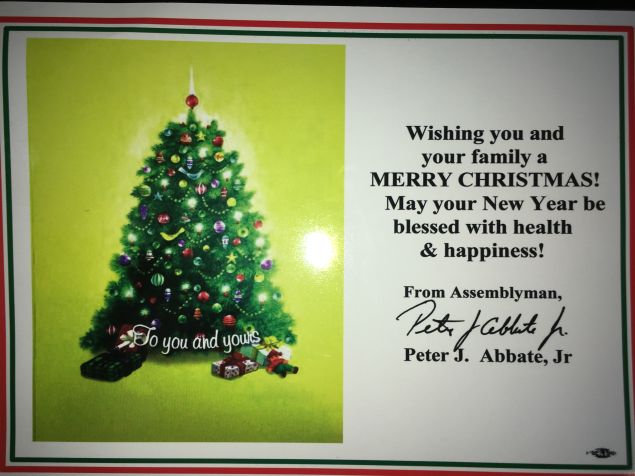 Tens of thousands of residents of Bay Ridge got a holiday message last week from a politician who has never represented them—but who is likely to seek their City Council seat next year, and may have already violated the city's strict campaign finance rules.
Trimmed with an Italian tricolor border and featuring an image of a Christmas tree on one side, the mailer wished recipients a "MERRY CHRISTMAS" from Assemblyman Peter Abbate, a longtime lawmaker in nearby Bensonhurst and Dyker Heights. Speaking to the Observer, Abbate kept coy about his motives for sending out more than 20,000 of the seasonal greetings to non-constituents, even as he admitted he was leaning toward campaigning to replace term-limited Councilman Vincent Gentile, whose territory overlaps somewhat with his own.
"I feel so joyous this year I'm sending out Christmas cards after my re-election, to Brooklyn," Abbate, who won a 16th term in the State Legislature last month, told the Observer. "But you're right, it is no secret that I'm considering running for the seat."
He reported arranging to pay for the mailing out of his Assembly campaign funds and his leadership political action committee, which could run afoul of the city's Campaign Finance Board, which is far more stringent than the notoriously lax state Board of Elections. A CFB spokesman told the Observer that, once Abbate formally files to run for the Council seat, the agency would check recent expenditures from his Assembly accounts to see if any might have promoted his candidacy for local office.
If so, the CFB could count those against the $182,000 spending cap for the Democratic primary, should Abbate participate in the city's public matching funds program, a program which effectively lets candidates multiply sevenfold every donation under $175 they receive from a resident of the five boroughs.
The city overseer is almost certain to determine the Christmas mailing a Council-related expense, since the firm that provided Abbate with voters' addresses—Prime New York—confirmed to the Observer that the assemblyman specifically requested the rolls from Gentile's district. He could write the cards off as an in-kind donation from his Assembly campaign and leadership PAC, but such gifts are subject to the city's $2,750 contribution cap.
Abbate said he was unsure how much the cards cost, since he has yet to actually pay the bill. The assemblyman also indicated he would opt out of the matching funds program. This could allow him to draw on the enormous reservoir of campaign cash he has amassed in Albany, which as of earlier this month totaled $879,638.
However, he would be unable to use money from corporations or business partnerships, or donations from individuals exceeding the $2,750 ceiling. And he would have to get each person who gave to his Assembly campaign to sign off on his using their money to fund his Council bid.
The pol also said he believed not taking matching funds would permit him to recycle his old campaign signs from years past, and simply run off bumper stickers with the word "Council" on them to cover the word "Assembly." But the CFB said those too would count as an in-kind contribution from his Assembly campaign, and thus could not go over the $2,750 limit.
Heading to the Council would have multiple benefits for Abbate. Redistricting and demographic changes have left the Italian-American lawmaker sitting atop Assembly turf with an Asian-American majority and a large Latino population.
Further, Abbate currently earns a total of $92,000 annually between his salary and compensated expenses. The Council voted to raise its pay to $148,500 earlier this year. The assemblyman could also begin collecting dividends from his Albany pension while earning a new one at the local level.
Abbate is considered a heavy favorite for the seat, which is one of the few districts in the city with a sizable population of Republican voters. Several sources said they expected him to quickly wrap up endorsements from leading unions, thanks to his record of advocacy on their behalf in the state capital.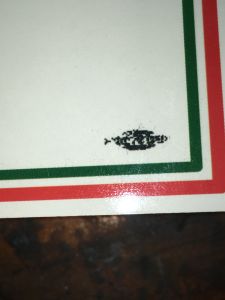 The holiday mailing, however, bears a fuzzy-looking label that appears to be a mock-up of the Allied Printing Trades union bug. The pol insisted to the Observer the literature was made by organized labor, and named Emerald Printing as the firm that produced it for him.
But the former owner of Emerald Printing, Clifford Luster, told the Observer that his company stopped doing business in 2008.
The vacuum of the soon-to-be-vacant seat has already drawn in a few contenders. Democrat Justin Brannan—Gentile's former director of legislative affairs—has already filed to run, as has Republican supermarket manager Robert Capano, who Gentile defeated in 2009.
Besides Abbate, rumored Democratic candidates include local district leader Kevin Peter Carroll, local community board district manager Josephine Beckmann and Arab-American activist Linda Sarsour. On the GOP side, Liam McCabe—who works for Congressman Daniel Donovan—is expected to run, as is John Quaglione, an aide to State Senator Martin Golden that Gentile beat in 2013.
Gentile himself hopes to take the place of the late Brooklyn District Attorney Kenneth Thompson, even though he faces a massive discrimination lawsuit from an autistic former staffer.
Disclosure: Will Bredderman previously worked for Courier-Life Publications, where Clifford Luster served as publisher.