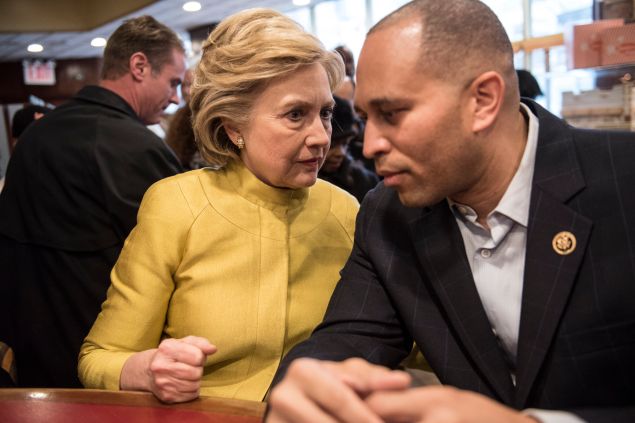 Brooklyn Congressman Hakeem Jeffries won election last night to one of three co-chairmanship positions atop the Democratic delegation's Policy and Communications Committee—which will craft the minority party's platform in unified Republican Washington.
The 46-year-old Jeffries captured the support of 126 of his conference's 194 members, and will head the panel alongside Illinois Congresswoman Cheri Bustos and Rhode Island Congressman David Cicilline. The African-American Central Brooklyn pol has built a reputation as an advocate for criminal justice reform.
Yet he hinted today he would use his new perch to push a broadly populist agenda.
"For too many hardworking families, the American dream is increasingly out of reach. Wage stagnation, underemployment, the exploding cost of a college education and the erosion of pensions have left many without hope," he said in a statement to the press. "House Democrats have the best game plan to address the economic pain felt by hardworking Americans. It's now time for us to execute it."
First elected in 2012, Jeffries' increasingly outspoken criticism of the NYPD has stoked speculation he might challenge Mayor Bill de Blasio in next year's Democratic primary. But the congressman indicated last week that likelihood of such a bid was remote if he attained a position of influence.
Jeffries backed Minority Leader Nancy Pelosi's effort to hold her post against a challenge from Ohio Congressman Tim Ryan in November, and he praised the San Francisco Democrat at the time for being "incredibly open-minded" about possibly allowing junior members of the caucus to wield more authority.
Congressman Steve Israel, who represents parts of Long Island and Queens, previously served as the sole chair of the Policy and Communications Committee. Former Nassau County Executive Thomas Suozzi, a Democrat, captured Israel's House seat last month.
The ascent of Jeffries follows Queens Congressman Joseph Crowley's election as chairman of the Democratic Caucus, the fourth-ranked role in the House minority.