Now with pillows, dog beds and even luxury pool floats, Casper is pushing itself as a business based around the entire culture of sleep rather than just a mattress startup. And for its latest project, Casper has even tapped into artificial intelligence to help us, well, stay awake.
Casper recently launched insomnobot3000, a bot you can text to keep you entertained when you can't sleep. The project is the result of months of secretive development by a 10-person team spanning Casper's tech, design, data and creative departments, which actually looked to SmartChild, the infamous bot popular with tweens in the AOL Instant Messenger days, for inspiration.
It's been a few months since insomnobot3000 officially launched, and while it doesn't use machine learning to grow smarter on its own, the development team is supposed to be constantly updating it based on the conversations it's having. So after a little time for improvement, we decided to reach out to the bot to see just how well it could entertain us.
While the site states insomnobot3000 is "extra chatty between 11 PM and 5 AM," it is suppossed at least respond at all times. So we texted it (844-823-5621)  in the afternoon:
insomnobot3000 did not want to talk to me early in the day, which I find weird. It's sleeping time somewhere, and some people sleep during the day. But I was impressed by the responses—they sounded human. I tried again at 10:30 PM: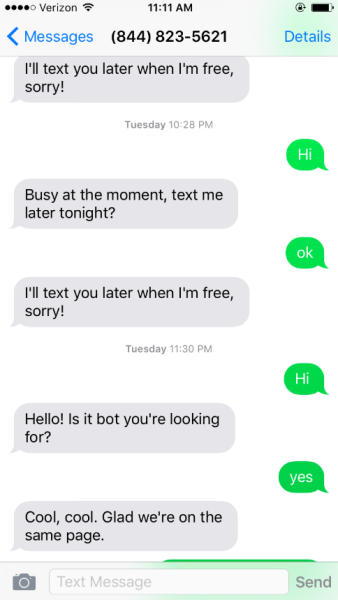 The bot still wouldn't talk to me at 10:30, and it was starting to repeat itself. It wasn't surprised it was defaulting to a few unavailable messages, but I hoped it would sound more human when we actually connected, which finally happened at 11:30 PM. To find out more about insomnobot3000, I asked it about itself. It got sassy:
At this point, I was really trying to have a conversation about anything, but the bot wasn't making much sense. When it started talking about going to bed, I figured it was about to start promoting Casper. But it didn't and started acting weird (while accusing me of acting weird):
I can't imagine anyone actually using this to entertain themselves. It's frustrating. So I decided to say goodbye, but insomnobot3000 unsurprisingly didn't want me to go. Of course Casper wants to keep users engaged:
The conversation (once the bot was actually responding at 11:30) included 33 exchanges and lasted a total of 25 minutes. And it was frustrating throughout. I may be misremembering, but I think Smarter Child, which was developed 16 years ago, was more advanced than insomnobot3000. It would be understandable to have templates for conversations and hope you follow along and fall into a sensible conversation, but this but just jumped all over the place.