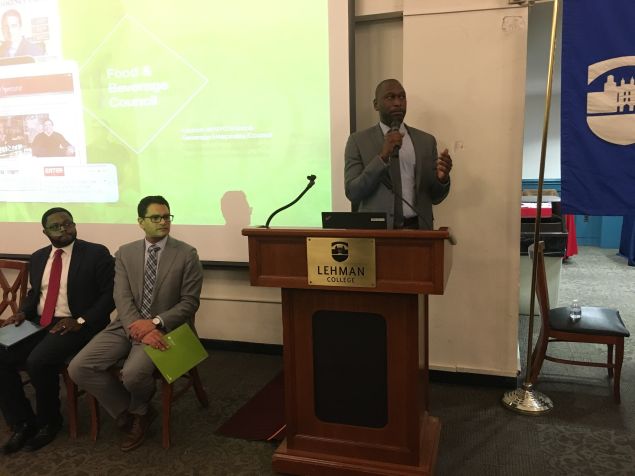 Starting in early 2017, so-called minority- and women-owned businesses enterprises will be able to borrow up to $500,000 from the city at an interest rate no higher than 3 percent if they do not qualify for funding from other sources.
In September, Mayor Bill de Blasio unveiled a plan to allocate 30 percent of city contract funding to MWBEs by 2021, and appointed Deputy Mayor of Strategic Initiatives Richard Buery the city's MWBE director. He has set a goal of awarding $16 billion in contracts to the long underrepresented and marginalized firms by 2025 and to double the number of certified and re-certified MWBEs at SBS from 4,500 to 9,000 by  2019.
At the time, the mayor promised part of his new vision included the Contract Financing Program—the $500,000, 3 percent interest rate change—which Small Business Services Commissioner Gregg Bishop told the Observer yesterday would be available to MWBEs somewhere between January and February.
"One of the things that MWBEs struggle with is the fact that, you know, their cash balance is not as strong as the larger companies," Bishop said at an MWBE open house in the Bronx organized by SBS and the city's MWBE office yesterday evening. "So they could go from project to project and they may not be able to, you know, they need to be paid immediately. So our program really helps softens that."
At present, MWBEs can borrow up to $125,000 and that the interest rate fluctuates between 6 percent and 9 percent. He said the new amount and rate should be available to MWBEs somewhere between January and February.
Bishop also encouraged MWBEs in the construction industry to take advantage of the agency's bond readiness program, noting that by mid-2017, the agency will also have a new bonding capital program.
"When you're ready to get that bond, we will actually help you get over the last hump in terms of capital that surities require for you to actually get funding," Bishop said.
The commissioner, whom de Blasio appointed to head the agency in November 2015, called the lending program the largest MWBE investment since former Mayor David Dinkins' administration.
"The fact that we now have an office of MWBE at City Hall that's focused on this, the fact that you know the mayor's committed not only dollars for programs but to actually staff up shows the commitment of this administration to sort of address some of the wrongs that had been done in the past," he said.
And he reiterated the need for the limit on city discretionary funding to $200,000 just like the state, saying that the city's legislative, certification and capacity-building strategies make sense.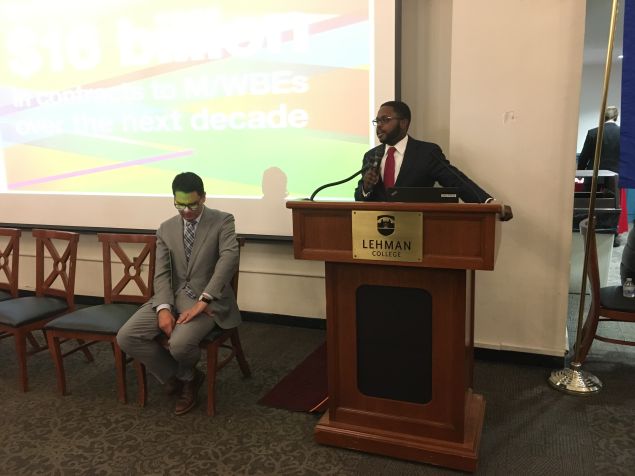 Rev. Jonnel Doris, the mayor's senior MWBE adviser, said that for the first time in the city's history, it awarded $3.54 billion for MWBEs in the space of two years. But he stressed the importance of certification.
"That is the entry point into our program," he said. "If you're not certified, you're not able to get all the services that they provide, particularly having your name on a list that these agencies that are here can locate you."
The city has also held open houses in Brooklyn, Manhattan and Queens, according to Doris, who said that 500 MWBEs had registered to participate in the Bronx event.
Evelyn Vargas, owner of Bronx-based Jazzy Cakes 212, and an MWBE specialist for the Washington Heights and Inwood Development Corp. said her company has certification with the city, the state and the Port Authority of New Jersey and New York, though she works mainly with the state.
She said her clients need more training on how to submit for requests for proposal and decried the lack of opportunities for the food industry compared to construction companies. By the time she filters through 1,000 emails she receives—999 of which don't apply to her—she says she "might've missed an opportunity."
"So far, I'm not real happy because again, we get blasted with emails," Vargas said. "Right now, all I'm getting on the blast from the state, I haven't received anything from the city yet other than this one and a couple of other forums but nothing on the contracts yet."
Nile Sony of U.S. Basics Apparel Inc. applauded the work of Gov. Andrew Cuomo's administration, noting that many universities have a lot of state contracts. He also praised the city's program, and its engagement with MWBEs for construction in schools.
"Mayor de Blasio has definitely stepped up his game as far as more contracts for renovations and things like that, so definitely keeps us busy," Sony said. "And you know aside from that it's a competitive market obviously there's a lot of people bidding so it's not, you don't win everything and you don't lose everything. It's just how it is."