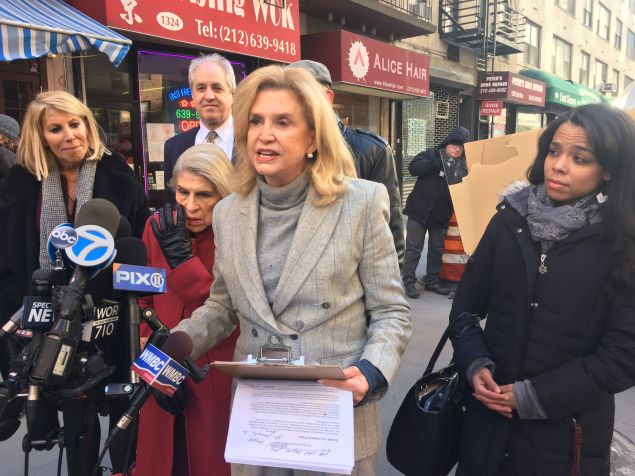 Manhattan Congresswoman Carolyn Maloney—a prominent Hillary Clinton surrogate during the campaign—said today she would considering backing President-elect Donald Trump's infrastructure plan, despite calls from some fellow Democrats that they refuse to cooperate with the incoming commander-in-chief on any issue to avoid "normalizing" more extreme elements of his agenda.
On the campaign trail, Trump repeatedly pledged to pass a $1 trillion plan to revitalize the nation's roads, bridges, sewer systems and other public goods—the details of which he sketched in his "100-day action plan to Make America Great Again" after the election. When the Observer asked Maloney if she would vote for Trump's infrastructure plan if it included funding for the decades-long awaited Second Avenue Subway line—even if it is opposed by the Democratic conference—Maloney said that it is "hard to talk about what if" and noted that she needs to see what the package is exactly.
But stressed that she has to see what is "good for the country" and "what's good for the people you represent" as she makes her decision.
"I'm not in the habit of saying no just to say no," Maloney, whose district includes Trump Tower, told the Observer. "But I say no if I don't believe in the project or there's something wrong or whatever. I can't talk about a proposal that's not before me, but I generally support infrastructure. I think it's a great way to invest in the future of our country. It's very, very important."
Indeed, she pointed out that she supports Trump's idea of cutting corporate taxes so as to "repatriate" money companies and individuals have stashed overseas, and using that to invest in projects at home. She complained the country's transit system lags behind other industrialized nations, noting that the country lacks anything like Europe's 250-mile-an-hour passenger railways.
"I find that a national disgrace and we need to build high-speed rail between New York and Boston, New York and Washington and any proposal put before me, I would work very hard to gain support for if it was a true infrastructure project that's gonna build our country and build our city and make it a more prosperous city," Maloney continued.
Maloney's stance puts her at odds with some of her Democratic colleagues in the New York House delegation. Congressman Jerrold Nadler has vowed to defy Trump at every turn to avoid "the normalization of the hatred and bigotry," while Congressman Hakeem Jeffries has said the party should only support one of the president-elect's proposals if it essentially matches the Democrats' own.
Earlier this month, Sen. Charles Schumer, the incoming Democratic minority leader, said the president-elect reaffirmed his commitment to the $1 trillion infrastructure program in a recent conversation. But he pointed out that Trump's current proposal  calls not for large government expenses, but for tax breaks for investors who sink funds into public goods—and who would subsequently charge riders tolls to recover their down payments.
Gov. Andrew Cuomo called Trump the day after the election to discuss his infrastructure agenda for New York State, which includes the Second Avenue Subway line.
The first phase of the Second Avenue train, which will run under Maloney's Upper East Side turf, will open on December 31. In planning for more than a century, it received $1.3 billion in federal funding. Roughly 200,000 riders are expected to take the subway line every day, and the business community believes that it will bring business activity back to the area.
Maloney said the MTA cannot move forward with the second phase until the federal government provides $500 million for that phase, on which she said she and the rest of the New York delegation are working.
"We have the funding pledged in the state but it's not in the coffers of the MTA right now," she said. "So we have to work on that. But let's rejoice what we accomplished. This is the biggest, best subway in the whole country."
Disclosure: Donald Trump is the father-in-law of Jared Kushner, the publisher of Observer Media.