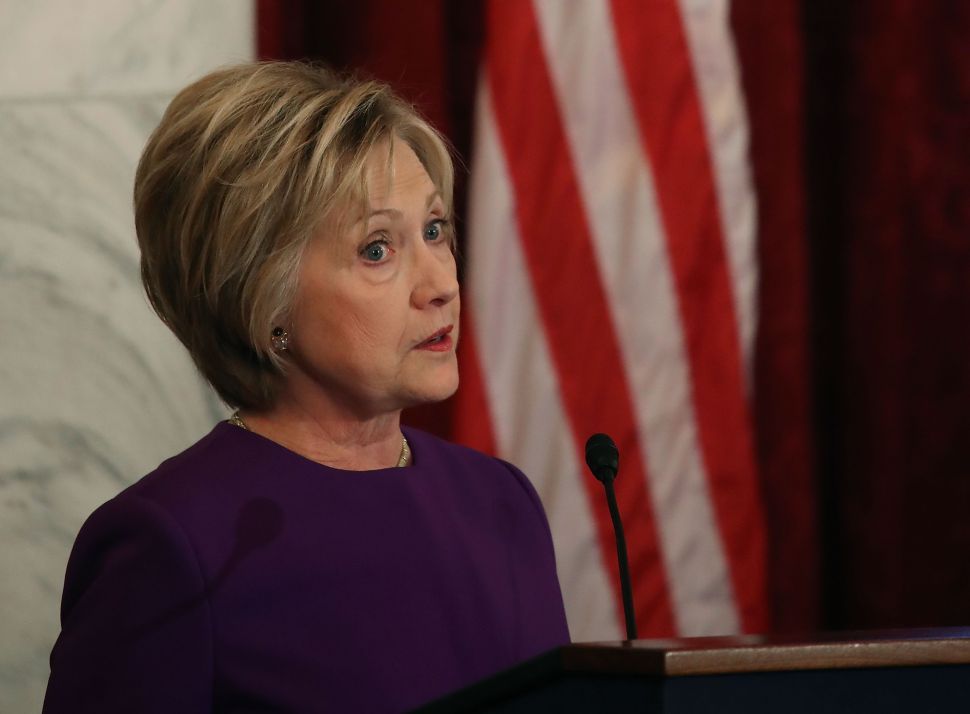 Hillary Clinton took a break from hikes and surprising pop artists with awards to give her first speech since her loss in the presidential election to Donald Trump. 
The Dakota Access Pipeline, the mistrial of the police officer who killed Walter Scott, controversial administration picks by Trump, there are are myriad important recent issues Clinton could have commented on since November 8. Instead, she focused on the issue that is the most self-serving to her public image recovery, confirming she hasn't changed at all after her failure to win the presidency. 
Using the recent "pizzagate" incident as a hook, Clinton chose to issue a call to action against the "epidemic of malicious fake news and false propaganda that flooded social media over the past year." Fake news is an issue, but Clinton's rhetoric fails to acknowledge her part in propagating it.
Her campaign had Super PACs run by David Brock spreading disinformation on the internet. One of these is Blue Nation Review, which was was included, among other Clinton propaganda sites, as part of the problem on various lists identifying untrustworthy sites. Brock's Super PAC Correct the Record, spent at least $1 million to create fake social media profiles to "correct" criticisms about Clinton online. WikiLeaks-released emails from the Democratic National Committee (DNC) and Clinton campaign chair John Podesta show the Clinton campaign was manufacturing favorable news coverage through a vast network of friendly journalists in nearly every mainstream media outlet.
Where was Clinton's outrage over fake news and propaganda when the Bernie Bros myth was being propagated to portray Bernie Sanders and his supporters as sexist white males? Why didn't Clinton disavow Brock's alarming disinformation tactics? Where was Clinton's outrage when DNC vice chair Donna Brazile overtly helped the Clinton campaign cheat by providing them with questions in advance of debates, undermining the integrity of the debates?
Clinton's "call to action" against fake news is a facade to rebuild her image, and a continuation of the trend she has exercised throughout her career in refusing to take actual stances on issues unless they serve her political agenda.
Examples of Clinton remaining silent or placating both sides on an issue were prevalent throughout her campaign. In regards to the "fight for $15," the national movement to institute a $15 minimum wage, Clinton claimed to support it but backtracked and said that it should only be implemented in some regions of the country. When Clinton finally did release a statement on the Dakota Access Pipeline after protesters sat in at her campaign headquarters demanding one, she vaguely professed support for both sides. On the Trans-Pacific Partnership agreement (TPP) and the Keystone XL pipeline, Clinton held out as long as possible before taking an actual stance. As emails from Podesta revealed, her campaign staff rarely had any idea what her actual stances were on many issues. It was more important for Clinton and her campaign to craft policy stances based on the goal of maximizing political expediency than to take an honest stand.
This trend of prioritizing political expediency over reacting on principle to support the working and middle class on important issues has been a significant contributor to the decline of the Democratic Party that remains in denial over how far it has fallen. President Obama presided over the worst collapse of House and state house seats in U.S. history. Clinton's election loss to Trump isn't some anomaly that can be attributed to fake news, Russia, sexism, Sanders, third parties or the variety of other scapegoats the Democratic Party establishment has used to avoid accountability for its mistakes.
Disclosure: Donald Trump is the father-in-law of Jared Kushner, the publisher of Observer Media.