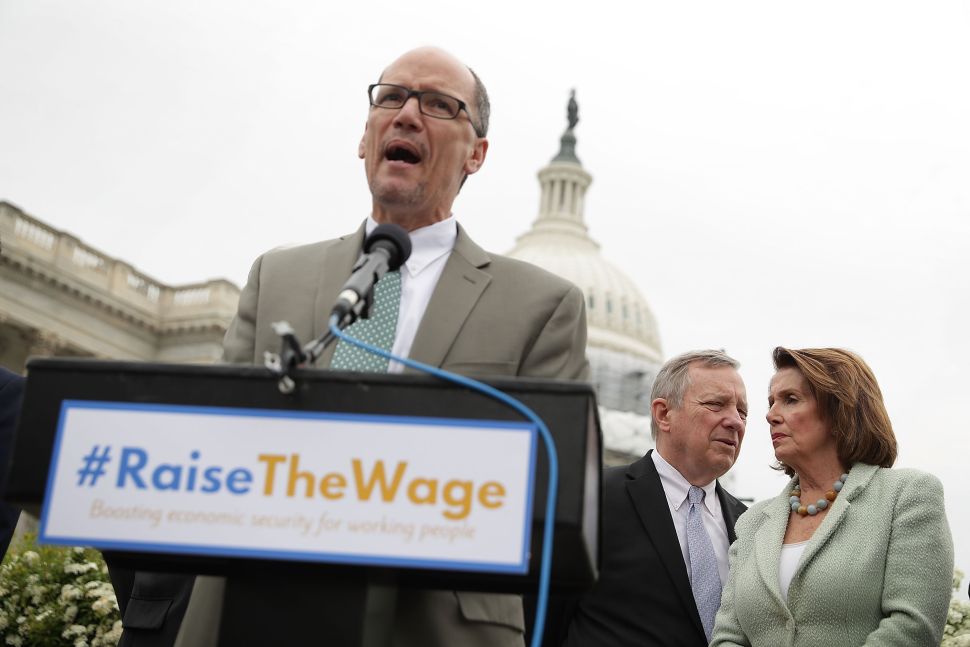 Hillary Clinton's failed presidential campaign should be inciting reforms and meaningful changes within the Democratic Party. Sadly, this is not the case. The opportunity to take the party in a new direction—and potentially recover disenfranchised voters—was ignored when Democrats elected Wall Street ally Charles Schumer as Senate Minority Leader, and re-elected establishment icon Nancy Pelosi as House Minority Leader. Talk about status quo. 
For Bernie Sanders supporters hoping Clinton's loss would lead to an embrace of the Vermont senator's popular progressive agenda, the only semblance of it has come in the form of Rep. Keith Ellison running for Democratic National Committee (DNC) chair. Unfortunately, for Clinton partisans, their idea of reform is replacing failed Clinton campaign surrogates with more Clinton campaign surrogates.
Former DNC chair Debbie Wasserman Schultz disgraced the Democratic Party after WikiLeaks released emails that confirmed criticisms from Sanders supporters who had long suspected she used the ostensibly neutral group to rig the primaries for Clinton. Wasserman Schultz was replaced by DNC vice chair Donna Brazile, another Clinton campaign surrogate, who was exposed by Wikileaks as having helped the campaign cheat before the CNN debates.
Now Obama's pro-TPP Secretary of Labor Tom Perez, who was a strong advocate for Clinton and was on her shortlist of potential running mates, is set to officially announce his run for DNC chair. Perez's candidacy has been pushed by several officials in the Obama Administration. But Perez's advocacy for Clinton illuminates why he would continue the trend of disconnect between the working and middle class, and the Democratic Party. He denigrated Sanders as a "single issue candidate," and perpetuated the false narrative that his campaign only resonated with white males—silencing millions of Sanders voters from diverse demographics. Perez was set to obtain a top cabinet position in Clinton's administration if she won the presidency. She failed to do so against a highly unfavorable opponent, and Perez should not be rewarded for his loyalty to Clinton with the position of DNC chair.
In addition to Perez, longtime Clinton aide and the founder of the Ready For Hillary Super PAC, Adam Parkhomenko announced his candidacy for DNC vice chair. Parkhomenko served as the Director of Grassroots Engagement for the Clinton campaign, which ran one of the worst grassroots efforts in recent history.
Politico reported on December 14 that the Clinton campaign sent back a bus of volunteers to Michigan because its strategy there was to fool the Trump campaign into ignoring the state. Despite pleas from Michigan Democrats on the ground for help from the Clinton campaign headquarters, the state was largely ignored and Clinton lost by just over 10,000 votes. Clinton never made an appearance in Wisconsin, which she also lost in a close race. Her grassroots campaign failed to achieve results comparable to Barack Obama's campaigns in 2008 and 2012: He won Ohio, Wisconsin, Iowa, Pennsylvania and Florida, all of which Clinton lost. Yet Parkhomenko and the DNC officials endorsing his candidacy feel as though his strategy should be replicated and continued by giving him a top DNC position.
The Democrats have learning nothing from Clinton's loss and the elected offices that have been disappearing from party control over the past eight years. They now face a Trump presidency, a Republican Majority in both houses of Congress, and governorships and state legislatures across the country at or near historic highs of Republican control. The Democratic Party should be in panic mode, but their leadership, from Pelosi to retiring Senate Minority Leader Harry Reid, are convinced the party needs no new direction, just a tweak in marketing strategy. This oblivious, out of touch attitude will continue until new, more progressive faces willing to focus less on wealthy corporate donors are afforded bigger roles in the DNC and Democratic Party.