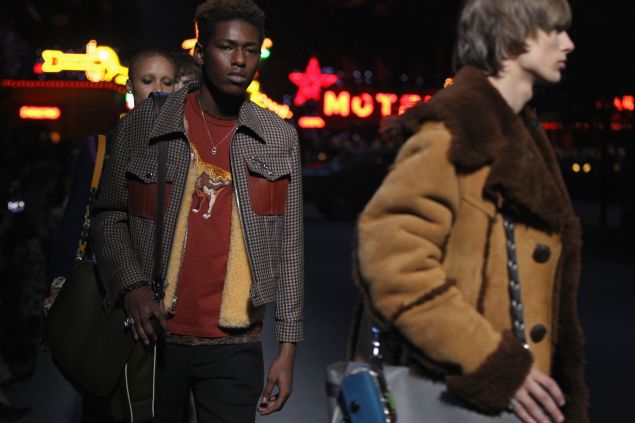 Last night, Coach effectively cemented their status as New York's current "it" brand. They did so by staging a massive pre-fall show, with everyone and anyone cramming into Pier 94 for the highly anticipated affair. Featuring a full run of 50 looks, a choir of kids singing Alicia Keys' "Empire State of Mind" and an after-party with more signs than one could fit in an Instagram, Coach may have actually shouted from the rooftops about their arrival at this "cool" status.
This all stands to show that the brand's executive creative director, Stuart Vevers, was in fact successful in taking the brand from a stale heritage company, best known for being a mall staple, to becoming an aspirational name that's been fully embraced by the fashion set—and not just because they're a major, industry-wide advertiser. Vevers was tapped for the top job in 2013, replacing Reed Krakoff who had been at the helm of Coach for 17 years. Arriving fresh from a stint at the Spanish brand Loewe, Vevers planned on bringing luxury to the Americana label, and also making it desirable, yet again.
It seems that last night, he was doing a victory lap for achieving just that. On the 75th anniversary of the brand, no less.
The vibe of the range was all about "[a]n L.A. kid arriving in New York—the idiosyncratic attitude of the of the West Coast meets the mixed-up eclecticism of the city." Other phrases used in the show notes to describe the grungy mix of floral dresses, graphic knit sweaters and memorable coats included "gentle nostalgia," "playful charm," and "unprecious luxury." Those themes were displayed on the backs of a diverse cast of models, from shorter males with dreadlocks to Winnie Harlow, a Canadian who has risen to notoriety despite (or perhaps, due to) having vitiligo, a rare skin condition. There were some household runway names, too, including Binx Walton and Lexi Boling.
Standout pieces from the range included the many shearling jackets (in a variety of colors and shapes, for both boys and girls), mixed media dresses of plaid and flowers, and plenty of NASA/space-inspired motifs. There were also many plaid pants, in flared and cropped versions, that were seen throughout. Of course the brand's iconic T.rex, best known as Rexy, was present, but an adorable dog motif appeared on patches and leather bags.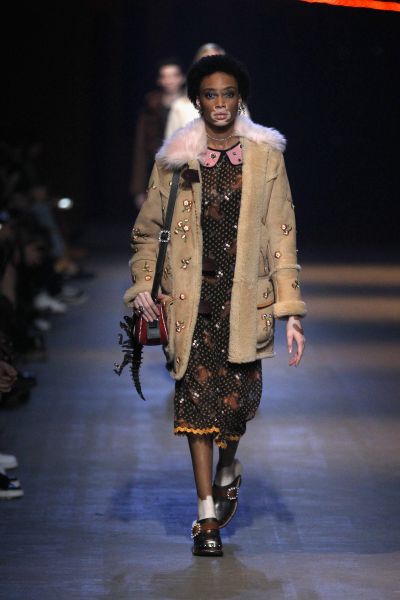 The bags were also worthy of a mention, as they came in large messenger shapes and teeny ladylike silhouettes, but each was rich in color and detail. Heavy on the embellishment but simple in design, they proved to be a departure from the boring, uninspiring designs that once plagued the brand's shelves.
From the front row, Emma Roberts and Zoë Kravitz sang and danced along with the blasting music; they were seated alongside Drew Barrymore and Diplo. Other attendees included Riley Keough, Pamela Love, Olivia Culpo, Hari Nef, Rowan Blanchard and Mark Ronson. With an A-list crowd, clothes that captivated and an after-party that was at least a social media success, this just might be the most fun pre-fall event of the season. One that only an "it" brand could pull off so well.