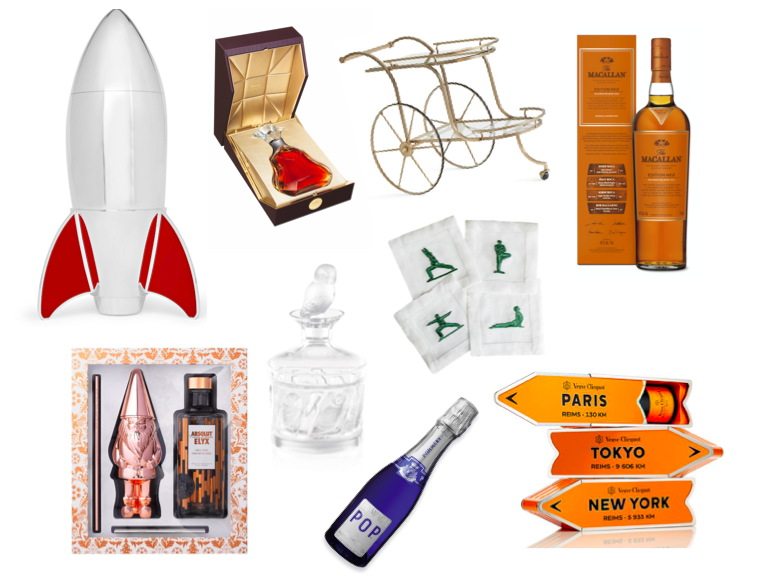 Your presence is expected at more than a few holiday parties over the next two weeks, so make sure your hostess gift is one to remember. Rather than swinging by your local corner shop to grab a bottle of something or other, we've selected some suitable alternatives that range from limited edition spirits to one-of-a-kind cocktail shakers, and everything in-between.
STERLING SILVER ROCKET COCKTAIL SHAKER by ASPREY – $12,150 
This 1 of 1, sterling silver cocktail shaker comes courtesy of a partnership between online menswear retailer MR PORTER and English purveyors of luxury silver and crystal, Asprey. Purchasing this whimsical rocket-shaped shaker lands you among the ranks of Queen Victoria and Ringo Starr, both of whom have a penchant for Asprey wares. Available here.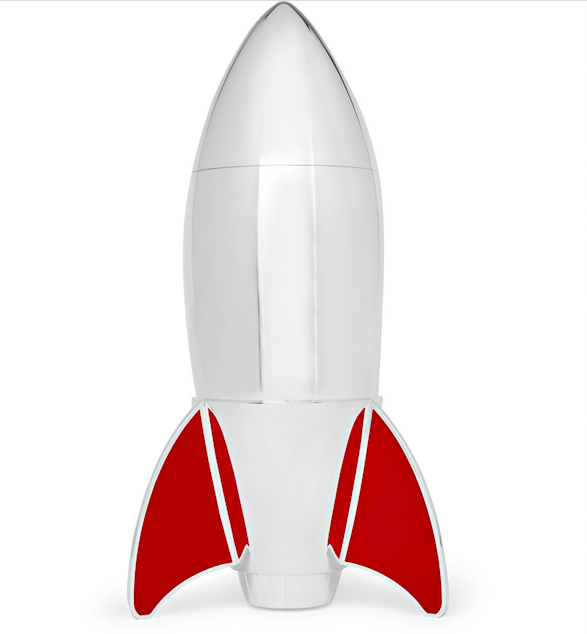 COPPER GNOME GIFT SET by ABSOLUT ELYX – $144
This witty little gnome named Felix was dreamed up by the team at Absolut Elyx as the face of their holiday campaign. While most know the brand for their weighty copper pineapple chalice, this equally heavy little man comes packages in a gift set with a bottle of Elyx to benefit Water for The People. Every box sold supplies one month of clean water. Available here. 
BLOWN GLASS FLASK by THIS LAND – $55
Made exclusively for This Land, an online destination for American artisans, this hand blown glass flask is crafted by glassblower John Geci of Bakersville, North Caroline, and is available in three colorways. Available here.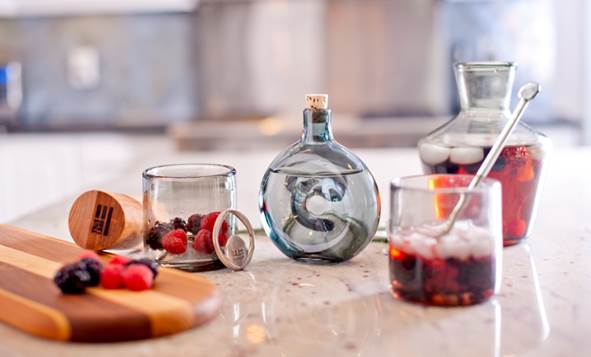 EDITION NO.2 by THE MACALLAN – $100 
This rare scotch whisky is the product of a collaboration between The Macallan's master whisky maker Bob Dalgarno, and the three Roca Brothers who co-founded El Celler de Can Roca in Girona, Spain, twice named the best restaurant in the world. Edition No.2 united all four gentlemen in one spirit, and is limited to just 20,000 cases worldwide.
OWL DECANTER by LALIQUE – $1,900 
Presentation is everything, and rather than let your spirits rest inside their original bottle, offer up this owl decanter by luxury crystal house, Lalique Available here. 
"ARROW" COLLECTION YELLOW LABEL BRUT by VEUVE CLICQUOT – $49 
Bubbles are always a good idea, but this particularly witty presentation comes care of Veuve Clicquot's new "Arrow" series. The tin packaging depicts one of 29 destinations, and inside awaits a bottle of the champagne's house's crowd favorite Yellow Label Brut. 
KEN FULK ADMIRAL BAR CART by POTTERY BARN – $599 
A collaboration between party planner extraordinaire Ken Fulk and Pottery Barn, this wheeled bar cart is a must-have accessory for any master entertainer. Penguin-shaped cocktail shaker not included. Available here. 
PARADIS IMPERIAL by HENNESSY – $2,900 
Housed in a decanter by Baccarat designer Stéphanie Balini, Hennessy Paradis Imperial cognac was created by Master Blender Yann Fillioux in 2011 from a library of vintage spirits. 
YOGA ARMY MEN COCKTAIL NAPKIN SET by HALO HOME – $48
Ditch the typical coasters or worse, paper napkins, for these embroidered squared by Halo Home. While many styles are offered, including "relationship status" and "ballot box" napkins, these "yoga army men" ensure perfectly PC party conversation. Available here.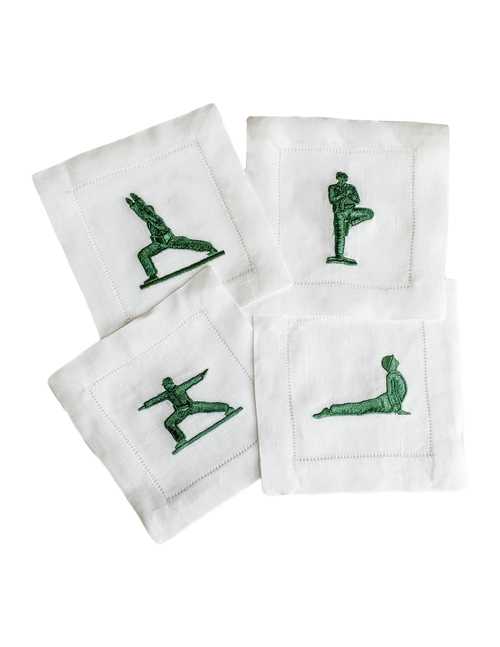 HOLIDAY ENTERTAINING PACK by DREAMING TREE WINES – $69
Founded by legendary crooner Dave Matthews and winemaker Sean McKenzie, Dreaming Tree Wines has teamed up with Ticketmaster this holiday season to offer a $50 Ticketmaster gift card along with a eco-friendly trio of vino – a Chardonnay, Cabernet Sauvignon and "Crush" red blend for just $69. Available here.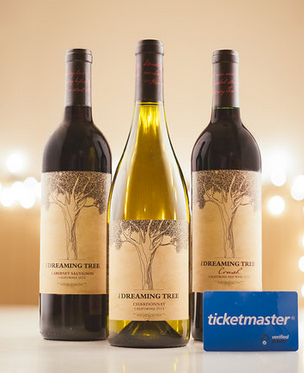 ORIENTAL SPICED LONDON DRY GIN by OPIHR – $33.99
This unique gin comes care of England's oldest distillery, and is made using a combination of "exotic hand-picked botanicals," that include spicy Cubeb berries from Indonesia, Black Pepper from India and Coriander from Morocco. Available here.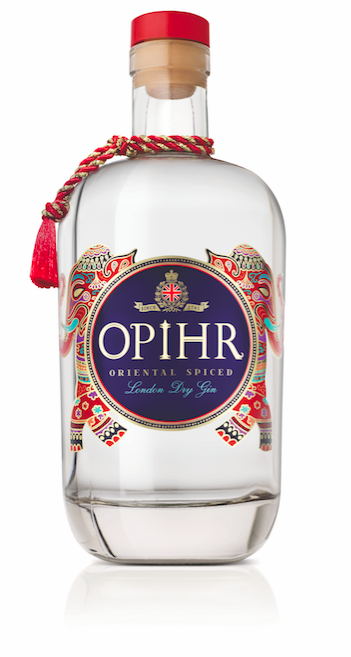 BULLEIT x NOBLE DENIM JACKET by NOBLE DENIM – $285
While it may not be your typical cocktail accessory, this denim jacket was aged inside of barrels filled with Bulleit Frontier Whiskey. Available here. 
POP by CHAMPAGNE POMMERY – Starting at $12
These miniature bottles of luxe bubbly are perfect for party swilling, and come in at just $12 each. We recommend assembling a fun assortment ranging from Rosé to a 2006 Vintage.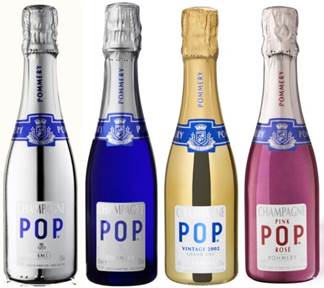 HEALTHY VODKA by VDKA6100 – $30
Not your average vodka, whey-based VDKA 6100 of New Zealand touts the titles of gluten-free, sugar-free, lactose-free, and free from chemical additives. Best of all, the brand is partially owned by Robert DeNiro.