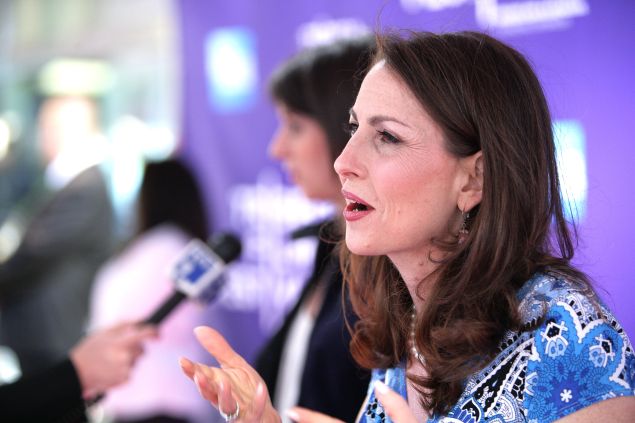 An audit  by city Comptroller Scott Stringer discovered rampant inaccuracies in the financial reports of Eva Moskowitz's Success Academy charter school chain—including internal assessments that created the appearance of lower administrative costs, bills to the city for special education services the company could not prove it ever provided and duplicative payments that the chain's management arm collected from its schools.
Success Academy is the largest operator of charter schools—publicly-funded but privately-run learning institutions that usually do not employ unionized staff—in New York City. The chain has received praise for its excellent test scores but has been criticized for its rigid discipline and high attrition rates.
The comptroller's audit covers fiscal years 2013, 2014 and 2015 and makes 28 recommendations to determine whether Success Academy adhered to its own financial rules as well as those of the entity that granted its charter—the State University of New York—and other oversight agencies.
"We found situations in which Success Academy was violating its own standards, or those of oversight agencies," Stringer said in a statement. "We hope Success Academy will embrace our recommendations and adjust its practices. This isn't about district versus charter schools—it's about protecting taxpayer dollars and following the rules."
Nicole Sizemore, Success Academy's press secretary, accused Stringer of giving them insufficient time to review the report, which she noted his office spent two years preparing "but couldn't unearth anything of substance."
"To prevent Success from disproving its claims and correcting its mis-understandings, which would have been simple, Mr. Stringer ambushed us—providing less than three days to respond," Sizemore said in an emailed statement that they also submitted to Stringer's office. "We believe deeply in accountability, which is why we're so troubled by this political grandstanding."
The audit found that in fiscal year 2015, Success Academy schools paid the Success Academy Network an extra $624,342 for services that the Network should have provided in exchange for its $18.3 million management fee. Those services include staff training and professional development, printing, copying and student assessments.
Success Academy also billed the city Department of Education more than $50,000 for special education services that its records did not demonstrate it actually ever provided. On December 16, in response to a draft of the audit report, Success Academy provided new records that the audit says arguably support the billing for special education services provide to one of the six students the auditor sampled, representing a combined total of $10,390 of the $50,825 in questioned billing.
But the auditors said they could not sufficiently establish their reliability because they were not produced during the audit, when the Success Academy claimed they were unavailable. The audit recommends that Success Academies reimburse the DOE for any services not provided.
In fiscal year 2015, Success Academy Charter Schools-NYC operated 24 charter schools in New York City, which served 8,715 students that fiscal year. The schools collectively maintain a "management agreement" with a legally separate entity officially known as Success Academy Charter Schools, Inc., also known as the "Network" within the Success Academy organization.
Under that management agreement, the Success Academy Network offers management services—including financial reporting services—to the Success Academy schools in exchange for a management fee of 15 percent of the per-pupil revenue that the Success Academy schools got from the DOE.
In fiscal year 2015, the Success Academy schools collectively paid the Network a management fee of $18.3 million. The audit focused specifically on Success Academy Harlem 3, which auditors determined required examining some Network finances.
The audit also found that Success Academy schools borrowed $8.5 million from the Network but failed to record written loan agreements for $2.7 million of those funds. The proceeds were used to finance operations at 15 schools.
Success Academy gave auditors with six agreements for loans with balances totaling $5.8 million that were signed by the then chairs of the boards of trustees of the charter school-borrowers. But Success Academy said it could not find agreements for loans with balances totaling $2.7 million, of which $250,000 was attributable to Harlem 3. Success Academy also said it believed that agreements for the loans totaling $2.7 million never existed in written form.
And the audit claimed that Success Academy classified its management fee expense inconsistently and incorrectly in its fiscal year 2015 certified financial statements and its 2015 "Report Card" submitted to SUNY—creating the impression that Success Academy was spending more money on education students and less on administrative costs than was actually the case.
Auditors also examined files for a sample of 44 employees at Success Academy Harlem 3, discovering that 61 percent—or 27 individuals—began working in the school before those checks were completed. In one case, an employee worked at Harlem 3 for four years and eight months before the checks were finished.
Moskowitz came to national attention recently after rumors emerged President-elect Donald Trump might pick her to head the Department of Education in his incoming administration. The former Democratic Upper East Side councilwoman removed herself from contention, even as she praised the Queens-born businessman for his support of charters.
Moskowitz has frequently clashed with one of Stringer's top political rivals, Mayor Bill de Blasio, whom she has pushed to set aside more space in public schools for her academies. The mayor said that some charter schools "sadly have a long history of exclusion," though he has said that he believes charter and public schools should work together.
Since 2014, the comptroller's office has audited the city Department of Education 10 times, with 10 additional audits currently ongoing. The latest audit marks the comptroller's fourth charter school audit to determine whether taxpayer dollars were used appropriately. The office selected the charter schools based on a number of criteria, including geography, size and publicly available financial data.
In 2013, Success sued to stop an audit by state Comptroller Thomas DiNapoli.
This story has been updated to include a statement from a press secretary for Success Academy.
Disclosure: Donald Trump is the father-in-law of Jared Kushner, the publisher of Observer Media.