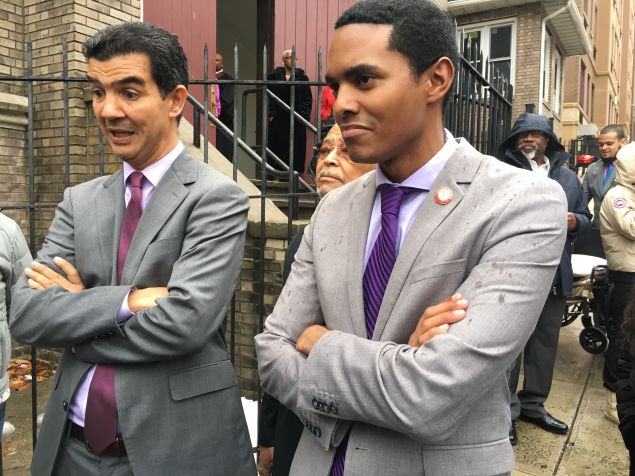 At the same time Queens State Senator Tony Avella was launching his rival campaign for mayor, a self-described "fiercely independent elected official" and a staunch loyalist of Mayor Bill de Blasio said they're backing the incumbent for another term.
Councilman Ritchie Torres—who has openly critiqued the mayor on police reform, school desegregation and other issues—and Councilman Ydanis Rodriguez, a close de Blasio ally, joined the mayor at New Tabernacle Baptist Church to announce they and five colleagues wanted to see de Blasio serve four more years. The others were Manhattan Councilwomen Margaret Chin and Helen Rosenthal, Brooklyn Councilmen Brad Lander and Stephen Levin and Queens Councilman Donovan Richards, who recently hosted a fundraiser for the mayor's reelection effort.
"This endorsement is about the merit," Rodriguez told reporters. "It's about someone that really is addressing an issue that many New Yorkers for decades they didn't want to address."
Rodriguez highlighted de Blasio's work to provide shelter to the homeless—which Avella is openly running against—bring universal prekindergarten to the five boroughs and introduce new models for policing.
The string of endorsements come just as the New York Times revealed recently that U.S. Attorney Preet Bharara and Manhattan District Attorney Cyrus Vance impaneled grand juries to contemplate charging the mayor and/or his top political aides in two alleged schemes over his fundraising. The mayor blasted reporters and "wealthy interests" in response.
Torres told reporters that the city is "unquestionably" better off now than it was four years ago, that crime is at historic lows, that job growth at historic highs and that police-community relations "show real signs of improvement." He added that the mayor has paid attention to communities he represents that have historically been neglected and ignored.
He also pointed to the assortment of figures from Cuomo's inner circle who were hit with a 14-count federal indictment in November. The indictment alleged that they plotted to solicit bribes for state assistance and to rig economic development contracts for companies that contributed to Cuomo's campaigns in a pair of interlinked schemes.
Among them was Joseph Percoco, whom Cuomo once described as "my father's third son."
"I should remind you that Joe Percoco was indicted who was an aide of the governor, no one's claiming that that disqualified him for governor," Torres said. "I'm gonna judge the mayor based on the performance and we've seen more investments in communities that have historically been forgotten and underserved at every level of government."
"So rather than indulge in fanciful hypotheticals, based on the merits of his administration, he deserves four more years," Torres added. "I'm not a loyalist, I'm a fiercely independent elected official but by every objective measure, he's done a solid job."
De Blasio, for his part, touted his various achievements at the city level, including his new $500 million life sciences initiative, his universal prekindergarten initiative, new programs the city has created to help young people get jobs in the film and TV industry, the city's rent freeze program and the fact that the city now gives residents who are being harassed by their landlords a lawyer for free if they can fight the case.
The mayor also asked parishioners to look at a recent Daily News front page article about the city's new neighborhood policing program orchestrated by Police Commissioner James O'Neill, saying that the "number one thing that jumps out" in that story is that the officers are giving their cell phone numbers to community members, who alert them to crimes and enable officers to stop crimes "before they happen."
"We are ushering in a new reality: actual partnership and unity between police and community, something we never fully realized in the history of this city," he said.
And contrary to his previous endorsement speech, he spoke just briefly about President-elect Donald Trump, only spending the last bit of his speech saying that the country is "going into unchartered territory." He appealed to parishioners to look to the messages in the Bible that stress the need to "embrace the stranger," noting that Jesus was talking about treating others "as we wish they would treat us."
"We are not changing because of the result of an election," de Blasio said, reiterating that the city would block Trump's Muslim registry proposal and provide representation for undocumented New Yorkers. "No one is registering people by religion in this city. No one is putting a rift between our brothers and sisters who come from other nations and happen to be immigrants in the greatest city of immigrants."
Disclosure: Donald Trump is the father-in-law of Jared Kushner, the publisher of Observer Media.