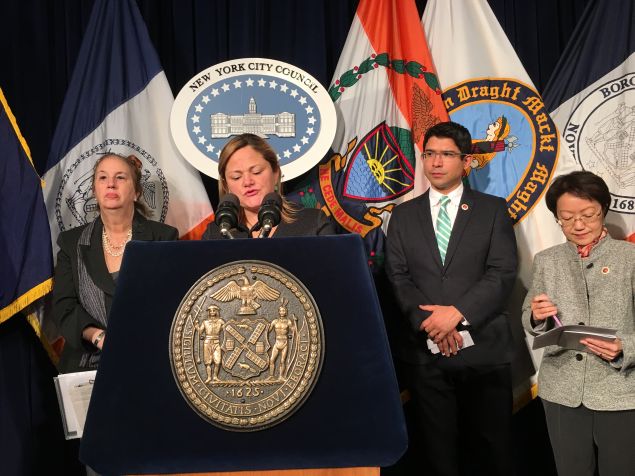 City Council passed a resolution today reaffirming its commitment to keeping the five boroughs a safe haven for all people, regardless of their legal status—"despite President-elect Donald Trump's senseless threats" to deport up to 3 million undocumented immigrants he claims are criminals.
City Council Speaker Melissa Mark-Viverito, Brooklyn Councilmen Brad Lander and Carlos Menchaca—all members of the dominant Progressive Caucus—introduced the resolution. Mark-Viverito said the city has been at the forefront of providing services to recent arrivals from foreign shores "despite the lack of immigration reform on a national level."
"Anti-immigration rhetoric from the president-elect has many in the city's immigrant communities fearful," the speaker said at a press conference before the Council's stated meeting today. "This resolution reaffirms that our policies and laws we've implemented in this city will continue and we will continue to support and provide sanctuary for our immigrant communities." 
Menchaca, who chairs the Committee on Immigration, said a lot of work remains to be done but that the city remains committed to championing the issue.
"The elected officials in the city have continually come together around this topic and it's a beautiful opportunity today," he said. "It's a proud moment for the City Council to pass this resolution."
Councilman Joe Borelli—co-chairman of Trump's New York campaign—was among the minority that opposed the statement of purpose.
Mark-Viverito and the mayor sent letters to President Barack Obama and Congress yesterday asking them to reimburse the city up to $35 million it has spent for the period between Election Day on Nov. 8 and Inauguration Day on Jan. 20 protecting Trump and his family at Trump Tower, his unofficial transition headquarters.
The speaker said she does not yet know what she and the mayor will do if D.C. decides not to refund the costs.
"I do not have an answer to that right now. Obviously we are engaging in conversations. We sent a letter out yesterday," she told the Observer. "We did the petition. We've been very vocal about our concerns that we want to see some attention paid to this immediately, that it is unsustainable and what we're spending on a regular basis and so we're hoping to get some response and I can't tell you what happens if we don't get the response we expect to hear."
Mark-Viverito, Menchaca and Lander were scheduled to head to Trump Tower immediately following a vote on a resolution the three introduced reaffirming the sanctuary city status.
The trio, along with community advocates and immigration and education service providers such as Make the Road New York, Atlas: DIY and New York Immigration Coalition will call on all city agencies to protect immigrants and to stick to a promise of multiple city legislative and administrative commitments to immigrant communities. They also denounced the anticipated expense of long-term traffic control and security at Trump Tower.
They also planned to urge Mayor Bill de Blasio to keep promises to protect the privacy of municipal identification cardholders, many of whom are undocumented, in the face of a lawsuit Staten Island Republicans filed yesterday to stop his administration from destroying the records of applicants.
Disclosure: Donald Trump is the father-in-law of Jared Kushner, the publisher of Observer Media.