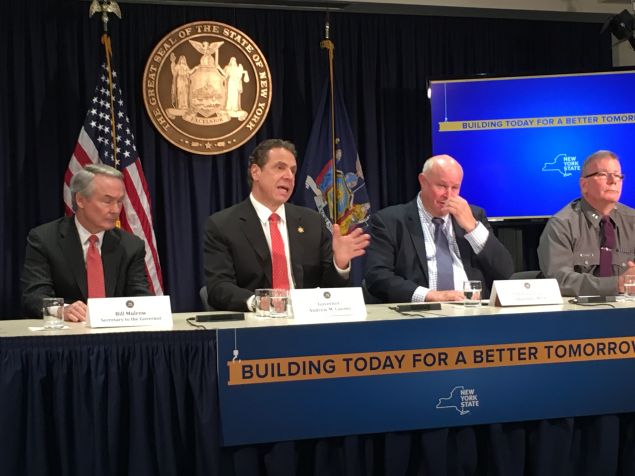 Gov. Andrew Cuomo today called on President-elect Donald Trump and his Department of Housing and Urban Development Secretary-designate Ben Carson—who both have a history of hostility towards federal fair housing policies—to adopt a "zero-tolerance" policy he pioneered toward any locality seeks to escape racial and economic integration.
Earlier this month, Trump selected the retired neurosurgeon and philanthropist to head the agency, despite Carson's earlier claims that he lacks the experience to run a federal agency. Cuomo served as HUD's assistant secretary for community planning and development during the first few years of the Clinton administration, then took over the department after previous Secretary Henry Cisneros resigned amid a Federal Bureau of Investigation probe.
As the deadline on the 2009 consent decree with Westchester County on its housing issues is just a week away—which has been plaguing the area for years—Cuomo, a resident of the affluent suburban area, admitted that the issue has been "going on obviously too long," and insisted that Westchester County believes in integrated housing and that the matter is between the county and the federal government.
"Well that's the issue that the federal government has to deal with and I was HUD secretary and when I was HUD secretary, I took a very firm line on fair housing and we allowed zero-tolerance for communities to abuse fair housing and I would urge that this federal government does the same, especially while they can until Jan. 21," Cuomo said.
Cuomo's 2014 Republican opponent, Westchester County Executive Rob Astorino, has battled HUD and the Obama administration for over its Affirmatively Furthering Fair Housing initiative. The feds obtained a consent decree from the county to obligate it approve construction of 750 low-cost apartments in exchange for the hefty subsidies it has received over the years—and earlier this year won a court case allowing to withhold millions of dollars going forward.
It is unclear whether Westchester will hit that threshold by the decree's expiration date of December 31.
The governor previously said he's uncertain that a doctor has "natural proclivity to housing and urban development" but that could be wrong.
Last year, Carson accused HUD of "social engineering" over a fair housing requirement that calls for the evaluation of any instances of discrimination in housing based on race and income. Trump's father built the family fortune on federally subsidized lower-middle-class developments in the outer boroughs—but had to battle reams of lawsuits with his son for alleged discrimination.
Cuomo called HUD a "very special agency" that does "a lot of great work" in areas such as affordable housing, public housing and economic development and said he will offer any advice and assistance he can to Carson, because he wants to see the agency and the federal government succeed.
"New York State is heavily reliant on HUD and these other federal programs," he said. "So any way we can have a cooperative relationship that benefits the state and the people of the state of New York, that's what I want and I'm not gonna let politics in the way of that."
And he refused to comment on whether Carson is qualified to run the agency.
"The Senate will make that determination," Cuomo added. "There's a Senate confirmation process and there'll be a set of hearings and the Senate will make that determination."
Mayor Bill de Blasio, for his part, said he believes Carson could be the "reasonable voice" in the Trump administration, saying that the two could find common ground if his leadership is centered in their shared belief that the mission of government is "to develop our people." He also extended an invitation to Carson to come visit New York City, saying that he wants to show him the city's affordable housing initiatives and public housing.
Julian Castro, President Barack Obama's HUD Secretary, also recently urged Carson to continue assistance to the financially struggling New York City Housing Authority—and to recognize the role that public housing residents play in both the local and national economies.
During his time as HUD head, Cuomo pushed federal lenders Fannie Mae and Freddie Mac to extend mortgages to low-income Americans, which some experts have speculate may have contributed to the 2008 financial crisis.
Disclosure: Donald Trump is the father-in-law of Jared Kushner, the publisher of Observer Media.