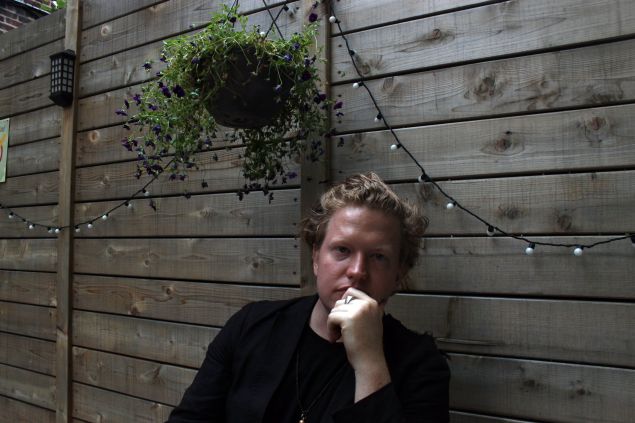 We live in a city blessed to have some of the most forward-thinking, progressive venues for new music in the world. But where are those sounds cultivated?
DIY show spaces prop up as de facto homes for young bands and emerging artists to hone their chops, a byproduct of a gentrifying real estate market that often leaves owners of more high-profile venues with little space to take a gamble booking acts on the more experimental side of the sonic spectrum. So these DIY spaces often become music incubators, gathering places where genre-less mishmashes and adventurous sonic experiments can germinate, then flower, then exist on their own elsewhere in the world.
After Oakland's tragedy earlier this month, though, even these legitimately operating incubators are fast becoming threatened with increased police presence, raids and other challenges imposed upon them by outside entities with little empathy or understanding for why these sonic sanctuaries exist in the first place.
This is where Dave Harrington comes into the picture for me.
Best known outside of the city as one half of the electronic duo Darkside with his old friend Nicolas Jaar, Harrington came out of nowhere to rock the electronic dance community with his textured guitar leads and improvisation-based playing style. We first spoke while I worked on a feature about Will Epstein, a musician he met at Brown who records as High Water, and Harrington played guitar on Epstein's wonderfully groovy LP Crush, which Jaar produced. I learned how, as friends and collaborators, all three of them contribute projects to Jaar's label, Other People, with intrepid ears and a communal commitment to new sounds.
"A good venue in and of itself can be an incubator without being connected to a scene."—Dave Harrington
Then I saw Harrington lead a band of old friends and collaborators, Epstein included, in a wholly improvised jam session at Rough Trade. Conceived as an after-party for The Dead's Citifield show, Harrington not only demonstrated his dexterity that night, but proved you can bring improvisational, intrepid local acts in a venue traditionally reserved for touring bands and people will come. It was a night for the books.
Now I'm learning that Harrington's been getting together old friends to play music for the holidays every year since 2014. His first Dave Harrington And Friends Holiday Spectacular happened at the late, great Glasslands Gallery, while last year's went down at Le Poisson Rouge. This Sunday's show expands to a bigger venue, Brooklyn Bowl, which currently exists as one of the few legitimate venues in town to honor that aforementioned incubator spirit.
While The Merry Prankster show was improvised, the Holiday Spectacular is pre-rehearsed. For this edition, Harrington leads a house band of old friends as an eclectic deluge of talented artists come pouring out on stage to join them—including members of bands like Atoms for Peace, Vampire Weekend, The Disco Biscuits, Real Estate, Cibo Matto, The Walkmen and so many more.
If their sonic influences are all over the place, well, that's Harrington for you. He's a lifelong New Yorker who can cut with jazz musicians just as quickly as he can groove with the jam band scene or spin records for the IDM kids. This is what's beautiful about New York, he told me, in a thorough conversation about keeping the venues he loves adventurous. That's the hidden history of our city's musical scenes in a nutshell—they overlap. Stick around long enough and you, too, can join the party.
[youtube https://www.youtube.com/watch?v=I_ZlRN6qn0M]
The year's almost over, how do you feel? Ready for it to be over with like the rest of us?
[laughs] Yeah, I guess so. On a purely musical level, I always like the end of the year. It seems like all the gigs come out of the woodwork, people are doing big events and stuff. This time of year is really fun in New York as a New York musician. So I always like it, and then I kind of hibernate. A brief hibernation.
You're among those dudes participating in the big events, though. The last time I saw you, you were doing The Merry Prankster thing at Rough Trade. But what I didn't know is, you put together these cross-genre, improv-based groups before. And this isn't your first year doing the Dave Harrington curated holiday show either, right?
The Merry Pranksters, as you know, is a full-on improvised scenario where I'll lead the band, either musically, conductively, or vibe-wise as needed. I have Chris Tart [of Tango Presents] to thank for The Pranksters, because he came up to me as a stranger after one of the Nublu shows I did with Joe Russo and said I should do an after party for when The Dead came to town.
But the Holiday Spectacular is a whole different animal. [Laughs] I started it three years ago at Glasslands because I'd been friends with [Glasslands owners] Rami and Jake for years. Glasslands was one of the places I played the most when I first moved back to the city and started gigging, and I just had the idea that I wanted to do something like this. That year was right when Darkside had come off of tour, and I was just kind of settling back into being a New Yorker full time after being sent on the road a lot. It seemed like a good excuse to get some friends together and raise some money for a good cause, and it ended up being a completely insane blast. I haven't really been able to bring myself to not do it any year since. We did it at Le Poisson Rouge last year.
And in a way it's the opposite of a Merry Pranksters show, musically. It's probably the most organized and composed I do all year, likely everything I've done in the past five years. It's kind of like if The Last Waltz was a Christmas show. I lead a house band, [then] every song has a guest or multiple guests come on and they do whatever they want with the house band. I give the prompt to everyone that's coming—they pick their song and I say, "make it a holiday tune or a religious tune from any holiday or religion, or something meaningful to you that feels like it suits the spirit of coming together and being positive."
That means all kinds of stuff happens [laughs], so it's a heavy dose of holiday music, usually arranged in unexpected ways, and then all kinds of other stuff. The first year I had called one of my friends, Brent Katz who has a project called Thunder and Lightning, and I've known him forever. We grew up together. He sat down and wrote a Christmas song just for the event. [Laughs] So that was a highlight from the first year. That same year Alex Bleeker from Real Estate did "Thunder Road" by Springsteen. I told him, "Dude, it's not a holiday song" and he said, "no no no…it feels like the holidays." And he was 100 percent right—it absolutely brought the house down.
"It has that added element of being a company holiday party for a bunch of people who don't have a company."
So it's completely open to interpretation.
Yeah, and that's part of the fun. Chris Tomson from Vampire Weekend, who's doing it this year, we'd played a gig together not that long ago, then I bumped into him at a show and told him about this thing. He said, "you know, man, I wrote a Christmas song when I was in college and have never performed it!" I said, great. Come. You're in. [Laughs]
Aside from the good vibes and the good cause, is there something about this project that's helpful to you about the process of making this happen to you as a musician? Does it have a substantial effect on your creative process, or on those you bring into it?
Totally, insofar as there's no way to predict what it will yield. You and I have talked about this before—I'm a big fan of collaborating. That's kind of my vibe. And this is nothing if not a giant collaboration, with tons of people that I've either known for a really long time or just became friends with. Part of the reason I like calling it "Dave Harrington And Friends" is because every year I bring back old friends, and sometimes it's an excuse for me to know that I'm gonna see someone at least once. [Laughs]
It's like seeing family. For so many people in our community, you tour and maybe move out of town, there's an album cycle, everyone's on their own trip. If you can bring some people together it has that added element of being a company holiday party for a bunch of people who don't have a company. [laughs] You know what I mean?
Totally! And it kind of taps into that headier dialogue about the stigma of New York musicians. Even these jazz guys who are seasoned session players are very much lone wolfs, they go where the gig is. And I'm sure as a crossover artist who plays around the city you see it too—a lot of new bands popping up in New York are some dude's project, bolstered by a band he put together that doesn't really know how to play it.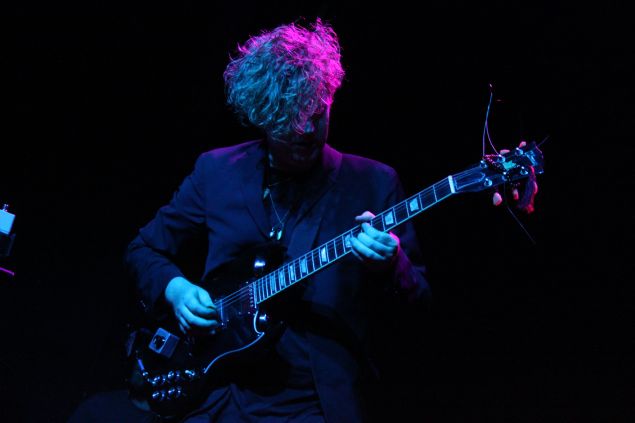 Liberated from the seasonal cheer element, this approach of yours seems like a remedy to that. After that piece I wrote about Pete Shapiro from Brooklyn Bowl I remember you responded to this idea toward the end about the space operating as something of a creative incubator. This is a term we heard in the Silicon Valley boom, the tech incubator. And over at New Museum they've launched a museum-backed incubator for artists working with tech to assist their creative process. But I'm not sure where the real music incubator is in the city, and I wonder if that's something you've got a pulse on as a lifelong New Yorker? Is it something we once had and don't anymore? Is it even feasible in today's economy?
It's a really interesting question that feels personal and relevant to me because of the way I've tried to set about being a local, being a New York musician. When I was growing up here there were certain places that I would go—Tonic, Nublu, the old Knitting Factory—where I felt like I was watching that. As a student and a fan of the music, I felt like I was let in behind the scenes, at a time where there was this overlap between the experimental downtown scene and some of the jammier, groovier stuff. You'd see the same characters sit in with Soulive at Irving Plaza and sitting in with Sex Mob at Tonic in the same night, you know?
It's interesting how history doesn't remember scenes like that. We have these micro-movements that get immortalized, but the reality of New York is that if you're a working musician who's living month to month, you'll go where the vibes are and where you're most wanted. There's a lot more overlap than people remember.
Totally, and I have been trying to find my version of that, actively, ever since Darkside shut down  and I've had the time to be here, the time to be part of different communities, too. I think there are a lot of people like me, New York musicians who exist in multiple musical contexts, and are looking to do different things.
Maybe it's just that I've been playing more shows and actively trying to be out there in the last year or two, but I also feel like the audiences that are showing up to these shows make it feel like a night at Tonic, you know? A kind of crazy, kind of weird, half party/half show.
"If you're a New York musician, at a certain point you can cross paths with anyone."
This week is Nublu Jazz Festival, and they always ramp up booking. The other night they asked me to DJ a night, it was Sun Ra Arkestra playing and Stuart Bogie opening. I had just met Stuart Bogie like six months ago, and a couple of weeks ago he was at my house working on new music, then we played a show at Nublu. The a friend of mine texted me, and it turned out Jesse Lauter was throwing a birthday party upstairs, where I went up to see Lenny Kaye was DJing '45s. Then I ran into Holly Miranda and Jared Samuel outside. All at Nublu on a Friday night, you know?!
We scatter and we're all from different musical communities, but every now and then it can kinda coalesce.
Maybe Lenny Kaye's the unicorn—if you see him you're on the right track. There's some legacy there. Patti Smith has built a career living like this, and she sounds better than ever. And he's her ride-or-die homie.
[Laughs] That's a great description of Lenny Kaye.
What did you learn from this year's time at Nublu? What kind of feedback are you getting on the player side of things?
The folks at Nublu have been so supportive with me, at every step. Whenever I wanted to try something new or go play solo guitar on a Monday and work out some ideas, try to throw a party or do my Boiler Room there around the launch of my album…I brought Boiler Room to Nublu, and they were totally down for it! It's just one of my favorites. It's a small community of people, a dedicated crew of managers and sound guys and bartenders, and Ilhan runs the place. It's just such a great place to be.
[youtube https://www.youtube.com/watch?v=eoYtQxA-zHs]
Ilhan plays too, right?
Ilhan's a player, yeah! The last time I did the Pranksters, he joined the band. And he's another guy where, when I was in high school and college I was going to see him play, buying his records. You know, earlier this week I got to play with Kenny Wollesen at the new Nublu, and Kenny is one of my favorite drummers, period. I came up seeing him play with Sex Mob, John Zorn and stuff. To be welcomed into that community and to bring them into my world when I can has been really nice. If you're a New York musician, at a certain point you can cross paths with anyone.
The people who stick it out and can survive all know each other.
Yeah! And it's been really great, too, like with the last Pranksters one where Ilhan joined the band and Bogie was playing, throwing people together and then watching. Some of them know each other, they'll show up and say "I haven't seen you in ages!" Then being able to put people together and have new connections come out of it.
It's the show/party blend you were talking about.
Yeah, the show/party blend where anything can happen. Everything is improvised, but it's kind of like…I haven't figured out how to describe it yet.
Controlled chaos?
Controlled chaos is maybe the answer, yeah. [laughs] It's been really exciting.
You mentioned John Zorn, another lifelong New Yorker who lives in my friend's building and obviously runs The Zone. And I haven't lived here that long, but I hear LPR has inherited the spirit that the Village Vanguard was known for while it was open, the crossover vibe. But what do we have in Brooklyn? I know there's Trans-Pecos, but there's been such a police presence there lately since Oakland and people are worried that there won't be any such spots left in Brooklyn pretty soon, especially in the wake of the Oakland Fire. How do we keep places like this both legitimate, safe, and thriving? Are you talking to Jake and Rami about some love at their new venue Elsewhere when it opens?
I told them flat out—"I was there on the last night of Glasslands and would love to be there on the first night of Elsewhere. Put me in the third bar upstairs and I'll spin jazz records all night, whatever you need. I wanna be part of the hang."
"You can vaguely imagine what sort of music is being incubated there, but it's not a techno club or a punk club. It can have both on the same night, and that's always my favorite vibe."
There's a cyclical nature to DIY, one thing closes and another opens.
It's kind of like Whack-a-Mole, oddly enough! I try to be optimistic about it, too, because I think it's just part of the life cycle of music in the city. Things are obviously a little bit more complicated now, but I also think that in terms of the economics of venues and things having to close, there's just too much music. It just forces something else to come up. We lost Manhattan Inn this year, but Francois and Chris and Pauline who run The Lot Radio are now doing shows across the street at the church. They just turned that into a venue—I did a show there on Halloween and there've been tons of great shows there. So something else just pops up.
But it's hard to watch some of the places that have been around for along time with great vibes go, and you're right to bring up Trans Pecos. Places like that, like Manhattan Inn and Nublu, are particularly important to me because they foster a wide variety of music, where you can go and try new stuff out. And they're O.K. having a three-quarters empty room on a Tuesday night because they wanna have interesting artists come play, a space where people can come try stuff out. That to me is the incubator.
Venues are venues, but a good venue in and of itself can be an incubator without being connected to a scene. That's one of the great successes of Trans Pecos and Nublu. You can vaguely imagine what sort of music is being incubated there, but it's not a techno club or a punk club. It can have both on the same night, and that's always my favorite vibe.
You're taking the vibe to Brooklyn Bowl this weekend, and it's a real super crazy fucking collection of people, my man.
[Laughs] It ballooned in terms of both numbers and eclecticism.
You can't have had time to rehearse with all of these guys.
Yes, we're rehearsing with everyone this week [laughs]. Everyone has to come to rehearsal at least once, and a couple of people coming in from out of town will do a soundcheck rehearsal. The guys from the Biscuits will run in and do a soundcheck rehearsal I think.
Well Brownstein's got such a pulse on this, too, because he's been jamming with everyone for years. He can play anything!
I know.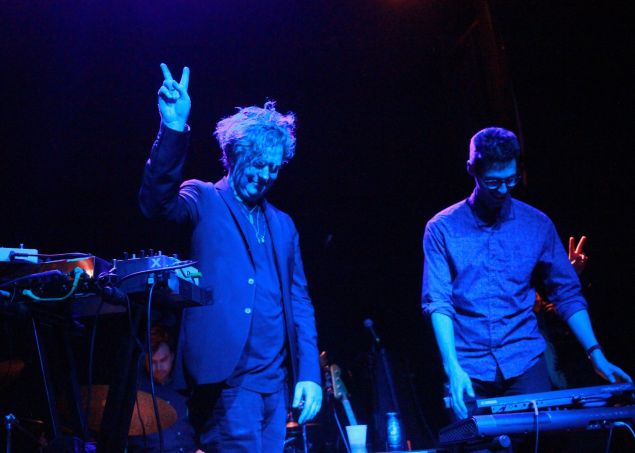 And some of these guys are transplants who you might be able to indoctrinate into your cult of New York, too, huh? Nick Murphy [FKA Chet Faker] is obviously an Aussie but you got him in on this.
He's a relatively new New Yorker! I played in his band for one tour and I've been working on some of his new music with him, hanging out a bunch and doing some DJ gigs. He's been to Nublu as much as any of my friends to come to all these shows. I'm doing a pretty decent job of selling him on the left-field, New York jam Kool Aid right now. [laughs]
His music is so bangin', but this is obviously a totally different sonic touchstone he can launch off of into the unknown. And Oliver Ackerman is a very strong legacy to this incubator idea, too, right? A Place to Bury Strangers were the house band at Death by Audio, after all.
I know. Oliver did it last year and I've always loved that band. I've known their manager for a long time. He used to be and might still be a booker at Pianos, and I used to play Pianos a lot when I moved back to the city. Maybe two years ago he reached out to me and asked if I wanted to remix a Place to Bury Strangers track. And I thought that was a cool idea, so I did a remix for them.
We had some mutual friends but had never really hung out, and when I was putting the show together last year I thought, "well, this is as good an excuse as any to do something with Oliver." So I reached out to him and asked him to do a tune. He showed up with his own Death by Audio pedals and we ran through a completely bonkers version of "I Saw Mommy Kissing Santa Claus". Now he's coming back for more this year. I forget what song he's doing, but I think he told me he's gonna bring a drum machine and a four-track…I don't really know. [Laughs]
There's so many different sounds here.
I pretty much know what tune everyone is doing, and once we get into rehearsal we'll get to shake it up.
What's your hope for 2017, for our city and its musically adventurous spirit?
My personal hope would be that by this time next year, I'll have a whole bunch of new people as my "And Friends" for my fourth holiday show whom I don't even know yet. And for the scene, I'm inclined to be optimistic. I'm excited for the new venues that are going to open that I haven't even heard about yet.
Dave Harrington And Friends Holiday Spectacular, presented by Popgun and Relix Magazine, hits Brooklyn Bowl on Sunday. Tickets are still available. All proceeds go to the Harlem School of the Arts.

***