It's the week before Christmas at the Hilton-Americas in downtown Houston, and the signs are everywhere.
Beneath one of the lobby's two ubiquitous Chihuly chandeliers, men in 10-gallon cowboy hats and santa caps gather around an oversized gingerbread house to check out after staying the weekend for a Houston Rockets game down the street. Just outside, dance moms wear ugly Christmas sweaters without irony as they clown car their daughters into an SUV. Their Texas Roses wore red leotards and carried candy-cane-striped hula hoops through the lobby the day before, seemingly on their way to perform in some grand, Christmas-themed spectacle.
A few unseemly folks roll out of the gilded elevators, too. The patterns of their prints are slightly more foreign, with funkier colors and geometric shapes, attire festive in a manner wholly distinct from your standard holiday cheer. These folks are also in town to celebrate the season of lights, and they too plan on dancing. As all the stock characters leave for the weekend, these other folks head out to the second day of a 20,000-strong music festival called Day For Night, just beyond the skyscrapers of downtown proper, in an abandoned post office.
Day For Night alludes to a set of visual tricks implemented during filming to make the day look like night, but the phrase also captures both the duality and the exchange of this special weekend, billed as a place where light and sound collide.
Interactive art has long been a staple at music festivals, a minor diversion from the main action, off to the side somewhere between the merchandise and the porta-potties. But Day For Night put art in the middle of that old Barbara Jordan Post Office, commissioning 16 large-scale, site-specific art installations intended to be experienced alongside the weekend's big musical acts.
The eclectic roster of 73 live acts— including Aphex Twin's first U.S. show in eight years, The Jesus and Mary Chain, Houston's Travis Scott and San Antonio's Butthole Surfers playing their first show in five years—drew everyone from fans of hard psych to EDM. And the programming suggested not just the aforementioned audiovisual duality, but an exchange: take the music and the art in equal measure and you'll discover overlapping themes, investigations into space and time, the importance of sacred spaces in art and the power of symbology.
Day For Night was an interdisciplinary love fest of light and sound that may have figured out the future of immersive music and art festivals.
"It's the dream of the 1990s raver to party here, so we can do something really powerful."—Alex Czetwertynski
Festival co-founder, artist and curator of the installations, Alex Czetwertynski led me through some of the works on the second floor two nights ago, while the Friday night party began downstairs.
"The original founder is from here and had a big festival called Free Press Summer Fest that he did for seven years and sold, toured around the world to see other festivals and realized that there was this formula that's constantly repeated, at every festival, it was all the same—stages and food trucks and beer," Czetwertynski told me, acknowledging that DFN also had food trucks and beer, but noting how the presence was much more low-key and non-invasive.
"He said, 'How can we elevate this?' Because we have so many people that are here and that are open, that are interested in being stimulated. What can we do? So I came in to bring this digital art component. To me it made sense to have art that is the cutting edge of what's being done in the media field, it works so well in music and performance. And we're trying to bring those things together."
Last weekend was Day for Night's second year, but its first at the old Barbara Jordan Post Office, a million and a half square feet grounds including the three outdoor stages and both floors. The cavernous room stretches into darkness with only the faint flicker of light in the distance enticing you through, while the sheer vastness of the second floor allows the artwork to interact with the space, investigating depth and dimension.
"It's the dream of the 1990s raver to party here, so we can do something really powerful," Czetwertynski said.
Among the works that stand out is Highline, a wall of lights and mirrors programmed to original music by the wizards Noemi Schipfer and Takami Nakamoto of NONOTAK dialogues with the environment by spreading pulsating waves of light beyond their installations, through the reflections in the floor tiles, casting shadows on the industrial fixtures of the room.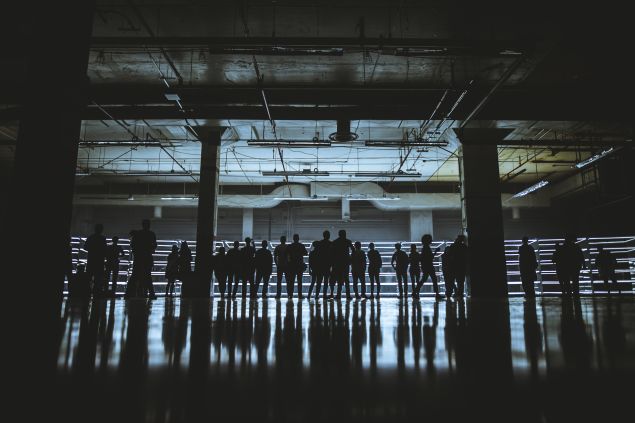 "We made several models and ended up with an infinity room," Nakamoto told me, evoking the famed sacred space installations of Yayoi Kusama. "It wasn't set up like this but we started facing them together. It wasn't just an infinity room, it was flipping the area around it. We decided to get rid of the infinity this time and work with the individuality of each model. I think it plays much more with the space itself. It plays with the architecture itself, the context. I like that from far away it looks like a giant screen, so you don't see the three-dimensional effect. Then when you get closer you can enjoy all the lights moving."
On the other side of the second floor, Tundra's Outlines collects 400 lasers for a choreographed dance of dimensionality in the darkness, while  you stand on a path surrounded by the lasers as they fire off their gridded interplay into the vastness of the room.
Downstairs, Czetwertynski's Blurware projects pillows and other warm shapes onto a piece of construction machinery. "It's about the brutality of the hardware and the heaviness of the machinery combined with the softness of the pillows," he says. "And the visuals are really about the zone that you can get into when you're creating work on a computer and you sort of enter into that space, then sometimes they crash and you come out of the space. And that zone, you don't know if the computer's creating this or am I creating this? Am I creating something that's impossible? It's about the middle space between software and hardware."
Blurware is featured outside of Björk Digital, a five-room virtual reality experience incorporating the majority of tracks off of last year's Vulnicura into interactive examinations of intimacy. Björk made no secret of the fact that Vulnicura is about the end of her long relationship to artist Matthew Barney and her subsequent healing process, so being present with her as she sings "Stonemilker" on a beach or being inside her mouth for "Mouth Mantra" gains an added resonance when considered thematically.
Björk Digital also taught everyone a lesson about the potential cultural conflicts that can arise from melding the art and music worlds to this degree. When it was announced before the festival weekend that Björk Digital would operate based on timed tickets and it soon became clear festival-goers would be waiting in hour-long lines to experience it, fans were pissed off.
They felt swindled, scammed, and would be missing other crucial acts of the weekend in order to go down the rabbit hole with Björk. Timed tickets and long-lines are something you expect in the gallery context, sure, but Day For Night made the mistake of not presenting the exhibition this way from the outset, and many fans assumed it would be something they could casually enjoy throughout the fest.
That being said, the five rooms foster an intimacy between Björk and each guest that shifted from beauty to novelty to absurdity and then back again. VR technology is progressing so fast that many of the headsets already seemed outdated, some with questionable resolutions. As a casual Björk fan I wouldn't have waited, but for those yearning to connect with her on a deeper level and appreciate the applications of technology and VR as a means of creative expression, no amount of time spent in line was wasted.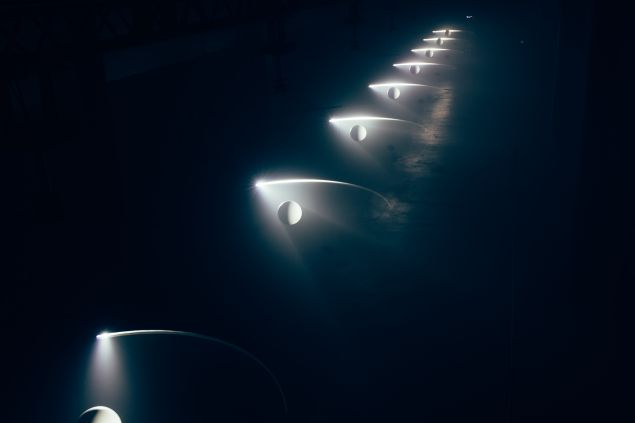 Back upstairs, the London-based collective United Visual Artists premiered their site-specific Musica Universalis, a series of planets and obscuring eclipses in rotating orbit commissioned sight-specific for the festival. UVA has worked with musicians before, most notably designing visuals for Massive Attack and James Blake, so you get the feeling that any opportunity to welcome an investigation between light and sound is right up their alley.
"The starting point is the kind of biological, innate disposition of why we're attracted to certain ratios, certain kinds of resonant frequencies," UVA artist Matt Clark told me. "Greek philosophers like Pythagoras worked on the musical notation that could translate to mathematical equation, and therefore is the underlying mathematical rule that applies to the universe."
"On a practical level, we've taken data from NASA, which essentially gives us resonant frequencies of objects far out in our solar system, [like] dwarf planets which we know nothing about. We've taken those resonant frequencies, that data set and applied them to the sculpture, made a performance from it. What you're seeing are planets side by side, and the ratio combination is played out as performance."
Clark's evoking NASA couldn't be ignored as it connects to Houston's NASA Space Center and extends the idea of "space", in all of its meanings, outward to the rest of the festival. But more on that later. What I really wanted to know was, in an era when so many large-scale installation artists create commissions for corporate ends (like those fucking Chihuly chandeliers), how does UVA stay pure?
"When you're working with a performance artist there's always a dialogue," said Clark. "We've been lucky enough to carve out our own space, and things need to be financed but we'd much rather take opportunities like this where there's creative freedom to do what we want to without an outside source saying, 'make it red or blue.' "
Those colors were still fresh in my mind upon returning to my hotel room that evening to find the giant, glowing Toyota logo adorning the roof of the Toyota Center Arena next door, staring at me like the neon eye of Sauron and prompting me to draw the blackout curtain.
READ THIS: The 50 Best Songs of 2016
The next morning, hung-over partygoers put their phones on silent as they sat meditatively on black cushions inside Houston's Rothko Chapel, a nondenominational room featuring 14 of the seminal abstract expressionist's large canvases, black but color-hued, adorning the walls.
Artists use "sacred spaces" as a catchall movement to include everything from gilded Himalayan Buddhist shrines to New Age cosmonaut Alex Gray's Chapel of Sacred Mirrors, and the Rothko Chapel falls somewhere in the middle, un-ornate and unassuming.
Commissioned in '71 by the de Menil family, whose spectacular collection of art is on display in the free museum next door, The Rothko Chapel provides a mecca to Houston's steadily growing community of creatives, a gem among the city's thriving district of museums and galleries. As a collaboration between Rothko and Phillip Johnson, the chapel is also a work of art in of itself.
So even before the first full day of performances, the implications of reckoning with space and dimension were explored.
The full blast-off came early on Saturday afternoon, as virtuosic bassist Stephen "Thundercat" Bruner regaled early attendees with a gorgeous set of his blistering funk and smooth, soulful jazz tunes. Like frequent collaborator and old friend Kamasi Washington whose set he sat in on Sunday, Thundercat understands that old adage of the great celestial jazz messenger Sun Ra, "space is the place."
Space Jazz has long evoked a sense of spirituality that awakens great players to a heightened state of awareness and dexterity, and oh how we need its message of universal love right now. Every time a group of people are marginalized, profiled, murdered or otherwise disproportionately disadvantaged, luminaries rise up in that group to show us the way. As childhood friends, the consortium of Thundercat, Kamasi Washington, and the great Terrace Martin (who also grew up with them but wasn't at DFN) are bringing the healing that we all need in these trying times. Blasting off with him in Houston just carried the space race home.
Beyond these luminaries, other staples of their genres played to adoring crowds. While the electronic genre was most represented, it assumed many forms—Black Moth Super Rainbow's Tobacco did his electro-noisepop thing on the first-floor stage inside, Clams Casino remixed some of the best dance tracks of the year, and Jana Hunter's fantastic Lower Dens brought the new wave vibes early on, too. These sets made the occasional, guitar-heavy psych band something of a palette cleanser, and a welcome jolt back into the depths of our own minds.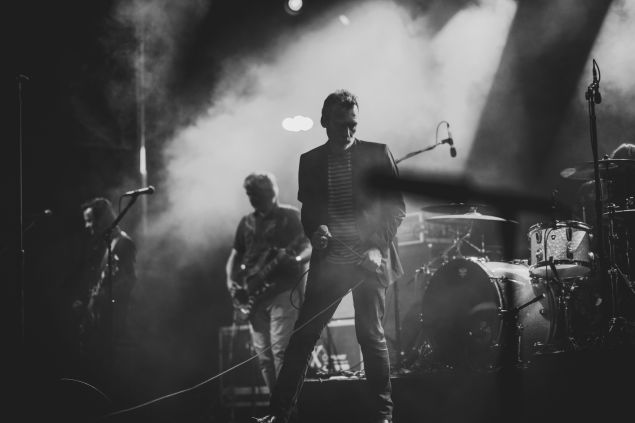 The Jesus and Mary Chain, for example, let you know how it feels to be baptized by reverb in a fashion that cannot be accomplished without guitars.
Jim Reid writhes around his mic stand and feigns his brooding, morose Scot schtick, but there's a joy permeating that wall of noise that their records simply cannot capture. The JAMC remind me that for all the flashy visual tricks and advanced technological happenings elevating Day For Night into the cutting-edge, good old rock 'n' roll can pack just as heady of a punch—equally dissociative, equally an examination of how sound works in large spaces, and equally a trip.
Now I hadn't gotten too close to the Aphex Twin merch table, as the shirts didn't seem too nice from far away. But this was foolish, as the fleeting cellular reception kept me from realizing that Richard David James had sold an unlabeled white vinyl, featuring two tracks just for festival-goers, limited to 500 copies. They were sold out by 7.
The visual components to his unparalleled productions of glitch and IDM have always emphasized his comically malevolent, smirking face and his instantly identifiable logo, both of which would be tantamount to branding if James wasn't so blissfuly anti-commercial. I mean, check out the logo of Odesza, the group that opened for him, or just read my piece on their tacky branding ways. Aphex Twin's set that evening would be his first stateside performance in eight years, and he's repeatedly stated how much he hates playing out, making the one-off nature of this headlining slot all the more special.
Beginning with a remix of "Refuge" by Belgian composer Baudouin Oosterlynck, James quickly dropped into an Andy Stott track, showcasing the tremendous dexterity of his sonic palette and an ability to unite seemingly disparate tones into his production style.
At one point, a gust of wind overtook the sweaty raving crowd and we all cheered. Then the rain came, and the temperature dropped at least 20 degrees. For those without jackets, particularly the dance kids in lingerie, this was no deterrent. As green lasers shot out from the stage and over the crowd, they illuminated the droplets of rain to project the illusion of millions of tiny lights twinkling above our heads. Then it got too cold, so I ran inside to space out in the sprawling dark and look at NONOTAK's Highline again, staring up at the ceiling as the installation's light beams cast the shadows of roof beams across the room.
After a whirlwind night of sleep outside the Toyota Eye of Sauron, I find myself back at the second floor the next day to chew on the art and listen to the mantras of artist Damien Echols at his Crimson Lotus piece. Echols is most widely known as a member of the West Memphis Three, sentenced to death row for murders he didn't commit and ultimately exonerated. A series of illuminated sigils line three walls, representing love, magick and the archangels of Echols' personal self-actualization. A rotating circle projecting light and other esoteric symbols slowly spins in the center on the floor.
"These are what I used when I was in prison to keep myself from going insane, to help me deal with physical, mental pain, things of that nature," says Echols. "Their purpose is to bypass the conscious mind and speak directly to the subconscious. You take a concept and reduce it to a symbol, then you pack it as full as you can with psychic and psychological energy, then fire it in your subconscious mind and let it do its work."
Echols' installation, which he created in collaboration with Alex Czetwertynski, was a reminder that symbols are inherently empty and meaningless until we give them power. And this truth extends into the world of music, particularly electronic music, in unexpected ways.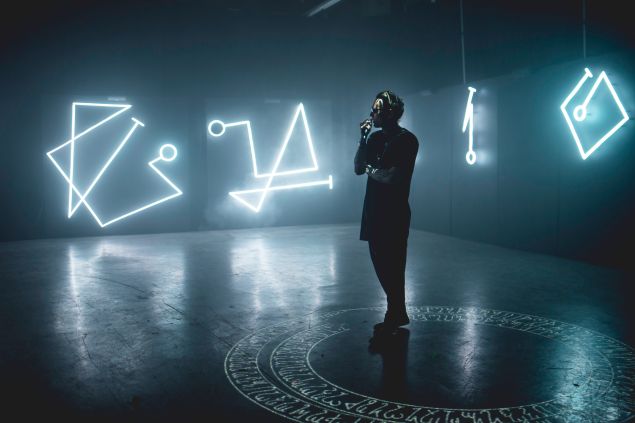 "It's like Aphex Twin—you're walking around and you see his T-shirts with the symbol on them, and it's just a fucking circle with an arrow in it!" says Echols. "But you know immediately that's Aphex Twin. You're feeding in energy, knowledge and attention into that. It's become widespread knowledge like what was done with the cross. The cross was nothing but a method of execution, but now when you see that cross you think, 'Oh, Jesus,' especially here in the West."
"Symbols become loaded with incredible amounts of energy and power over time. If you can disperse them enough over time, get them out to the public, they all start to accumulate things around them that gain power."
It's no revelation that symbols act as cultural signifiers, creating assumptions and specific meanings, but does that connect to Echols' interest in sacred spaces? And how does one keep the symbols from becoming tainted? Can a symbol be both sacred and merchandise?
"I think it can," he says. "There's nothing inherently sacred about the symbol. The symbol is just the battery. It's what we put into it that makes everything bad. Pepsi almost hijacked the Yin and Yang symbol. All these big cooperations do this. They design these sigils and present them in a way that the public feeds energy into them so that they're instantly recognizable."
But for all the tremendous power that symbols can have to brand, market, sell and subvert, Echols was quick to remind me that they also have a therapeutic effect, as was the case when he created these sigils in his cell.
"This was what they used to try and kill me, this was evidence they presented at my trial," he says. "I could've thought I didn't want anything to do with this ever again because this is what they tried to use to murder me, but when I was in prison, the very same thing they tried to use to kill me saved my life. They're not gonna spend money on someone they're planning to execute, and there were times when I had extreme pain in my teeth from being beaten."
"When I was in prison, the very same thing they tried to use to kill me saved my life."—Damien Echols
Echols' story makes his fascination with sacred spaces not only heartfelt but practical, and he reminded me that we don't necessarily need to seek out destinations like the Rothko Chapel, powerful though they may be, to sit inside a sacred space. We can also create them ourselves.
"When we think of sacred spaces, we think of them as pre-prescribed and 1,000 years old," he says. "But we have to will it.  I burn candles to the C train. I say, 'let me get a C, let me not have to smell a hobo,' whatever it is. If you interact with the trains like they have an intelligence behind them, then they'll interact with you, the same way that Native Americans interacted with the spirit of coyote or bear."
It's a lot like that mask of Aphex Twin's face that kids were walking around wearing, too, constantly reminding me that it's ultimately us who ascribe the power to both symbols and the spaces that those symbols represent.
Elsewhere on day two, L.A.'s lo-fi king Ariel Pink plays with his band, and they're all wearing Santa hats. But in the context of his music—a whole set of new songs with a heavy, psych pulse and some great bass lines reminiscent of The Doors hanging with Captain Beefheart—those Santa hats are liberated from Walgreens bargain bin banality.
Pink often courts controversy and works with fetishistic lyrics, cartoony voices and other adolescent impulses, but his music is also incredibly full and well-realized. Strong is the power of any artist who can act silly while affecting you in a serious way, or dress ostentatiously in the interest of disassociating you from your common assumptions about aesthetics. It helps that the new songs are a tremendous step forward for Pink, too, just as thematically absurd but more mature in the topics his tangents explore.
The great Kamasi Washington operates a little further outside the mold that night as well, taking the stage 20 minutes late to perform a few cuts off his masterwork The Epic before a rapturous crowd, reworking them from the grand piano big band arrangements on record into something funkier, more Moog-driven, and fitting for Thundercat on bass.
Day For Night had some problems beyond the poorly planned Björk Digital exhibition that could be easily remedied next year.
For one, the color-coded wristband scenario was a disaster for working press, as some media wristband holders couldn't get in the photo pit while others, like yours truly with his "Artist Guest" access, could roam anywhere but the actual media lounge. It rendered many of the conveniences I'm typically afforded at festivals to help me do my job better meaningless, and it was just a matter of there not being clear communication between the folks organizing.
There was the occasional cable and cord that ought to have been illuminated for safety in the dark of the second floor, a place or two where standing water collected that should have been mopped up instantly for safety reasons, and a smell wafting from the stairwell near Björk Digital that shouldn't have been there, ever.
But for its first year in a new venue that hadn't been used for anything since the post office shuttered, Day For Night was still a tremendous success.
Bringing together disparate creative communities like the psych kids from Austin and the and more mainstream fans in the interest of feeding their heads is a noble enterprise, while seeing a minimal amount of Heineken logos made the whole space feel cohesive and singular. So as the Travis Scott fans waited through Ariel Pink, Thunder Bolt and the Butthole Surfers for their favorite auto-tune rapper to emerge, they were bombarded with strange sounds they may never otherwise have heard.
And while comparing their decked-out Supreme and Tommy Hilfiger outfits between sets didn't happen with a trace of irony for the larger meta-textual narrative and dialogue happening between artists and performers, even those kids left the Barbara Jordan Post Office a little bit weirder.
If space is indeed the place, as Sun Ra said, then Houston and Day For Night are where that place is at—a surprisingly friendly and rich creative community, engaged in deeper explorations of how the places we inhabit and the symbols we digest can affect us in deeply personal ways. And if Day For Night was trying to disrupt the monotonous, stale festival scene with something new, engaging and thought-provoking, they've done a mighty fine job. Houston, we have a solution.