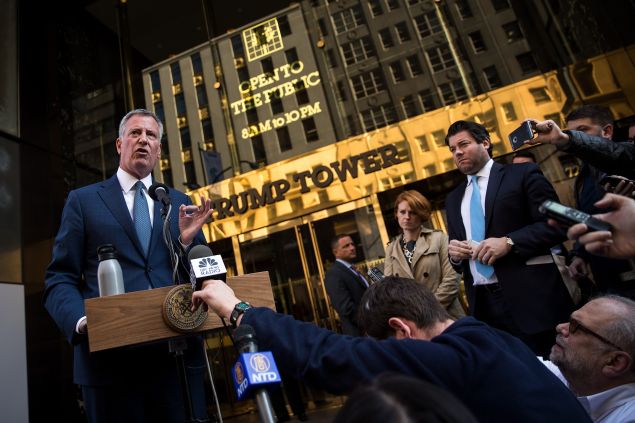 When Mayor Bill de Blasio's spokesman bitingly suggested that President-elect Donald Trump's administration pick up the tab for the NYPD's work investigating a suspicious package at Trump Tower today, Trump's social media director slapped back—triggering a brief Twitter squabble that could prove a prelude for a longer, later battle over getting the feds to refund New York City for protecting the incoming commander-in-chief's .
This afternoon, authorities briefly evacuated the lobby of the Fifth Avenue Xanadu so police could conduct an investigation into a suspicious package—which they soon realized was just an unattended backpack containing children's toys. Earlier this month, the House passed a year-end continuing resolution that indemnified the city just $7 million, a fifth of its requested $35 million, in costs associated with protecting Trump and his family at his unofficial transition headquarters on Fifth Avenue.
At 4:48 p.m., Sean Spicer, chief strategist and communications director for the Republican National Committee, tweeted, "Back to work here at Trump Tower after a false alarm."
De Blasio's press secretary, Eric Phillips, who has built a reputation for aggressively taking on critics of the de Blasio administration on Twitter and in his statements, repeated the mayor's calls for full reimbursement for the city.
Dan Scavino Jr., Trump's social media director and senior adviser, seemingly couldn't handle the jab, and accused Phillips of embarrassing both the mayor and the NYPD.
And in response, Phillips called on Scavino to join the Democratic administration in helping the city pressure Republican-occupied Washington into compensating the city for the entirety of its costs. Scavino, however, said nothing thereafter.
After the continuing resolution cleared the House, the mayor said he was not happy with "round one" of the fight but said the struggle "ain't over yet." The NYPD has assigned nearly 50 traffic agents and cops per shift to manage traffic flow from 53rd to 57th Streets between Fifth and Madison Avenues.
Last week, Congresswoman Carolyn Maloney—who along with the New York delegation, sent a letter asking Congress to fully reimburse the city—said that GOP Buffalo-area Congressman Chris Collins, a key Trump ally, agreed to sign on to her letter. Both Maloney and de Blasio have professed faith that Trump respects the NYPD, loves his hometown and will eventually see to getting it repaid from federal coffers.
Shortly before Christmas, NYPD Commissioner James O'Neill warned that guarding the president-elect's headquarters is "taking resources from around the city."
Council Speaker Melissa Mark-Viverito and Manhattan Councilman Dan Garodnick started a petition earlier this month demanding that Trump commit to compensating the city—just as the Council is preparing to deal with potential federal funding cuts under Trump that Comptroller Scott Stringer has estimated could cost the city more than $7 billion in annual funding.
And just weeks ago, Councilman Ydanis Rodriguez, asked Trump to move his transition business out of New York City altogether, suggesting that he relocate to the "nice weather" of his Mar-a-Lago Resort in Florida.
Disclosure: Donald Trump is the father-in-law of Jared Kushner, the publisher of Observer Media.