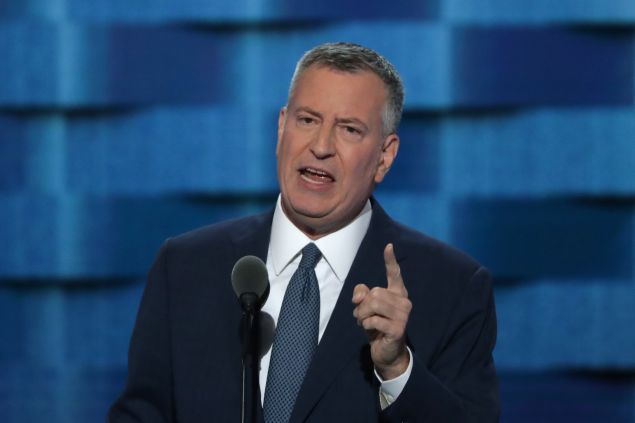 Mayor Bill de Blasio fulminated against his two favorite targets—reporters and the rich—when pressed with questions today about the news last night that state and federal grand juries are hearing evidence regarding his political fundraising efforts.
The New York Times revealed last night that U.S. Attorney Preet Bharara and Manhattan District Attorney Cyrus Vance had impaneled grand juries to consider charging the mayor and/or his top political aides in two potential schemes. The federal proceedings concern whether the administration doled out "pay-to-play" favors to big donors that dumped money into de Blasio's now-defunct "shadow government" nonprofit, the Campaign for One New York—Vance's case concerns allegations the mayor sought to circumvent state contribution limits in his failed bid to turn the State Senate Democratic, by having people seeking city business funnel unlimited cash into upstate county committees instead of into candidates' campaign accounts.
But the real villains in all this, de Blasio insisted in his weekly "Ask the Mayor" segment on WNYC, are rich people trying to throw him out of office and the journalists who refuse to write about them.
"They want the wealthy, and folks who, for example, have done huge amounts of advertising against me, such as some of the hedge fund folks, to have all the freedom in the world, to not disclose and spend anything they want," he said, noting that the Campaign for One New York revealed who supplied its funding, though it often provided incomplete information. "When the rest of us try to fight back, and do it aboveboard and with disclosure, and with no inappropriate activity, it becomes such a major issue."
"You know, it's funny, and I think a lot of people should ask this question in the media: are you ever going to look at all the wealthy and powerful people who spend endless amounts of undisclosed money?" he asked. "Folks that are supposed to be the watchdogs here aren't looking at the whole picture."
The mayor described demands that he not raise money to push his liberal agenda as "unilateral disarmament." But at the same time, he promised to sign legislation the City Council passed yesterday that would ban political nonprofits like the Campaign for One New York, and deemed the new statute "necessary."
He complained reporters failed to probe groups like Families for Excellent Schools, a pro-charter school organization backed by Wall Street money that ran an advertising campaign against him in 2014.
"Anyone who wants to attack a mayor, or the City Council or anything with endless amounts of money, there's now no counterbalance in the equation," said de Blasio. "There's not parity in how it's looked at! We've seen, in this very state, vast amounts of money spent by similar groups, no effort to figure out who those donors are."
The mayor pointed out repeatedly that the Campaign for One New York lobbied Albany to back his universal prekindergarten program, and pushed the City Council to pass his Mandatory Inclusionary Housing proposal, which obligates developers to set aside a percentage of apartments in new buildings for below-market tenants. And he asserted electing a Democratic State Senate would have meant more resources for the five boroughs, and the passage of total public financing of elections.
He also recalled how he failed to win support from the State Senate and Gov. Andrew Cuomo for his campaign proposal to fund universal pre-K with a tax on city residents earning more than half a million annually. This, too, he blamed the nefarious "forces" of the financial elite and the press.
"It was stopped by Albany. And one of the reasons was the same wealthy interests that were attacking me on charter school issues, the same hedge fund folks," he said. "Never went looked into coherently. Look at the column inches on that versus the column issues on this and you'll understand my frustration."
De Blasio also reiterated that he had cleared all his activities with his election attorneys, and with the city's Conflict of Interest Board. The Campaign Finance Board, however, chastised de Blasio and his team in July after determining that the Campaign for One New York had skirted the far fringes of legality.
The mayor promised to fully submit to the inquiries from Bharara and Vance, who are reportedly looking in particular at his fundraiser Ross Offinger and his Director of Intergovernmental Affairs Emma Wolfe.
"What we've said very clearly: we've cooperated from moment one. We've offered any and all information they've needed, and offered all the cooperation in the world. The only thing we care about is getting to resolution," he said. "I'm very comfortable with it because I know we did things the right way."
These comments come days after the Daily News revealed the mayor only backed the Brooklyn-Queens Connector streetcar, which will link the two boroughs' waterfronts, after real estate supporters backing the tram gave heftily to the Campaign for One New York.
In May, de Blasio promised to produce a list of all the donors to the Campaign for One New York who did not receive favors. Reporters are still waiting for the document.
Hours after speaking on the radio, de Blasio abruptly terminated a press conference in the Bronx when reporters attempted to ask about the grand jury proceedings instead of about the official subject of the event. The mayor's press office has granted reporters vanishingly few opportunities to ask off-topic questions as his scandals have multiplied.
Updated to note the mayor's behavior at this afternoon's press conference.